Grand Canyon Challenge
An Inspirational Three Night, 35 Mile Loop with the Colorado River
FROM $974
$949
TREK OPTIONS
#1: November 2017
#2: March 2018
#3: April 2018
#4: May 2018

---
---
Description
Every now and then, we come across a person, or an experience than can inspire us for a lifetime. The Grand Canyon Challenge is among the most inspiring, and challenging experiences in the Grand Canyon state. We take motivated individuals, band them together and trek 35 miles across remote canyon terrain, into hidden gorges, and to the Colorado River on a guided three night, four day loop. With over 4,500 feet of vertical elevation loss, and gain, this all-inclusive Grand Canyon backpacking experience is open to fit and motivated individuals of all ages. Just bring your personal items, positive attitude, and be ready for the challenge of a lifetime.
We operate a limited number of Grand Canyon Challenge experiences each each spring (March – May) and fall (September – November). Limit 9 participants per trek.
What's included
Guided 4 day, 3 night Grand Canyon backpacking trek
Orientation and personalized pack-check prior to departure
All meals and snacks while in the back-country
Group gear and equipment
Backpack, sleeping bag, sleeping pad if needed
Transportation to and from Grand Canyon Village
Inspiration for a lifetime
What's not included
Meals in the front-country while in Grand Canyon Village
Lodging in the front-country, pre or post trek
Personal items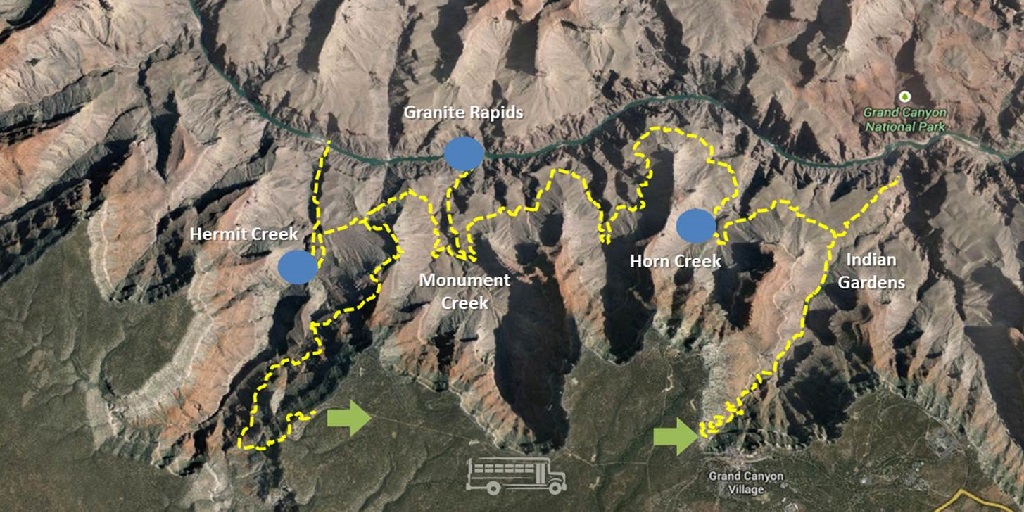 Dates and pricing*
3 night/4 day outing | Group size limit 9 | $350 deposit/person | Balance due 45 days prior to trek
Month of challenge
Trek Dates
Advanced registration


Sign up by September 30th

Open registration


Regular price

Join a trek
September 2017
Sept 21-24, Sept 24-27, Sept 30-Oct 3
$949
$949
Sign Up
October 2017
All Dates Full
$949
$974
Sign Up
November 2017
Nov 2-5 (FULL), Nov 7-10, Nov 10-13 (FULL)
$949
$974
Sign Up
March 2018
Mar 8-11, Mar 12-15, Mar 15-18, Mar 19-22, March 23-26, Mar 27-30
$949
$974
Sign Up
April 2018
Apr 3-6, Apr 5-8, Apr 12-15, Apr 19-22, Apr 23-29, Apr 30-May 3
$949
$974
Sign Up
May 2018
May 4-7, May 8-11, May 10-13, May 14-17
$949
$974
Sign Up
Custom Dates – 2017 & 2018
New! Call or email to request custom dates.
$949
$974
Contact Us
*How it works
A $350 deposit per person is required with balance due 45 days prior to the event. Deposits are 100% refundable until 90 days prior to trek departure. All March, April and May 2017 trek dates are confirmed. All September, October and November 2017 trek dates may be adjusted +/- one day until permits are finalized approximately 4 months (120 days) in advance of departure (when Grand Canyon permits are issued), providing ample time to plan transportation to and from the Canyon, or decline the dates and receive your deposit back in full. For custom dates, bookings must be made at least 120 days in advance of trek; please contact us for custom dates or corporate/group pricing.
Itinerary
All of our Grand Canyon Challenge experiences traverse the same loop between the Bright Angel trailhead and the Hermit trailhead along the Tonto Platform. While the exact distance, camp locations, and direction of each trek may vary depending on group size and permit allowances, here is a representative itinerary.
Pre and post-trip hotel accommodations are not provided. Once your trek dates are finalized, secure a lodging reservation as soon as possible (skip to logistics).
What you'll need
Joining a Grand Canyon Challenge experience is easy. Don't own a backpack, tent or sleeping bag? Not a problem, we provide backpacks, tents and sleeping bags for those who need them, at no additional charge. We also take care of all group items like pots, stoves, food, food storage, water filters, first aid etc. Your guides will do the cooking and dishes. Just show up with your boots and personal items, ready to hike!
Watch our Backpacking Checklist Video to see how easy we make it.
Here is what you'll need:
Hiking boots (broken-in)
Lightweight camp shoes
Hiking socks (pack 1 pair, wear 1 pair)
Moleskin, 1 package
Long-underwear top
Long sleeve shirt
Tee or short sleeve shirt (pack 1, wear 1)
Fleece or jacket (200 weight)
Rain/wind jacket or poncho
Underwear (pack 2, wear 1)
Long-underwear bottom
Hiking pants
Rain/wind pants
Camp or sleepwear
Bandana
Cap or hat with brim
Poncho (in lieu of raingear)
Warm hat (beanie/tuque/knit cap)
Gloves or mittens
Sunglasses (100% UV protection)
Flashlight (small)
Sunscreen (rated at least 25 SPF)
Chapstick
½ roll toilet paper, in zip-lock bag (white, unscented)
Toothbrush and paste
Water bottles (2 one quart/liter size)
On the day of departure, each participant will get a snack pack and a small amount of group food or group fuel that will be used over the course of the trek.
Logistics
Trek date confirmation: We apply for permits on the 1st of the month, four months in advance, and are notified by the park service of our exact permit dates within two weeks. You'll receive an email from us as soon as the trek dates for your week are confirmed. At that time, you can start making plans for transportation and pre-trek/post-trek accommodations.
Pre and post-trip accommodations: Once your trek dates are finalized, secure a lodging reservation in Flagstaff, AZ as soon as possible. You can request at TSX group rate at Little America Hotel (flagstaff.littleamerica.com / 800.865.1401) in Flagstaff where we'll be having our pre-trek orientation, and where we will meet the morning of our hike. If you plan on staying somewhere else, that is ok with us, just let us know where you end up, and we'll do our best to accommodate.
Transportation: If traveling by air, Flagstaff is the preferred airport. There is a free hotel shuttle to Little America Hotel from the Flagstaff airport. If flying into Phoenix, consider renting a car or taking a shuttle to Flagstaff. Reserve your shuttle spot in advance with Arizona Shuttle (arizonashuttle.com / 928.226.8060) or you can arrange customized shuttle service from A Friendly Cab (afriendlycab.com / 928.774.4444).
Arrival time: When scheduling flights or planning your drive, please allow enough time to arrive no later than 7pm the evening before your trek begins so that you can attend the pre-trek orientation (scheduled between 6:30pm-7:30pm at the Little America Hotel, Flagstaff lobby the evening before).
Departure time: We plan on exiting the trail between 12pm and 2pm on the last day of the trek. However, the last day is always uphill, and there can be some variability based on individual fitness and preparedness. Please plan your return transportation accordingly. If flying out of Flagstaff on the same day, we suggest scheduling flights for departure no earlier than 4:50pm. Staying one additional night on the South Rim or in Flagstaff, and departing the following day is also popular option.