---
GRAND CANYON NATIONAL PARK
3 NIGHTS | 30 MILES | COLORADO RIVER
MARCH, APRIL, MAY, SEPTEMBER, OCTOBER, NOVEMBER
---
Grand Canyon Challenge
FROM:$899 – $999
---
GRAND CANYON NATIONAL PARK
3 NIGHTS | 30 MILES | COLORADO RIVER
MARCH, APRIL, MAY, SEPTEMBER, OCTOBER, NOVEMBER
---
Description
Every now and then, we come across an experience than can inspire us for a lifetime. The Grand Canyon Challenge is among the most inspiring, and challenging experiences in the Grand Canyon state. We take motivated individuals, band them together, and drop nearly a mile below the Grand Canyon's rim backpacking rugged terrain to sleep and swim on remote beaches of the Colorado River. Each trek up traverses up to 30 miles on some of the most remote, least traveled routes in the Canyon. Our all-inclusive, guided three-night, four-day looped Grand Canyon Challenge backpacking treks are open to fit and motivated individuals of all ages. Bring your personal items, positive attitude, and be ready for the challenge of a lifetime.
What's included
Three-night, four-day guided Grand Canyon backpacking trip
Orientation and personalized pack-check prior to departure
All meals and snacks while in the back-country
Group gear and equipment
Backpack, tent, sleeping bag and pad if needed
Roundtrip transportation between Flagstaff and trailheads
Inspiration for a lifetime
What's not included
Meals in the front-country while in Flagstaff or Grand Canyon Village
Lodging in the front-country, pre or post trek
Pricing
---
| | | |
| --- | --- | --- |
| Number of reservations | Price | Savings |
| 1 person | $999 | $- |
| 2 people | $949 | $100 |
| 3 people | $899 | $300 |
| 4 people | $849 | $600 |
| 5 people | $799 | $1,000 |
---
How it works
A $450 deposit per person is required with balance due 45 days prior to the event. Deposits are 100% refundable until 90 days prior to trek departure. Trek dates may be adjusted +/- one to two days until permits are confirmed and finalized approximately 4 months (120 days) in advance of departure (when Grand Canyon permits are issued), providing ample time to plan transportation to and from the Canyon, or decline the dates and receive your deposit back in full. All March, April and May 2019 departure dates are confirmed. For custom dates, bookings must be made at least 120 days in advance of trek. Typical group size of 6, including one guide. Maximum group size of 11, including two guides. Beginning in 2018, a 3% fee will be applied when your reservation is made and passed through to the National Park Service.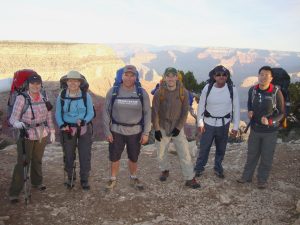 Evening before departure
We'll convene at 6:00pm for a one hour group orientation and pack-check in the main lobby of Little America Hotel in Flagstaff, AZ. At orientation we'll hand out backpacks, tents and sleeping bags to those who requested them.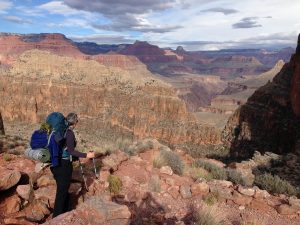 Day 1 – Intense downhill
After reconvening in the lobby of Little America Hotel, Flagstaff at 5:00am, we'll head out to the trailhead where our hike begins with a steep 3,000 foot descent to Indian Gardens. After an out and back to Panorama point, we'll begin our hike along the Tonto Trail, away from the crowds, to our camp 1,000 feet above the Colorado River.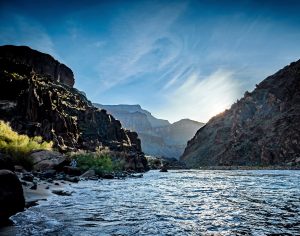 Day 2 – Undulating trail / moderate downhill
Today the trail undulates for the first several hours until we reach Monument Creek, where we'll break for lunch situated below the Tonto ledge, above the gorge floor, and inside a cavernous, bowl shaped canyon. A quick descent will bring us to the creek bed floor which we will follow out to the Colorado River and camp.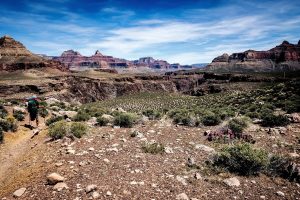 Day 3 – Moderate uphill
After a leisurely morning by the river, we'll retrace our steps to Monument Canyon, and then continue on the Tonto Trail, reaching Hermit Creek by lunch. We'll have the afternoon to explore both up and down the creek's canyon and enjoy its cool pools for swimming.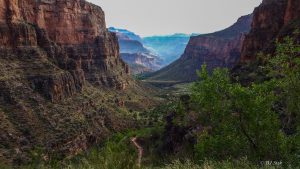 Day 4 – Intense uphill
An early, before-sun-up start will move us up, and off the Tonto platform, then into the multi-layered, multi-colored walls of the Canyon as we climb almost 4,000 feet to exit the trail and return to civilization. Upon exit, we'll catch a shuttle bus for a short ride back to Grand Canyon Village.
Trek date confirmation: We apply for permits on the 1st of the month, four months in advance, and are notified by the park service of our exact permit dates within two weeks. You'll receive an email from us as soon as the trek dates for your week are confirmed. At that time, you can start making plans for transportation and pre-trek/post-trek accommodations.
Pre and post-trip accommodations: Once your trek dates are finalized, secure a lodging reservation in Flagstaff, AZ as soon as possible. You can request a TSX group rate at Little America Hotel (flagstaff.littleamerica.com / 800.865.1401) in Flagstaff where we'll be having our pre-trek orientation, and where we will meet the morning of our hike. If you plan on staying somewhere else, that is ok with us! Just let us know where you end up, and we'll do our best to accommodate.
Transportation: If traveling by air, Flagstaff is the preferred airport. There is a free hotel shuttle to Little America Hotel from the Flagstaff airport. If flying into Phoenix, consider renting a car or taking a shuttle to Flagstaff. Reserve your shuttle spot in advance with Arizona Shuttle (arizonashuttle.com / 928.226.8060) or you can arrange customized shuttle service from A Friendly Cab (afriendlycab.com / 928.774.4444).
Arrival time: When scheduling flights or planning your drive, please allow enough time to arrive no later than 7pm the evening before your trek begins so that you can attend the pre-trek orientation (typically scheduled between 6:00pm-7:00pm at the Little America Hotel, Flagstaff lobby).
Departure time: We plan on exiting the trail between 12pm and 2pm on the last day of the trek. However, the last day is always uphill, and there can be some variability based on individual fitness and preparedness. Please plan your return transportation accordingly. If flying out of Flagstaff on the same day, we suggest scheduling flights for departure no earlier than 4:50pm. Staying one additional night on the South Rim or in Flagstaff, and departing the following day is also popular option.
WHAT YOU'LL NEEED
Joining a TSX experience is easy. Don't own a backpack or tent? Not a problem. We provide backpacks, tents and sleeping pads for those who need them, at no additional charge. We also take care of all group items like pots, stoves, food, food storage, water filters, first aid and more. Your guides will do the cooking and dishes. Just show up with your boots and personal items, ready to hike!