Description
Imagine visiting a place like Yosemite Valley before it was "on the map." No crowds, tour buses, traffic or lines. Imagine seeing and experiencing that valley in its primitive state, on your own, with no outside distractions. What would that be like? A place like this exists. It is raw, majestic and wild. Let us introduce you to Tehipite Valley.
Located in a remote section of Kings Canyon National Park, Tehipite Valley is the most powerful and remote glacial valley of the Sierra. This private backpacking expedition with The Battery will trek into the valley that time forgot to experience its hidden waterfalls, native petroglyphs and camp below the largest dome in the Sierra, Tehipite Dome.
This adventure is open to fit and motivated members of all experience levels. Our route includes moderate hiking through remote section of John Muir Wilderness and an epic descent of 3,500′ in just over 2 miles to our ultimate destination, Tehipite Valley, in Kings Canyon National Park.
What's included
Guided 4-night, 30-mile trek to Tehipite Valley
Transportation to/from The Battery or your Bay Area residence
All meals and snacks while in the backcountry
Healthy organic meals
Accommodations for vegetarian or vegan diets
Backpack, tent, sleeping bag and pad if needed
Group gear and equipment
Personalized pack-check prior to departure
Post-hike shower
Wilderness First Responder certified guides
Flexible cancellation policy
What's not included
Meals in the front-country while in transit
Personal items
How it works
To ensure a safe and enjoyable trip for all, we ask that all participants complete our reservation confirmation forms which include a personal questionnaire, medical questionnaire, and an acknowledgment of risk form and liability waiver. All participants should be in good physical condition and able to carry a fully loaded backpack of 30-35lbs while hiking over rugged terrain. A $450 deposit per person is required with balance due 60 days prior to the event. Our group will include up to 10 participants and 2 guides. An additional 5% charge will be applied when your reservation is made to offset fees mandated by the U.S. Forest Service and National Park Service. Cancel up until the day of the trip without the risk of lost money; see our amended COVID-19 cancellation policy for details.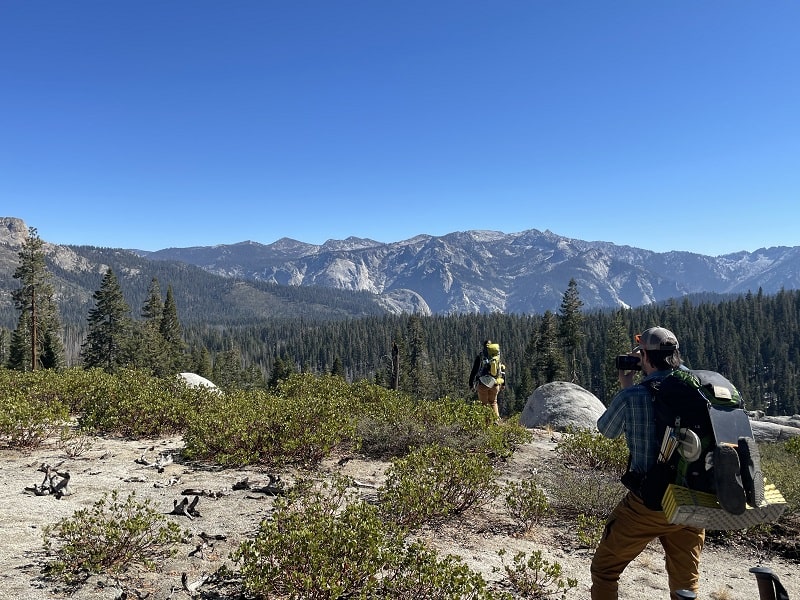 Day 1 – Transportation, pack-check, overnight on trail
Trail: 6.5 miles on trail with moderate incline
By 1:00 PM we will have packs on and hit the trail. The afternoon hike is a rolling 6-mile hike with moderate elevation gain/loss on good trail. We will wind through forests dotted with High Sierra meadows and small stream crossings. At the end of the day we will set up our first camp on a ridge with views of Tehipite and Kettle Domes.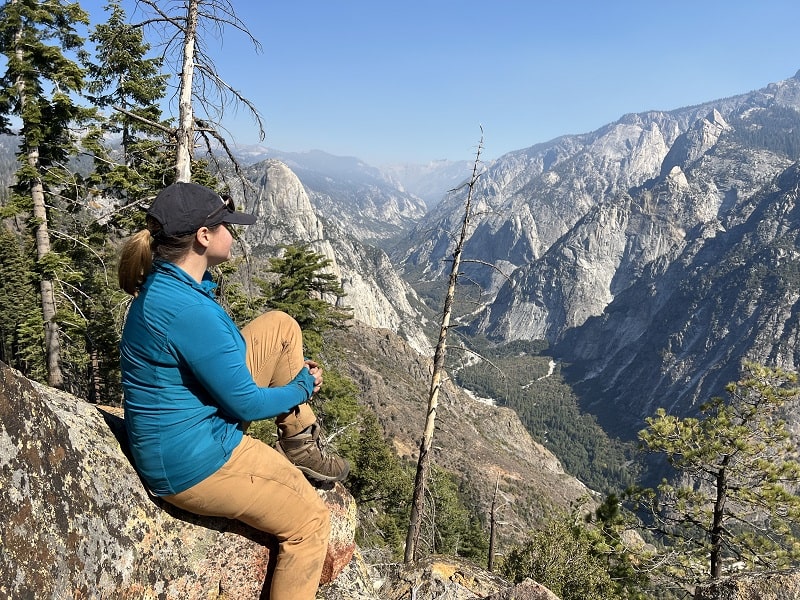 Day 2 – Crown Valley camp to Tehipite Valley
Trail: 9 Miles over rough trail with 3,500′ descent into Tehipite Valley
We will pack up camp and hike down into Tehipite Valley. The first 7 miles of the hike will be over moderate to rough trail until we come to "The Point of No Return" which marks the beginning of the descent into Tehipite Valley. After a short break with stunning views we will begin our 2.5 mile descent, dropping 3,500 ft. into the valley. Taking our time down the 70 switchbacks we'll enjoy the view of Tehipite Valley and Dome the whole way down. At the bottom of the switchbacks it is a short mile hike along the Middle Fork of the Kings River to our campsite.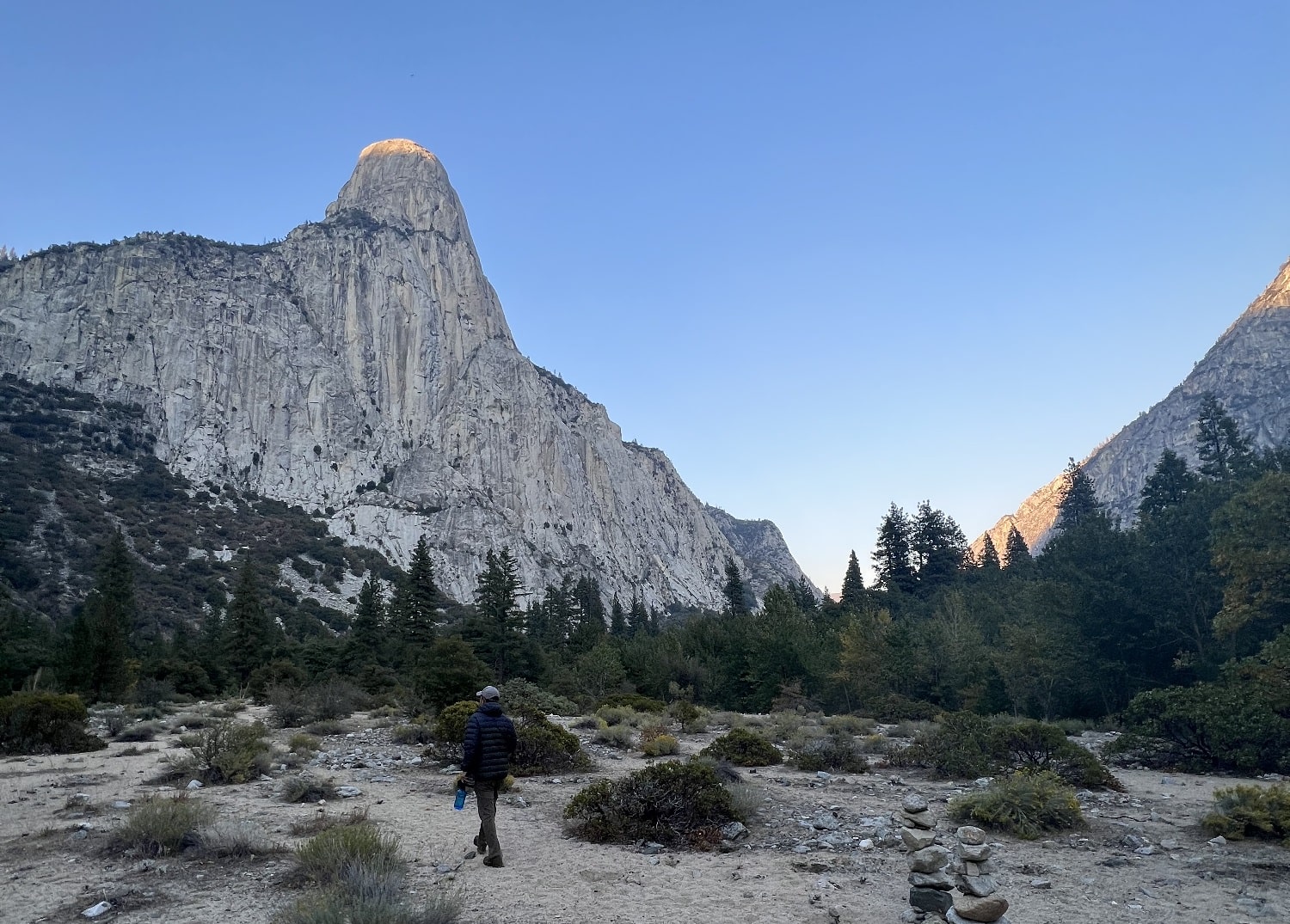 Day 3 – Tehipite Valley layover day
This is your day to choose your own adventure and explore the many wonders of the Tehipite Valley. Hike up the valley and find "Painted Rock" which is covered in petroglyphs. Take a side trip up to Silver Spray Falls or search for the infinite pools in the Gorge of Despair. If you like to fish, spend the day angling up and down the Middle Fork of the Kings River. Or rest and reflect by the river in serenity.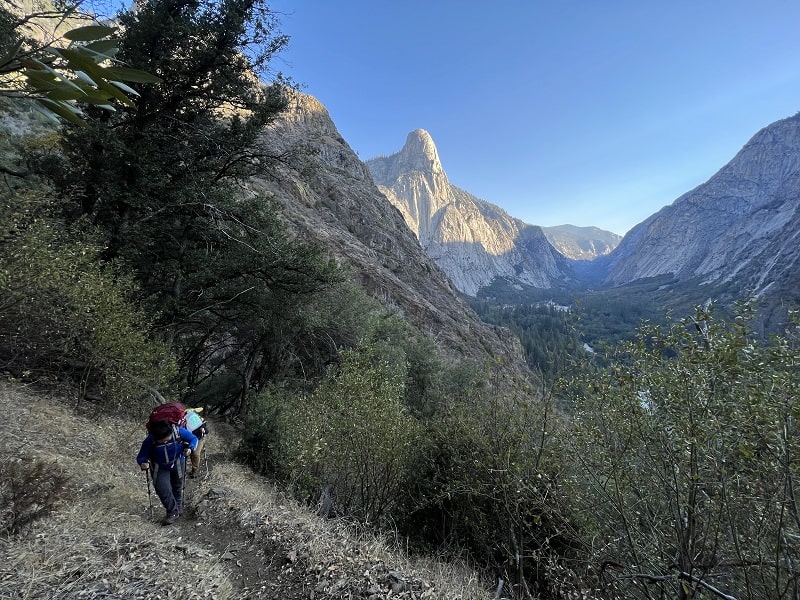 Day 4 – Tehipite Valley to Meadow Camp
Trail: 8 Miles with intense uphill over moderate trail
What goes down must come up. We will set out early to get a jump on our long climb back up the 70 switchbacks. After a well-earned break at the top we will have an easy hike back to Rocky Creek meadow where we will camp for the night.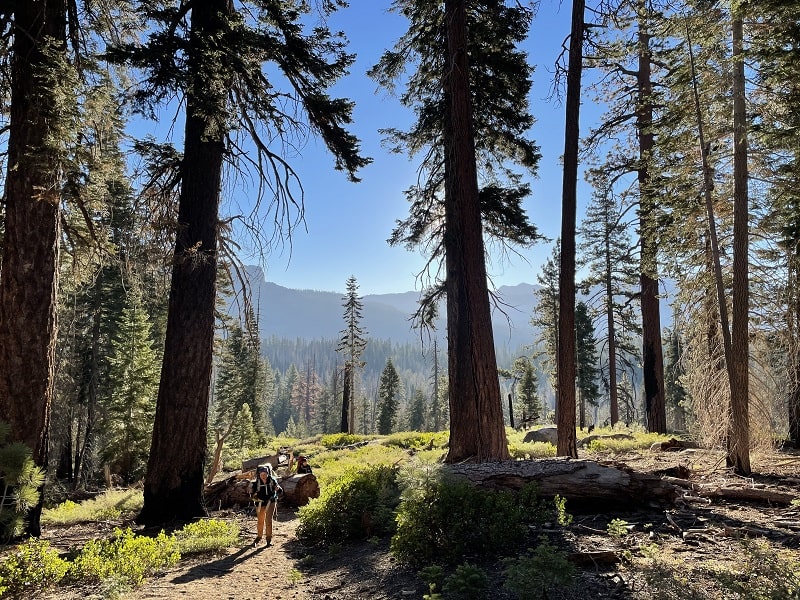 Day 5 – Meadow Camp to Wishon Reservoir
Trail: Easy to Moderate 5-mile hike along a rolling and well-maintained trail
We will hike back the way we came along the same trail as Day 1. With an early start we will be back at the van by 11:00 AM and then back at our Shaver Lake cabin meet-up point by 1PM. Here you can unpack, shower, enjoy pizza and a beer. Then we'll begin our return to the Bay Area, with an estimated arrival between 6 and 8pm.
Transportation: Transportation to and from the The Battery is included in the experience. However, if you prefer to drive separately due to COVID or other concerns, of if you'll be traveling from another location, here are some important details. If traveling by air, Fresno Yosemite International is the preferred airport. It's a one hour drive from the airport to our meeting point in Shaver Lake. If traveling by car, it is a roughly 4 hour drive from the Bay Area to our Shaver Lake meet up point. We will coordinate transportation from our Shaver Lake meet-up point to and from the trailhead for those arriving separately.
Arrival time: Please plan to arrive at the The Battery by 6.30am on the day of departure. Personalized pick up can also be arranged (additional charge )
Return time: We plan on exiting the trail between 10am and 12pm on the last day of the trek, and returning to the The Battery between 6-8pm. Personalized drop off can also be arranged (additional charge).
WHAT YOU'LL NEED
Joining a TSX experience is easy. Don't own a backpack or tent? Not a problem. We provide backpacks, tents and sleeping pads for those who need them, at no additional charge. We also take care of all group items like pots, stoves, food, food storage, water filters, first aid and more. Your guides will do the cooking and dishes. Just show up with your boots and personal items, ready to hike!