Description
Is your student's summer camp closed due to COVID-19?
For all the parents out there who are trying to figure out what to do with their teenage kids this summer (as summer camps get cancelled),we are opening up a series of small-group, dedicated youth treks for the summer of 2020 for students entering grades 7, 8, 9, or 10, and optionally, their parents or guardians. These week-long experiences will run from Sunday – Friday weekly throughout the summer beginning the last week of June. Sunday afternoon will consist of transportation to our trail head into John Muir Wilderness (Courtright Reservoir, 2 hours outside Fresno), followed by four nights of hiking and trekking both on and off trail across some of the most remote parts of the Sierra.
Making the journey as a junior high or high school student can be a life-changing experience, and the summer accomplishment will stand out on a resume or college application. This isn't a wilderness adventure camp… this is true adventure and wilderness that can inspire for a lifetime. Group size will be limited to 10 including 2 guides, and precautions will be taken to adhere to COVID-19 hiking and backpacking safety best practices. We have only 32 spots available. Early registration ends May 15th. We will be holding an online information session to answer questions about the program on May 12, 2020, 7pm pacific. Please register to attend that session.
What's included
Guided multi-night trek through John Muir Wilderness
Orientation and personalized pack-check prior to departure
All meals and snacks while in the back-country and in transit
Group gear and equipment
Backpack, tent, sleeping bag and pad if needed
Inspiration for a lifetime
Transportation to and from Bay Area and Fresno Area meetup locations
How it works
A $450 deposit per person is required with balance due 60 days prior to the event. Space is extremely limited. Maximum group size of 10, including two guides. Please contact us for custom dates or school/group pricing. An additional 5% charge will be applied when your reservation is made to offset new fees mandated by the U.S. Forest Service and National Park Service. This trip will be eligible for our amended COVID-19 cancellation policy.
What can you expect? Watch this video to experience the cadence of life on our trail.
Our Route
Our youth challenges will traverse some of the most remote, least traveled regions of the Sierra and pass more than a dozen high Sierra lakes, including Hell For Sure Lake on a five day, 40-mile guided looped route that includes roughly 6-8 miles of off-trail travel and one scrambles to a ~12,000' peak along the Le Conte Divide with unrivaled views of the Sierra Crest (Red Mountain). You won't find this route in any guide book. It's an experience we created out of love for the region, and for people in search of new adventure.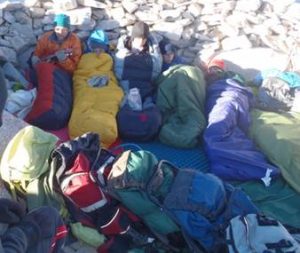 History and background
Our Youth Challenges are modeled after similar backpacking treks led by Clovis, CA educator and TSX Challenge co-founder Mike Murphy. Over the last 25 years, Mike has led hundreds of kids across the Sierra to the summit of Mt. Whitney, including over 140 kids exiting the 5th grade. To us, there is nothing more rewarding than seeing the face of young people and old people alike who complete our experiences and realize what they can now accomplish.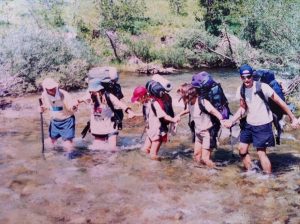 Who can participate
Student participants must be entering the 6th, 7th, 8th or 9th grade for the 2020/21 school year to be eligible for a Youth Challenge. Adult family members or chaperones are welcome but not required to accompany minors on the experience. We value family and the lasting bonds and memories an experience like this can create. Adults who accompany minors, or group of young friends, will receive a 10% discount. Due to the rugged nature of the hike, all participants must be in excellent physical condition and weigh at least 75lbs. Completion of a medical and experience questionnaire, risk acknowledgement form, and submission of a note of recommendation from a teacher, coach or youth leader highlighting the student's character, physical fitness and academic commitment will be required for final acceptance.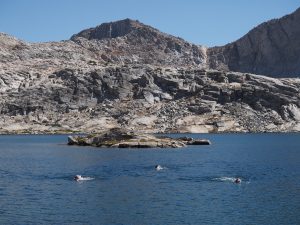 Easy to Join
It is easy for motivated people with limited or no backpacking experience to join a TSX experience. If you don't own a backpack, tent or sleeping bag, we'll provide it for you at no additional charge. Our team leaders also take care of all group items like pots, stoves, food, bear canisters, water filters, first aid, etc. All you need to bring is your boots, personal items, positive attitude and sense of adventure. Read our FAQs to learn more about how easy we make it to join a TSX experience.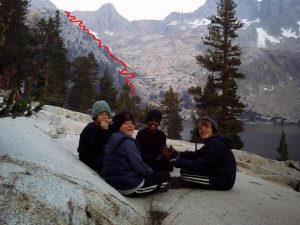 Safe and positive environment
We have a proud history of supporting individuals of all ages and experience levels while ensuring a safe and positive trail environment at all times. Strong trail familiarity and a robust operating framework helps us proactively manage for varying trail conditions and group dynamics. A certified Wilderness First Responder is placed on each outing. We also utilize an In-Reach satellite messaging device to check-in with home each night and post location and status update to Facebook for friends and family to follow.
Departure and pickup locations: On the day of your departure, TSX will coordinate transportation from the Bay Area and Central California (Fresno/Clovis area). We will also help facilitate carpool arrangements from the Southern California to Central California on a trek-by-trek basis.
Central California pick-up point: REI Fresno, CA – 2:00pm
San Francisco pick-up point: REI Dublin, Dublin CA – 10:00am
Southern California meet-up location: REI Northridge – 10:00am
Please arrive at least 15 minutes prior to your confirmed pick up time. The Fresno/Clovis area is a 3 hour car drive from the Bay Area, and roughly 4 hours from Southern California. Exact time and regional meet-up locations will be confirmed on a trek-by-trek basis.
At the trailhead: Bring your personal items and a positive attitude! All group gear and food will be provided on the trail. Any major personal gear you've indicated you'd like us to provide (sleeping bag, tents etc.) will be waiting for you at the trailhead. In addition, please bring a small bag with a clean set of clothes. The clean bag will be waiting for you as you exit the trail.
Returning home: On the day you return, TSX will coordinate transportation to the Bay Area and Central California (Fresno/Clovis area). We will also help facilitate carpool arrangements to Southern California from Central California.
Central California return-up point: REI Fresno, CA – 6:00pm
San Francisco pick-up point: REI Dublin, Dublin CA – 10:00pm
Southern California meet-up location: REI Northridge – 8:00pm
WHAT YOU'LL NEED
Joining a TSX experience is easy. Don't own a backpack or tent? Not a problem. We provide backpacks, tents and sleeping pads for those who need them, at no additional charge. We also take care of all group items like pots, stoves, food, food storage, water filters, first aid and more. Your guides will do the cooking and dishes. Just show up with your boots and personal items, ready to hike!