Description
Backpack the Sierra to Mt. Whitney and the Grand Canyon with an OSIsoft team.
Join us this fall in the Grand Canyon, or next summer in the Sierra for an unforgettable team backpacking trek that will inspire for a lifetime. The OSIsoft Grand Canyon Team Challenges (Oct 18-21 and 25-28, 2019), will spend three nights and four days below the rim backpacking rugged Grand Canyon terrain to sleep and swim on remote beaches of the Colorado River. We'll traverse almost 30 miles across some of the least traveled routes in the Canyon. The OSIsoft Mt. Whitney Team Challenge (August 14-22, 2020) will trek one-week and 75 miles across Sequoia and Kings Canyon National Parks to the summit of Mt. Whitney (elevation 14,505 feet), the highest point in the lower 48 states. Both experiences are open to fit and motivated OSIsoft employees, as well as friends and family. No prior backpacking experience is necessary, but you must be motivated!
What's included
Round-trip transportation to and from OSIsoft corporate headquarters or designated meeting point
Guided multi-night trek through Grand Canyon or Sequoia and Kings Canyon National Parks
Orientation and personalized pack-check prior to departure
All meals and snacks while in the back-country
Group permits, gear and equipment
Backpack, tent and sleeping pad if needed
Inspiration for a lifetime
What's not included
Meals in the front-country, including while in transit
How it works
OSIsoft employees save 20% with advance registration, open June 19th through June 30th. A $450 deposit per person is required with balance due 60 days prior to the event. Friends and family of OSIsoft employees are welcome to join. Upon registration participants will be asked to complete an experience and medical questionnaire, as well as an acknowledgment of risk form. If we do not receive enough participants (7) to fill a trip by July 1st, we may elect to run the trip with the remaining available spots open to the public. Beginning in 2019, an additional 4% charge will be applied when your reservation is made to offset new fees mandated by the National Park Service. For Grand Canyon treks, maximum group size of 8 including on guide. For Mt. Whitney trips, maximum group size of 15, including two guides.
Questions? Check out our FAQs or contact us at 925.255.5065 and via email at inspire@tsxchallenge.com.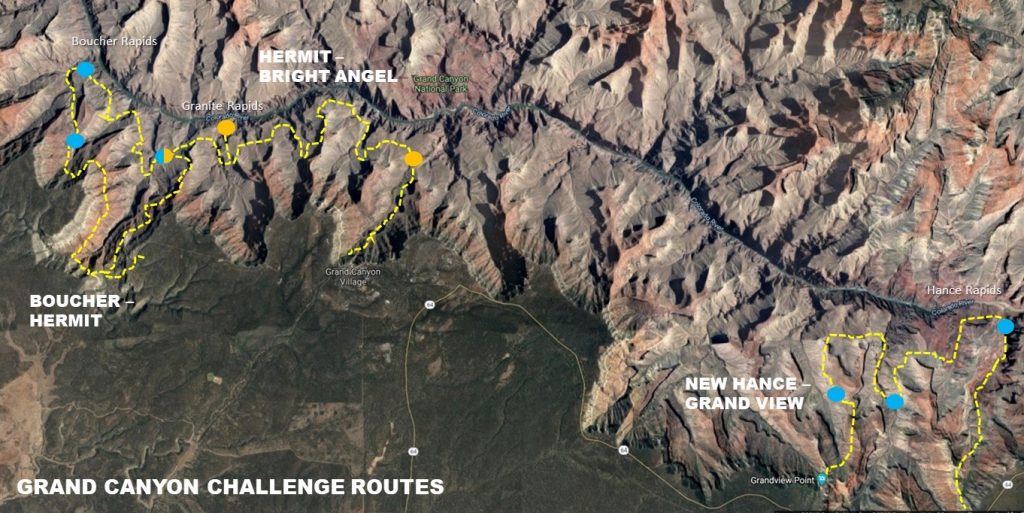 Grand Canyon Trek Details
Both the October 18-21 and October 25-28 treks will follow our Grand Canyon Challenge Boucher-Hermit Loop through the Grand Canyon to the bottom of the Colorado River.
Pre and post-trip accommodations: Once you register, secure a lodging reservation in Flagstaff, AZ as soon as possible. You can request a TSX group rate at Little America Hotel (flagstaff.littleamerica.com / 800.865.1401) in Flagstaff where we'll be having our pre-trek orientation, and where we will meet the morning of our hike. If you plan on staying somewhere else, that is ok with us! Just let us know where you end up, and we'll do our best to accommodate.
Transportation: If traveling by air, Flagstaff is the preferred airport. There is a free hotel shuttle to Little America Hotel from the Flagstaff airport. If flying into Phoenix, consider renting a car or taking a shuttle to Flagstaff. Reserve your shuttle spot in advance with Arizona Shuttle (arizonashuttle.com / 928.226.8060) or you can arrange customized shuttle service from A Friendly Cab (afriendlycab.com / 928.774.4444).
Arrival time: When scheduling flights or planning your drive, please allow enough time to arrive no later than 7pm the evening before your trek begins so that you can attend the pre-trek orientation (typically scheduled between 6:00pm-7:00pm at the Little America Hotel, Flagstaff lobby).
Departure time: We plan on exiting the trail between 12pm and 2pm on the last day of the trek. However, the last day is always uphill, and there can be some variability based on individual fitness and preparedness. Please plan your return transportation accordingly. If flying out of Flagstaff on the same day, we suggest scheduling flights for departure no earlier than 4:00pm. Staying one additional night on the South Rim or in Flagstaff, and departing the following day is also a popular option.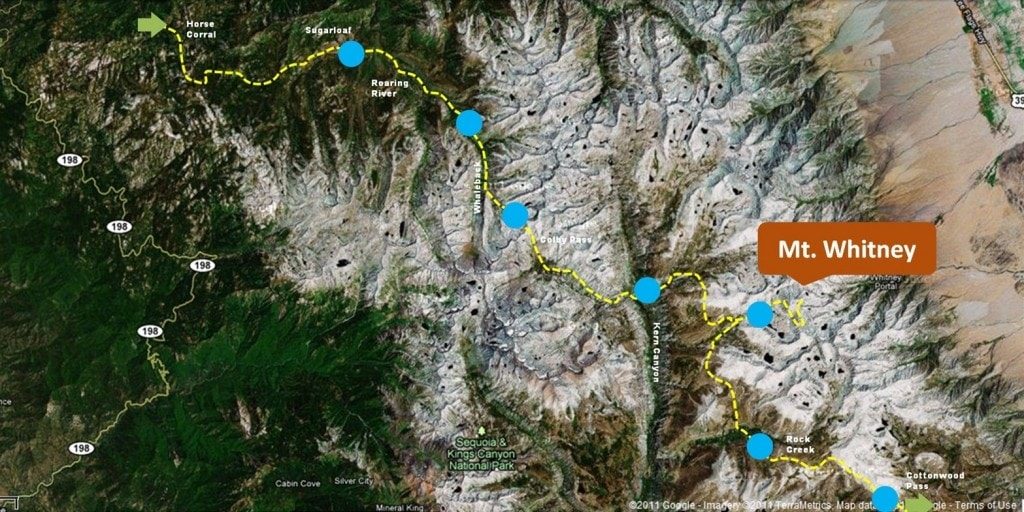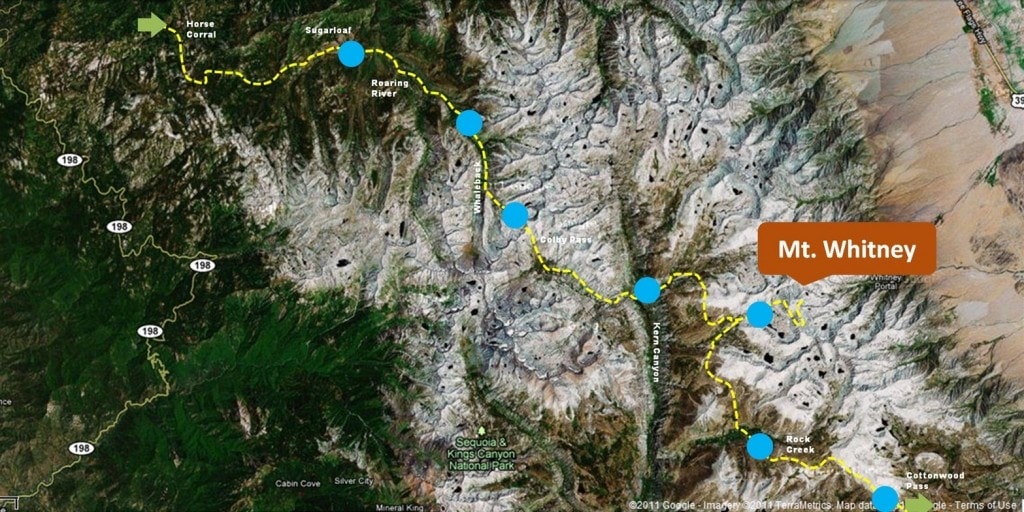 Mt. Whitney Trek Details
The August 14-22, 2020 trek will follow the our Trans-Sierra Xtreme Challenge route through across Kings Canyon and Sequoia National Park to Mt. Whitney.
Departure and pickup locations: On the day of your departure, TSX will coordinate transportation from OSIsoft, San Leandro, with a 10:00am departure. Please arrive at least 15 minutes prior to your confirmed pick up time. Meals are not provided when in transit, however, we will stop for food and to refuel before reaching the trailhead. Our goal is to make it to the trailhead in Kings Canyon National Park just before dusk. A light snack will be provided that evening at the trailhead.
At the trailhead: Bring your personal items and a positive attitude! All group gear and food will be provided on the trail. Any major personal gear you've indicated you'd like us to provide (sleeping bag, tents etc.) will be waiting for you at the trailhead. Please also bring a small bag with a clean set of clothes. Before we hit the trail, we'll give that bag to our return transportation. The clean bag will travel with return transportation and meet us as we exit the trail.
Returning home: Our return transportation will meet us as we exit the trail on the eastern side of the Sierra near Horseshoe Meadows. We will descend to Lone Pine to shower and share our last group meal. Finally, we'll head back to OSIsoft San Leandro. This is a six-hour+ car ride. Bring some pocket money for meals on the drive back. Expect to return to the Bay Area between 8-10pm.
WHAT YOU'LL NEED
Joining a TSX experience is easy. Don't own a backpack or tent? Not a problem. We provide backpacks, tents and sleeping pads for those who need them, at no additional charge. We also take care of all group items like pots, stoves, food, food storage, water filters, first aid and more. Your guides will do the cooking and dishes. Just show up with your boots and personal items, ready to hike!