Escalante Route
3 NIGHTS | 27 MILES | GRAND CANYON
MAR, APR, MAY, SEPT, OCT, NOV
Starts in Flagstaff, AZ
Explore remote slot canyons, scale jagged cliff ledges, and sleep on secluded beaches on a Grand Canyon backpacking experience in a class of it's own.
Overview
Join us on the Escalante Route for a world-class experience backpacking rugged Grand Canyon terrain, exploring remote slot canyons and sleeping on secluded beaches of the Colorado River. The Escalante Route spends much of it's time near the Colorado River's edge, providing some of the most incredible river, rapid and Canyon vistas few Grand Canyon will never see. Our 3-night, 4-day journey utilizes the Tanner and New Hance Trails for Rim to River travel, and includes traverses of 75-Mile Creek slot canyon as well as scrambles over the Papago Wall and Slide. While no experience is needed, this trek is best suited for experienced backpackers or motivated individuals with an appetite to experience some of the Grand Canyon's most remote, rugged and rewarding terrain.
What's included
Roundtrip transportation between Flagstaff, AZ meeting point and your trailhead
Guided 3-night, 4-day trek to the bottom of the Grand Canyon and back
Opportunity to sleep on the beaches of the Colorado River
All meals and snacks while in the back-country
Backpack, tent, sleeping bag and pad if needed
Personalized pack-check prior to departure
Group gear and equipment
Flexible cancellation policy
Inspiration for a lifetime
What's not included
Lodging in the front-country
Meals in the front-country
How it works
A $500 deposit is required upon registration with balance due 60 days prior to event. Trek dates may be adjusted +/- one day until permits are finalized 4 months in advance of departure (when Grand Canyon permits are issued). Maximum group size of 11, including two guides. An additional 5% charge will be applied when your reservation is made to offset new fees mandated by National Park Service. Book with confidence! Review our flexible cancellation policy.
Itinerary
Our Escalante Route experience includes travel along Tanner, Escalante Route, and New Hance trails for a total of 27 miles of rugged canyon hiking. Please note mileage is not indicative of difficulty. While the exact distance, camp locations, and direction of each trek may vary, here is a representative itinerary.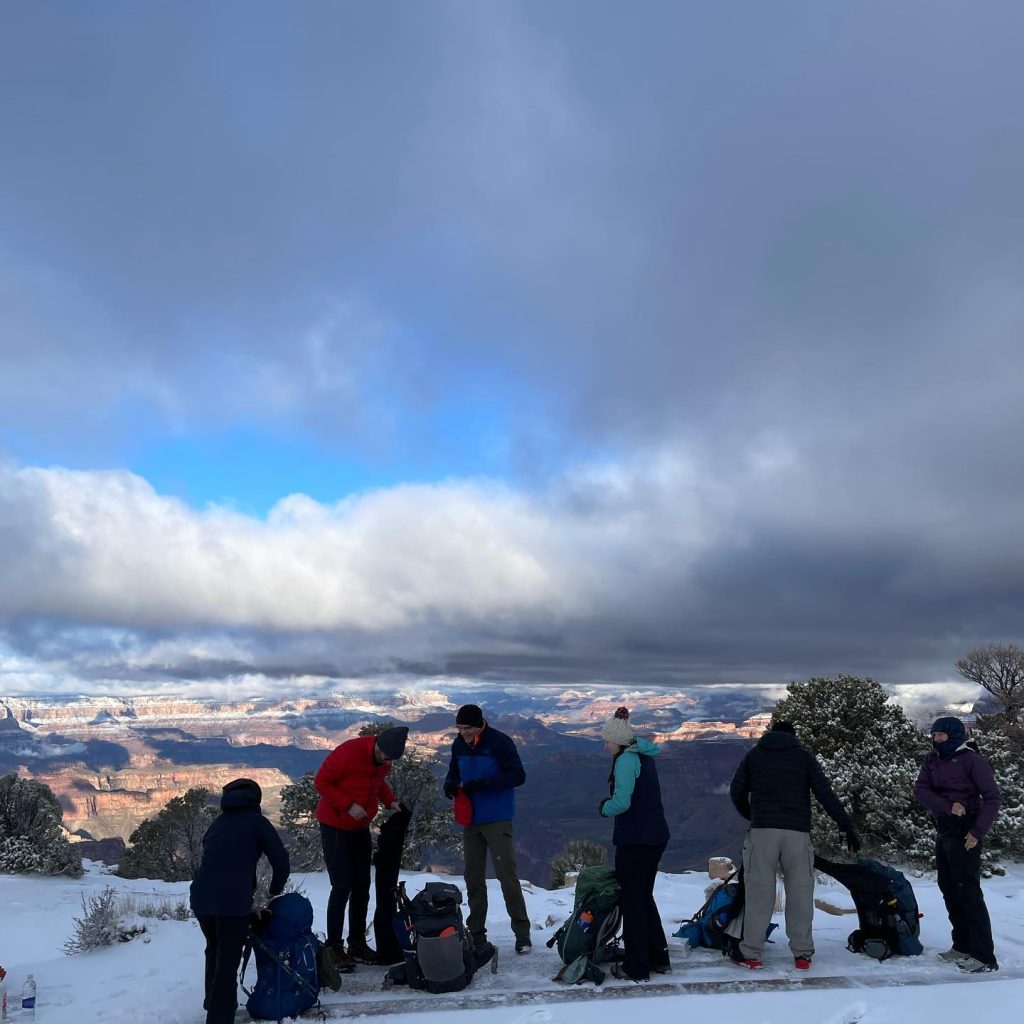 Evening before departure, pack-check overnight in Flagstaff
On the evening before your trek start date, we'll convene at 6:00pm for a one hour group orientation and pack-check in the main lobby of Little America Hotel in Flagstaff, AZ. At orientation we'll hand out backpacks, tents and sleeping bags to those who requested them. We'll also get to know our team, preview the trail and talk safety.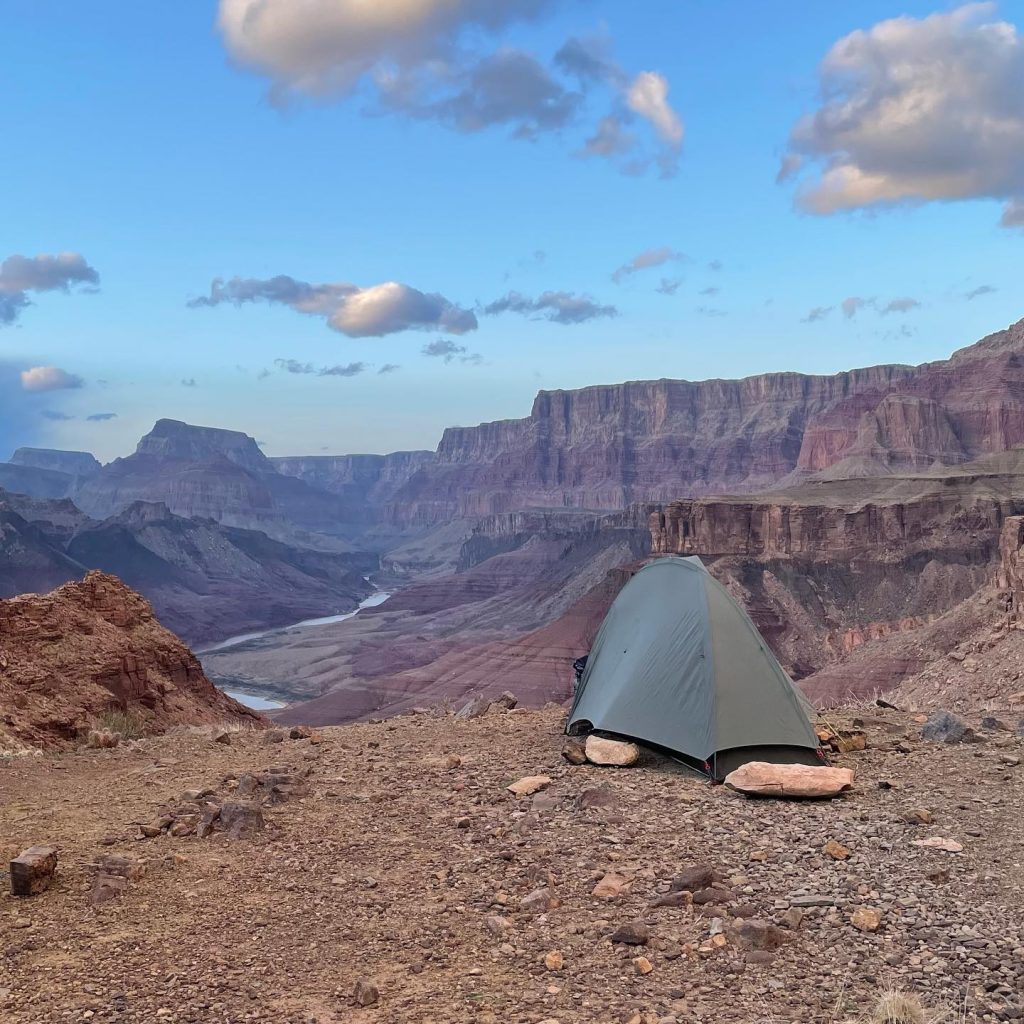 Day 1 – Lipan Point to Tanner Beach (+/- 7.8 miles )
After reconvening in the lobby of Little America Hotel, Flagstaff at 5:00am, we'll head out to the trailhead where our hike begins with a steep 4,000′ descent toward camp at Tanner Beach. We'll have lunch above the Red Wall with an incredible overlook to the river below. Travel on day one will be slow and methodical as we manage the variables of rugged trail, steep descents, limited access to water and changing temperatures. Expect 7-9 hours of trail time (including breaks) from start to finish.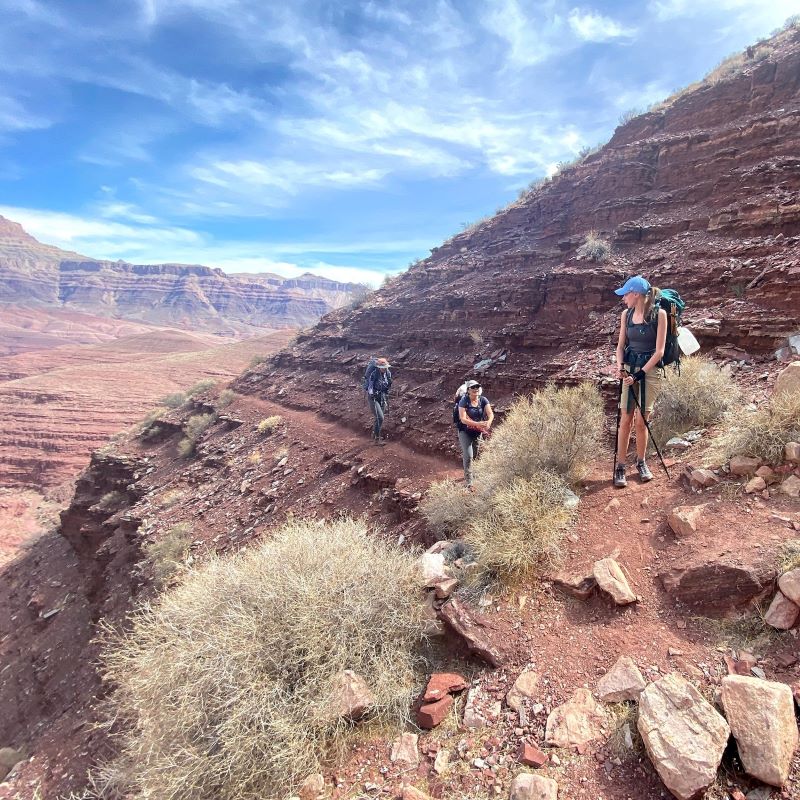 Day 2 – Tanner Beach to Escalante Beach (+/- 8.2 miles)
On day two we'll follow the trail downstream with wide, sweeping canyon and river views before beginning a climb of 1,400′ to lunch with an unparalleled 180 degree view of the river. A quick descent will bring us to a creek bed floor which we will follow out to the Colorado River and camp on Escalante Beach.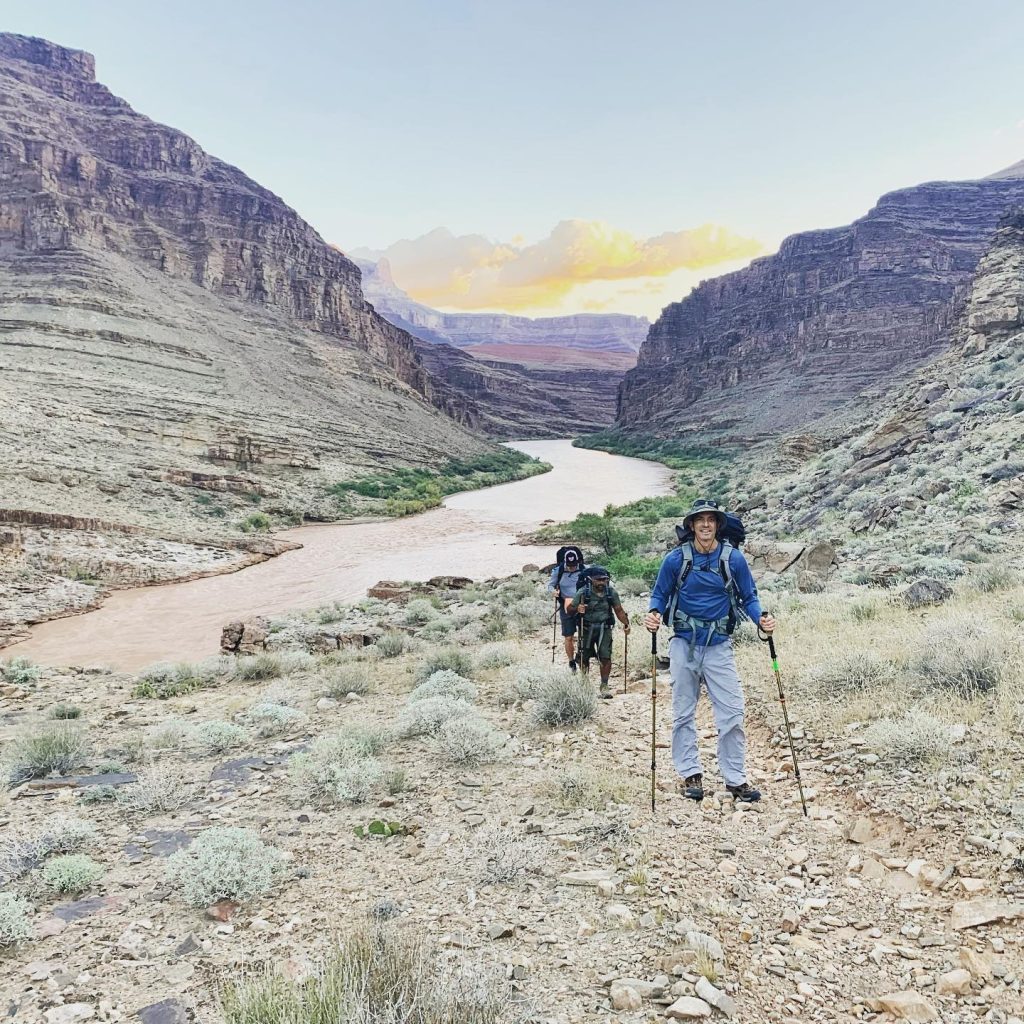 Day 3 – Escalante Beach to Red Canyon (+/- 5.5 miles)
This is a feature rich day. After a leisurely morning by the river, we'll hike to the back of 75 Mile Creek before dropping into the slot-like canyon for a walk back in time. Farther down river, we'll continue as a team up and over the Papago wall, a 35 foot pack-on scramble over ledges, then continue to climb before descending the Papago Slide. This day typically is among the most thrilling and rewarding. We'll stop at Hance Rapids to refill water before heading up Red Canyon for camp, enjoying sunset among it's beautiful red and purple hues.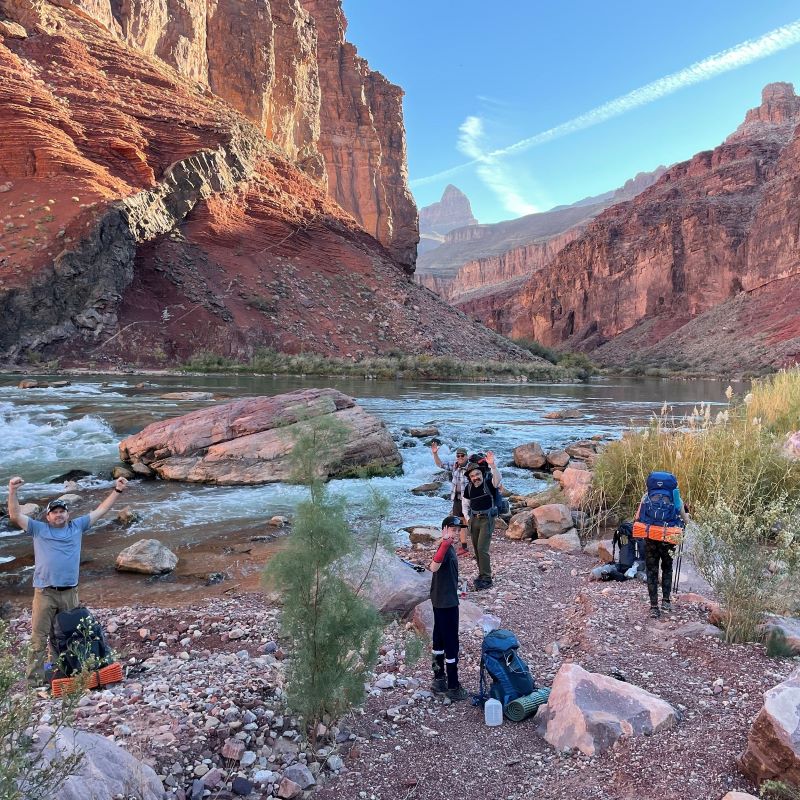 Day 4 – Red Canyon to New Hance Trailhead (+/- 5.0 miles)
An early, before-sun-up start will move us up and into the multi-layered, multi-colored walls of the Grand Canyon as we climb almost 4,000 feet to exit the trail and return to civilization. The Hance Trail is among the burliest in the Canyon, with an intense "Go" section of uphill hiking. After topping out and celebrating as a team, we'll return to Flagstaff, then home to brag.
Logistics
Trek date confirmation
We apply for Grand Canyon permits through a lottery system on the 1st of the month, four months in advance of our planned trek date. Permits are typically issued within two weeks of submission. You'll receive an email from us as soon as the dates for your trek are confirmed. Once confirmed, you can start making plans for transportation and pre-trek/post-trek accommodations.
Pre and post trek accommodations
Secure a lodging reservation in Flagstaff, AZ as soon as your trek dates are confirmed. You can request a TSX "corporate rate" at Little America Hotel (flagstaff.littleamerica.com / 800.865.1401) in Flagstaff. We will be hosting our pre-trek orientation at the hotel and will depart from the hotel on the morning of our hike (prices typically $125-$175 with discount). The nearby hotels on Lucky Lane are also a popular option and within walking distance (prices typically $75-$105). If you plan on staying somewhere else, that is ok with us! Let us know where you end up and we'll do our best to accommodate.
Transportation
If traveling by air, Flagstaff is the preferred airport. There is a free hotel shuttle to Little America Hotel from the Flagstaff airport. If flying into Phoenix, consider taking a shuttle or bus to Flagstaff, or renting a car. Reserve your shuttle spot in advance with Groome Transportation (groometransportation.com or 928.350.8466), or book your Greyhound Bus seat from Phoenix to Flagstaff in advance. You may also be able arrange customized shuttle service with Uber or Lyft.
Arrival time
When scheduling flights or planning your drive, please allow enough time to arrive no later than 7pm the evening before your trek begins so that you can attend the pre-trek orientation (typically scheduled between 6:00pm-7:00pm at the Little America Hotel, Flagstaff lobby).
Departure time
We plan on exiting the trail between 12pm and 2pm on the last day of the trek. However, the last day is always uphill, and there can be some variability based on individual fitness and preparedness. Please plan your return transportation accordingly. If flying out of Flagstaff on the same day, we suggest scheduling flights for departure no earlier than 4:50pm. Staying one additional night on the South Rim or in Flagstaff, and departing the following day is also popular option.
WHAT YOU'LL NEED
Don't own a backpack, tent or sleeping bag? We provide all major gear for those who request it at no additional charge. We also take care of all group items like stoves, food, water filters, first aid and more. Your guides will do the cooking and dishes. Just show up with your personal items ready to hike!
Download Our Official Gear Checklist!
Stay connected to TSX and download your gear checklist now: