Rim-to-Rim Xtreme Challenge
6 DAYS | 24 MILES | GRAND CANYON
sept, oct
Starts in Flagstaff, AZ
Join us for an ultimate crossing of the Grand Canyon on the the remote North and South Bass trails.
Overview
Our Rim-to-Rim Xtreme Challenge is a Grand Canyon adventure unlike any other. Traverse from rim to rim on the North and South Bass trails in solitude and connect with the Grand Canyon's raw and rugged beauty. There is no bridge to cross on our Rim-to-Rim route – instead, we'll rely on packrafts to navigate the mighty Colorado River. Covering a total distance of 24 miles on trail, 80 miles of 4wd dirt road travel, and a short jaunt of river travel, our five-night, six-day adventure includes time to enjoy remote beaches, plunge into cool creek swimming holes, and explore side canyons as we journey through some of the most awe-inspiring landscapes nature has to offer. Leave the crowds behind and join us for this ultimate Grand Canyon crossing.
Our Rim-to-Rim Xtreme Challenge is the fourth trip introduced as part of our Grand Canyon Limited Edition experiences (2024), and will utilize the the North Bass and South Bass trail systems.
What's included
Roundtrip transportation between Flagstaff, AZ meeting point and your trailhead
Guided 5-night, 6-day trek across remote Grand Canyon terrain
Opportunity to float across the Colorado river
All meals and snacks while in the back-country
Packraft, PFD, backpack, tent, sleeping bag and pad if needed
Personalized pack-check prior to departure
Group gear and equipment
Priority access to future Limited Edition experiences
Flexible cancellation policy
Inspiration for a lifetime
What's not included
Lodging in the front-country
Meals in the front-country
How it works
A $500 deposit is required upon registration with balance due 60 days prior to event. Trek dates may be adjusted +/- one day until permits are finalized 4 months in advance of departure (when Grand Canyon permits are issued). Maximum group size of 11, including two guides. An additional 5% charge will be applied when your reservation is made to offset new fees mandated by National Park Service. Book with confidence! Review our flexible cancellation policy.
Itinerary
All of our Rim-to-Rim Xtreme Challenge experiences traverse remote and rugged North and South Bass trails between the Rim and River. Please note mileage is not indicative of difficulty! Individual experience levels, group size, as well as permit allowances, will determine which direction will be run on which dates. While the exact distance, camp locations, and direction of each trek may vary, here is a representative itinerary.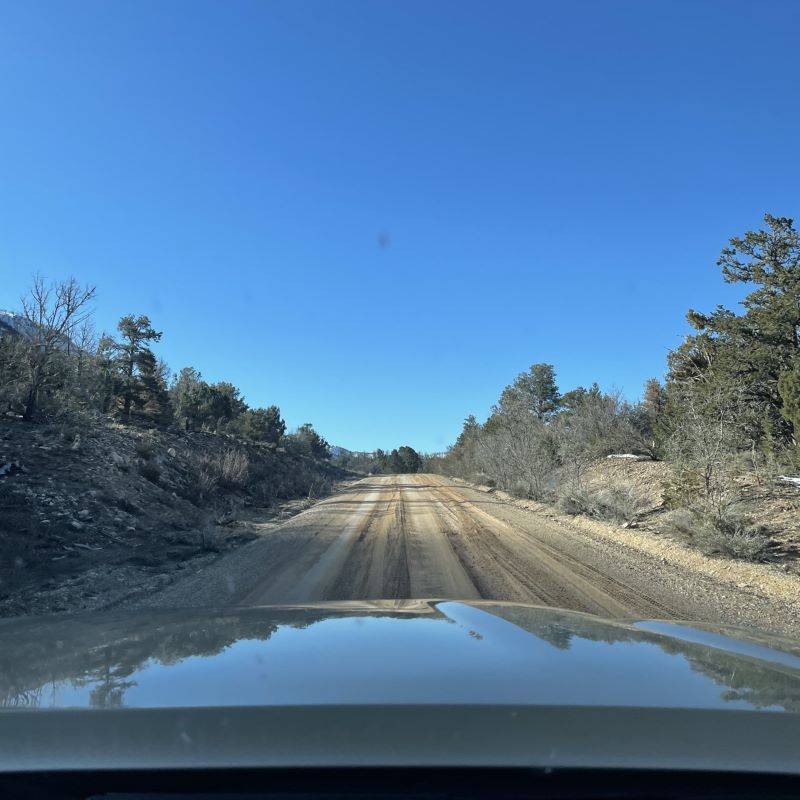 Day 1 – Flagstaff to North Bass Trailhead
On the day of your trek start date, we'll convene at 8:00am in the lobby of the Little America Hotel, Flagstaff. After brief introduction, we'll load gear and water, begin the adventure to our North Rim trailhead. Not for the undetermined, the 6 hour drive will require over 50 miles of driving on dirt roads in high clearance 4wd vehicles. Once at the trailhead, we'll hand out backpacks, tents and sleeping bags to those who requested them. We'll also get to know our team, preview the trail and talk safety. If you are driving in from the West or North (i.e. California, Utah, etc.), you can alternatively plan to meet us on Day 1 at a designated meetup point about 30 minutes from Fredonia, AZ to reduce your drive time.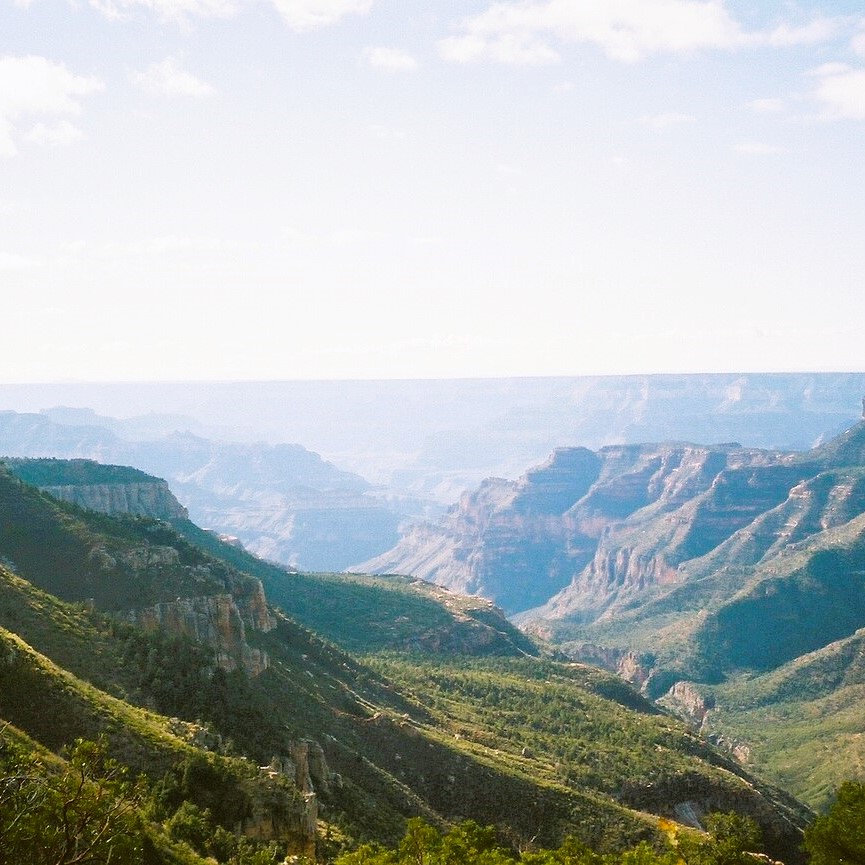 Day 2 – North Bass to White Creek (~6 miles)
Our adventure continues as we begin our descent into the Grand Canyon on what many would consider one of the most difficult trails in the canyon. The North Bass trail is rough, overgrown, and rarely maintained. The trail softens at times as we navigate a path down White Creek, and eventually to a rugged Redwall descent. After 3,500′ of descent, our camp awaits by a waterfall nestled next to White Creek, a welcome oasis.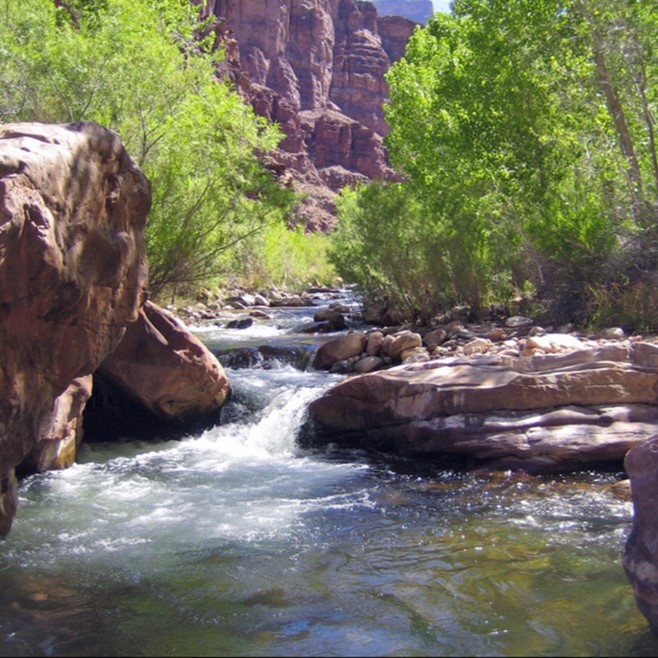 Day 3 – White Creek to Shinumo Creek (~6 miles)
Our hike continues along the course of White Creek. After traversing about three miles, we veer away from White Creek and trek along the Tonto before descending to Shinumo Creek. We'll take a plunge to freshen up in the perfect canyon swimming hole, then establish camp and enjoy the evening.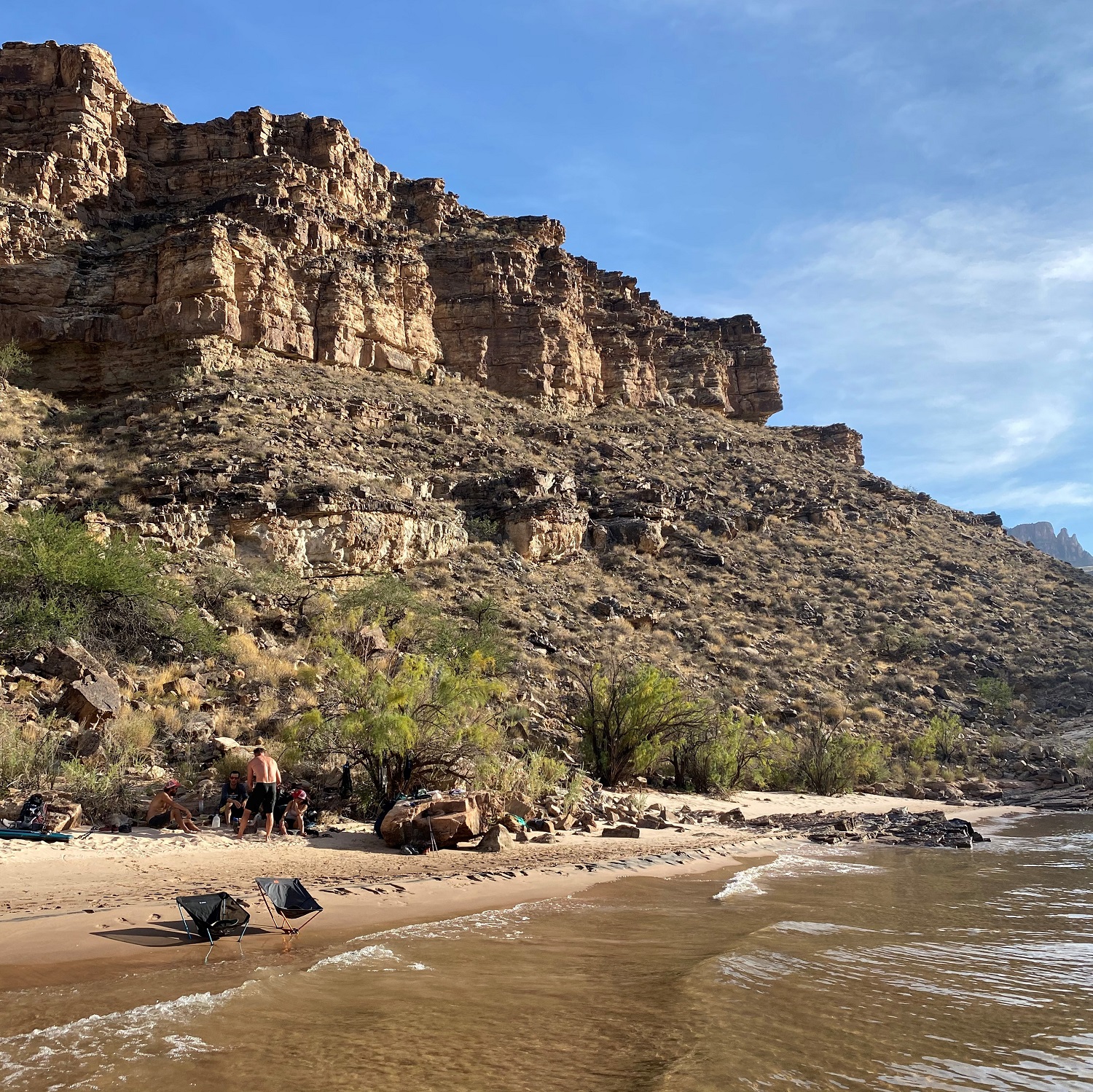 Day 4 – Shinumo Creek to Colorado River Beach Camp (~3 miles)
We'll continue down creek exploring hidden canyons, remote waterfalls, and the relics of historical camps with time to swim and explore. By days end we'll make our way to the Colorado, and the warm inviting sand of our beach camp for the evening.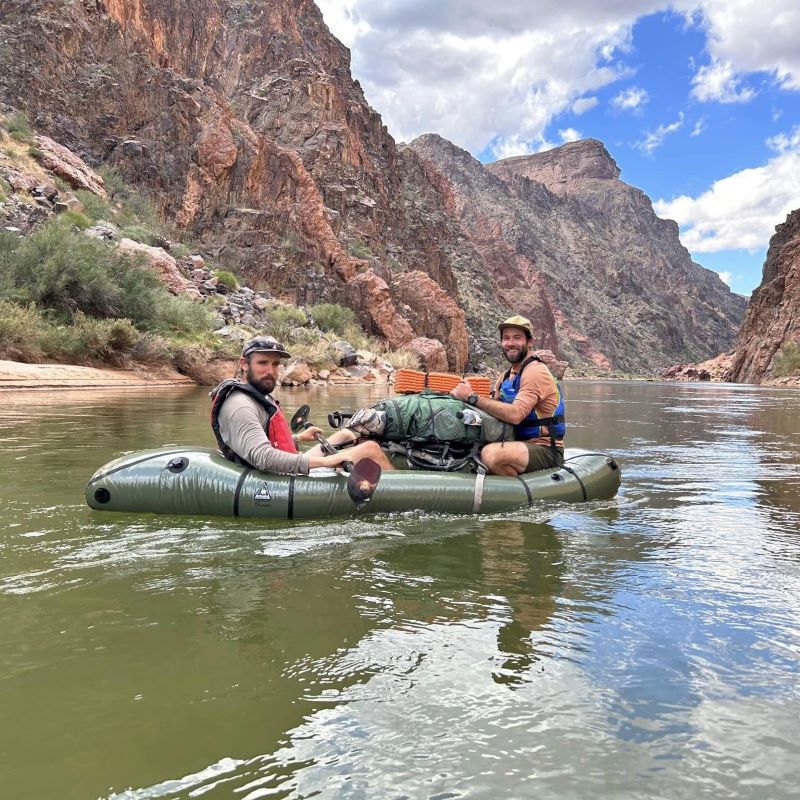 Day 5 – Float Colorado then hike to Redwall (~5 miles)
Our trek transitions to working back toward the canyon's South Rim, but first, we must cross the river! We'll prepare the packrafts and float across before beginning our climb. An intense uphill hike will bring us to the top of the Redwall just before sunset with a camp that hosts an expansive canyon views. Camping out is highly encouraged! This will be our last night on the trail.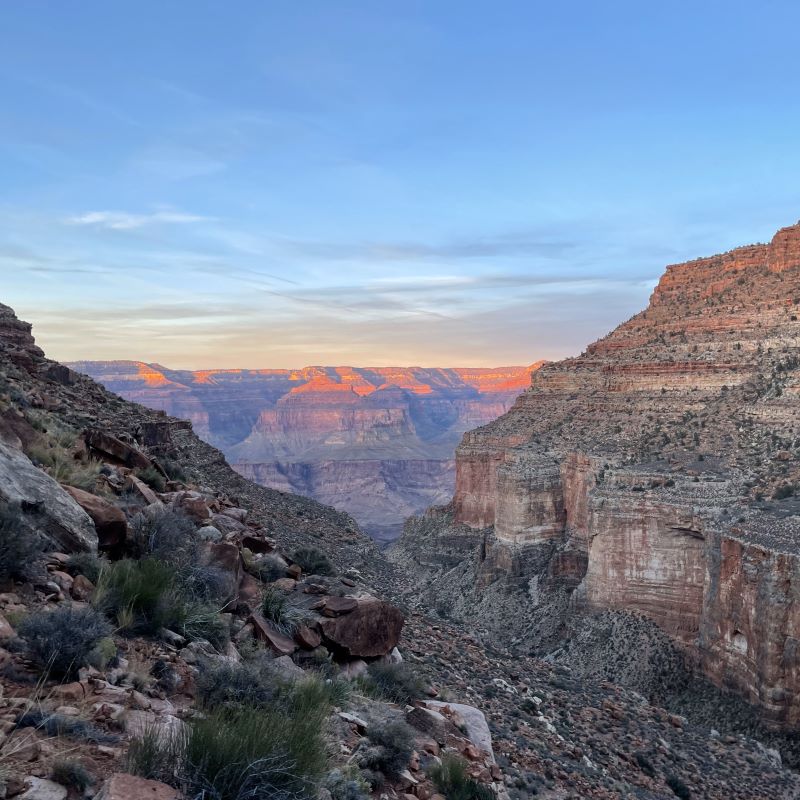 Day 6 – Redwall to South Rim (~3 miles, 850 foot ascent)
The last day of our Rim-to-Rim Xtreme Challenge will take us across the esplanade and up the final miles of the South Bass trail to our return transportation. Even after toping out, however, the adventure continues with 30 miles of off-road 4wd travel before hitting pavement, and making the return drive to Flagstaff for a hearty meal as a team.
Logistics
Trek date confirmation
We apply for Grand Canyon permits through a lottery system on the 1st of the month, four months in advance of our planned trek date. Permits are typically issued and within two weeks of submission. You'll receive an email from us as soon as the dates for your trek are confirmed. Once confirmed, you can start making plans for transportation and pre-trek/post-trek accommodations.
Pre and post trek accommodations
Secure a lodging reservation in Flagstaff, AZ as soon as your trek dates are confirmed. You can request a TSX "corporate rate" at Little America Hotel (flagstaff.littleamerica.com / 800.865.1401) in Flagstaff. We will be hosting our pre-trek orientation at the hotel and will depart from the hotel on the morning of our hike (prices typically $125-$175 with discount). The nearby hotels on Lucky Lane are also a popular option and within walking distance (prices typically $75-$105). If you plan on staying somewhere else, that is ok with us! Let us know where you end up and we'll do our best to accommodate.
Transportation
If traveling by air, Flagstaff is the preferred airport. There is a free hotel shuttle to Little America Hotel from the Flagstaff airport. If flying into Phoenix, consider taking a shuttle or bus to Flagstaff, or renting a car. Reserve your shuttle spot in advance with Groome Transportation (groometransportation.com or 928.350.8466), or book your Greyhound Bus seat from Phoenix to Flagstaff in advance. You may also be able arrange customized shuttle service with Uber or Lyft. If you are driving in from the West or North (i.e. California, Utah, etc.), you can alternatively plan to meet us on Day 1 at a designated meetup point about 30 minutes from Fredonia, AZ to reduce your drive time.
Arrival time
When scheduling flights or planning your drive, please allow enough time to arrive no later than 7pm the evening before your trek begins so that you can attend the pre-trek orientation (typically scheduled between 6:00pm-7:00pm at the Little America Hotel, Flagstaff lobby).
Departure time
We plan on exiting the trail between 10am and 12pm on the last day of the trek. However, the last day includes a long five-hour return drive back to Flagstaff. Please plan your return transportation accordingly. If flying out of Flagstaff on the same day, we suggest scheduling flights for departure no earlier than 7pm. Staying one additional night on the South Rim or in Flagstaff and departing the following day is also a popular option.
WHAT YOU'LL NEED
Don't own a backpack, tent or sleeping bag? We provide all major gear for those who request it at no additional charge. We also take care of all group items like stoves, food, water filters, first aid and more. Your guides will do the cooking and dishes. Just show up with your personal items ready to hike!
Download Our Official Gear Checklist!
Stay connected to TSX and download your gear checklist now: