Lost Coast Challenge
3 NIGHTS | 25 MILES | lost coast
feb, mar, oct, nov
Starts near San Francisco, CA
Explore one of the most rugged and remote sections of coastline in Northern California backpacking the Lost Coast Trail.
Overview
Leave it all behind and escape for a 3 night, 4 day journey along the fabled Lost Coast of California. Well-named since few roads access this remote and wild area, our 25-mile, point-to-point journey follows the coastline where the King Range meets the Pacific Ocean. Traverse secluded black sand beaches, coastal dunes, and rocky tidal areas with time to reflect and recharge each night camped on remote beaches beside the rhythmic crashing of waves. Each day we'll be timing the tides as we hike through this intertidal zone with mountains to your left and the ocean on your right. We'll experience a mix wildlife with everything from bears and deer to seals and sea lions.
What's included
Guided multi-night backpacking experience on the Lost Coast Trail
Shuttle from Shelter Cove, CA to Northern Terminus at Mattole Beach
Optional transportation between San Francisco Bay Area and Shelter Cove
All meals and snacks in the back-country
Backpack, tent, sleeping bag and pad if needed
Personalized pack-check prior to departure
Group gear and equipment
Flexible cancellation policy
What's not included
Meals in the front-country
Lodging in the front-country, pre- or post-trek
How it works
A $500 deposit per person is required with balance due 60 days prior to the event. Treks dates may be adjusted +/- one to two days until permits are finalized 3-5 months in advance of departure. Deposits for Lost Coast bookings are fully refundable until permits are confirmed. Typical group size of 7, including one guide. Maximum group size of 15, including two guides. An additional 5% charge will be applied when your reservation is made to offset new fees mandated by the U.S. Forest Service. Private, family and modified itinerary trips available through TSX Pods. Cancel up until the day of the trip without the risk of lost money. View cancellation policy.
Meeting Point
We will meet at a REI Corte Madera in the San Francisco Bay Area (Marin County, North Bay) on the first day of your trek to load gear and then depart on the roughly 4.5-hour drive to Shelter Cove, CA. At Shelter Cove we'll have an orientation, pack check, and safety talk before shuttling our team and gear to the northern terminus and our starting point near Matolle Beach Trailhead. Once at the trailhead we will set up camp on the beach, cook dinner and get some rest before we start hiking the following day .
Itinerary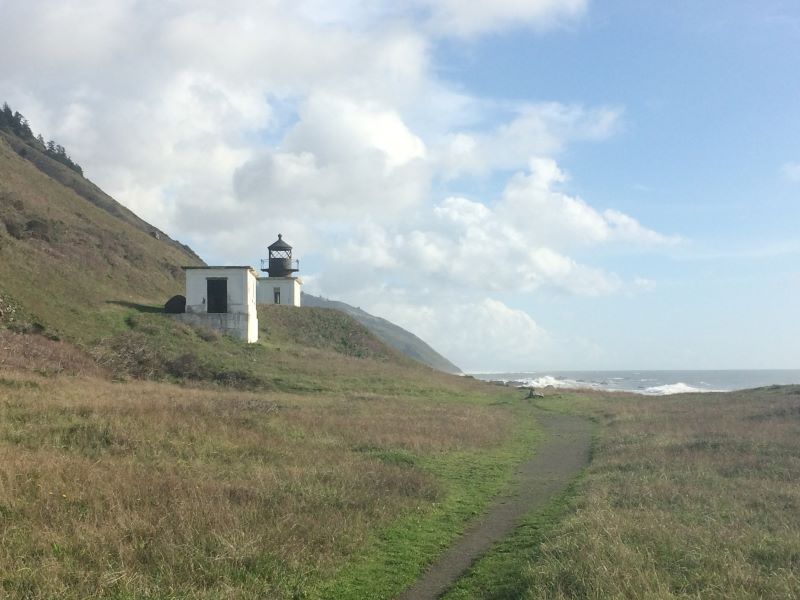 Day 1 – Drive to trailhead, pack-check, overnight on beach
The Lost Coast is well named, as our first challenge is just getting there! We will meet at 8am at REI Corte Madera in the San Francisco Bay Area (Marin County, North Bay) before setting out on the 4.5-hour drive to Shelter Cove which is the ultimate endpoint of our trek. At Shelter Cove, we will have lunch, complete a pack check, orientation, and safety talk, before loading onto the shuttle for the northern terminus and our start point, Matolle Beach. After the 2-hour shuttle ride, we will set up camp, have dinner and enjoy the sunset.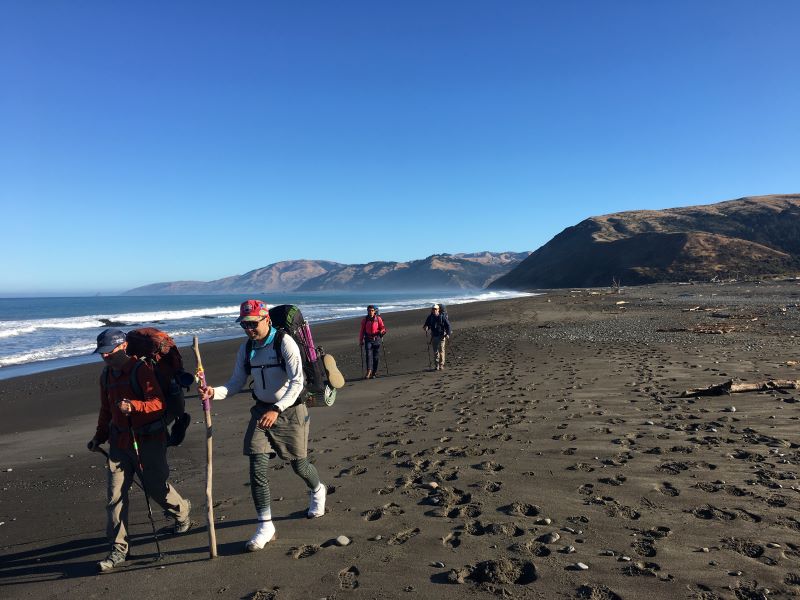 Day 2 – Matolle Beach to Randall Creek
Trail: Mixture of soft sand beach, small boulder fields and hard pack trail
We start our journey on the sand and hike down the barren beach for 3 miles before climbing onto the bluff above. Here we will come across the abandoned Punta Gorda Lighthouse. The hard trail continues for two miles before dropping back onto the beach and rocks for the remainder of the day. This last 3.5-mile section is impassable at high tide so we will time hiking it during low tide.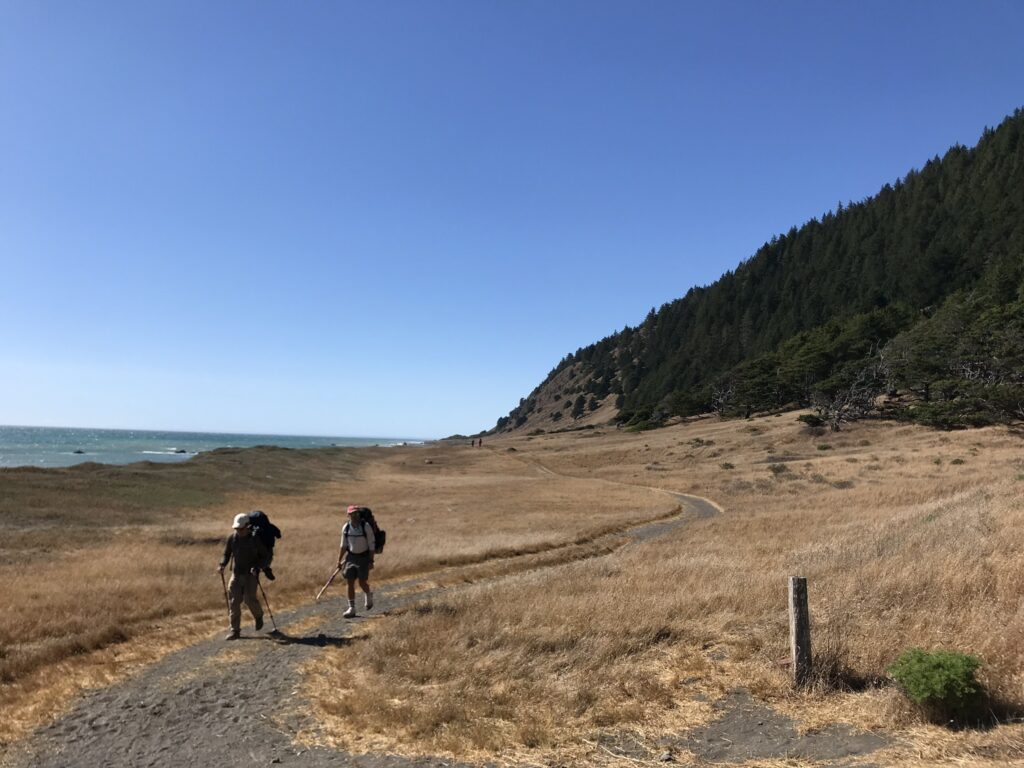 Day 3 – Randall Creek to Big Flat
Trail: Mostly hard pack trail on a low bluff above the beach with some sand and rock sections
The majority of day 2 will be spent on the bluffs and dunes overlooking the beach. Hiking on a well-tread, hard trail with small sections down on the beach and rock. This 8-mile hike crosses many streams flowing down from the mountains and offers unparalleled vistas all the way down the coast. Big Flat is the largest plateau along the whole trail and is a popular destination for skydivers and surfers who might be sharing this massive camping area.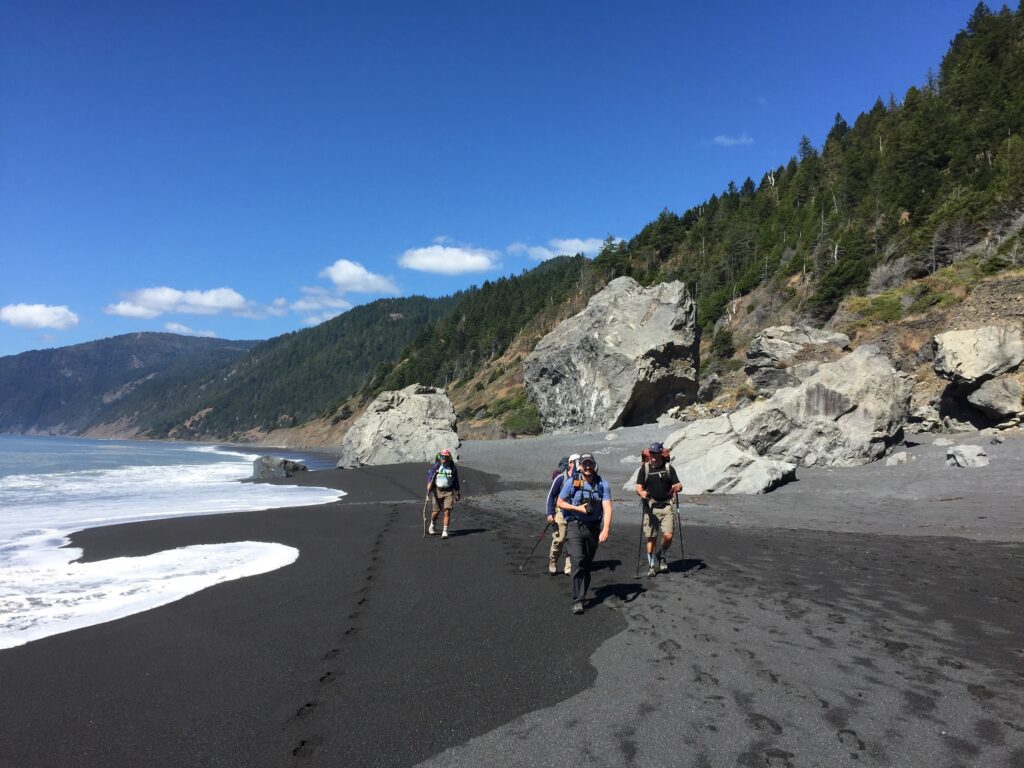 Day 4 – Big Flat to Shelter Cove, Drive Home
Trail: Mixture of soft sand beach, small boulder fields and hard pack trail
Our last day takes us quickly down off the flats back onto the beach and rocks for most of the hike. With another large high tide impassable zone, we will time this day to coincide with low tide. With lightened packs, these last 8.5 miles will seem to go by faster than expected and we find ourselves back at the van in Shelter Cove. After a well-earned hot meal in town, we load up into the van by midday for the drive back to San Francisco.
Logistics
Transportation
If traveling by air, fly into San Francisco International Airport (SFO) or Oakland International Airport (OAK). If you need a ride, let us know! We'll meet at 8am at the REI Corte Madera in the North Bay. If traveling by car you are welcome to meet us at Shelter Cove and drive yourself if you prefer. We'll convene at a designated meeting point at 1pm. From Shelter Cover, we will shuttle everyone to the Northern Terminus, Matolle Beach.
Arrival time
When scheduling flights or planning your drive, please allow enough time to arrive in Shelter Cove by 1pm or our Bay Area meet-up point by 8am.
Departure time
We plan on exiting the trail and arriving back at Shelter Cove by 10-11am on the last day of hiking. After a group lunch, and some time to celebrate together, we'll drive back to bay area. Expect to arrive at our original meet-up point between 6-8pm. If flying out that evening, we suggest booking a flight with departure after 10pm.
Pre- and post-trek accommodations (Out of State Guests)
For guest traveling in from out of state, we suggest flying into the Bay Area the evening before departure. While there are many options available, those who prefer to stay near our morning meeting point might consider the Best Western Corte Madera Inn or Marin Suites Hotel. Both are about a 5-minute walk from our meeting point. We can pick you up at the hotel on the morning of departure. If you plan on staying somewhere else, please let us know where you end up, and we'll do our best to accommodate.
WHAT YOU'LL NEED
Don't own a backpack, tent or sleeping bag? We provide all major gear for those who request it at no additional charge. We also take care of all group items like stoves, food, water filters, first aid and more. Your guides will do the cooking and dishes. Just show up with your personal items ready to hike!
Download Our Official Gear Checklist!
Stay connected to TSX and download your gear checklist now: