Tehipite Valley
5 NIGHTS | 45 MILES | TEHIPITE DOME
MAY, JUNE, SEPT, OCT
Starts near Fresno/Clovis, CA
Immerse yourself in the wonder of Tehipite Valley, the most powerful, majestic and remote glacial valley of the Sierra.
Overview
If Yosemite Valley is for tourists, Tehipite Valley is for true adventurers. Immerse yourself in a valley of mythical proportions on a 5-night, 6-day backpacking trek that will take you into the most majestic, powerful and remote valley in the Sierra. You've heard of Half Dome? Discover Tehipite Dome, the largest dome in the Sierra, with a sheer 3,500′ rise from the valley floor, and venture onto its ledges. Enjoy a layover day camped along the wildly exuberant Middle Fork of the Kings River with time to explore cascading waterfalls, swimming holes and native petroglyphs in the serene wonder of a valley filled with solitude. This 45-mile Y-shaped trek includes two base camps, roughly 4 miles of off trail trekking to Tehipite Dome (day hike, no pack), and a layover day to explore Tehipite Valley. Our route includes moderate hiking through the beautiful wilderness of Crown Valley and an epic descent of 3,500′ in just over 2 miles to our ultimate destination, Tehipite Valley, in Kings Canyon National Park.
What's included
Guided 5 night, 40 mile trek to Tehipite Dome and Tehipite Valley
Roundtrip transportation between Shaver Lake, CA meeting point and trailhead
Optional transportation between Fresno/Clovis area or San Francisco Bay Area and meeting point
All meals and snacks while in the back-country
Backpack, tent, sleeping bag and pad if needed
Personalized pack-check prior to departure
Group gear and equipment
Post-hike shower
Flexible cancellation policy
What's not included
Meals in the front-country
Lodging in the front-country, pre- or post-trek
How it works
A $475 deposit per person is required with balance due 60 days prior to the event. Typical group size of 7, including one guide. Maximum group size of 12, including two guides. An additional 5% charge will be applied when your reservation is made to offset new fees mandated by the U.S. Forest Service. Private, family and modified itinerary trips available through TSX Pods. Cancel up until the day of the trip without the risk of lost money. View cancellation policy.
Waterfall Photo credit: Leon Turnbull http://www.waterfallswest.com
Itinerary
We coordinate transportation to and from our Tehipite Valley trailhead from the San Francisco Bay Area (REI Dublin) and Central Valley (Fresno/Clovis area designated meet-up point). We'll then converge at a designated cabin in Shaver Lake, California. This is a 3-4 hour drive from the Bay Area, 4-5 hour drive from Southern California, or 1 hour drive from the Fresno/Clovis area. If you have your own ride, that's great! Additional details will be provided and arranged on a group by group basis.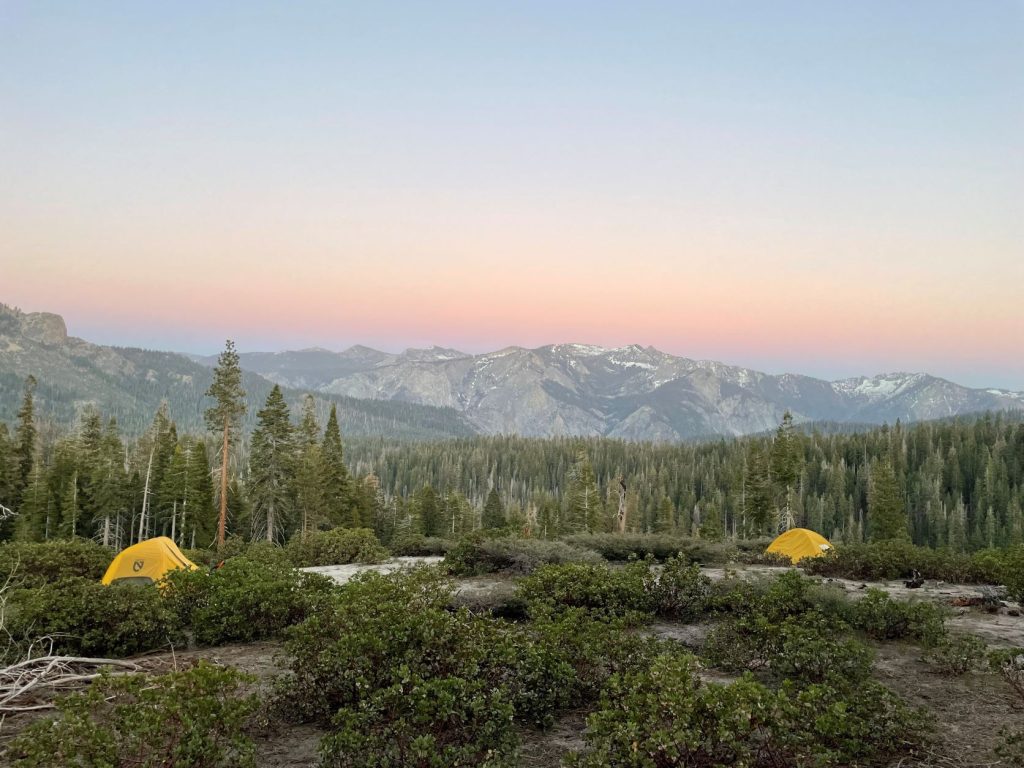 Day 1 – Late morning arrival, pack-check, overnight on trail
Pooled transportation from the Bay Area will depart at 7am. Pooled transportation from the Fresno/Clovis area will depart at 9am. If driving in, plan on arriving at our Shaver Lake meet-up point between 10 and 11am There we will hold a pre-trek pack check, distribute group food and snacks and load up the van. From the meetup point, it is a 1.5-hour drive toward Wishon Reservoir and our trailhead. By 1pm we will have packs on and hit the trail.
The afternoon hike is a rolling 6-mile hike with moderate elevation gain/loss on good trail. We will wind through forests dotted with High Sierra meadows and small stream crossings. At the end of the day we will set up the first of two basecamps on a ridge with views of Tehipite and Kettle Domes.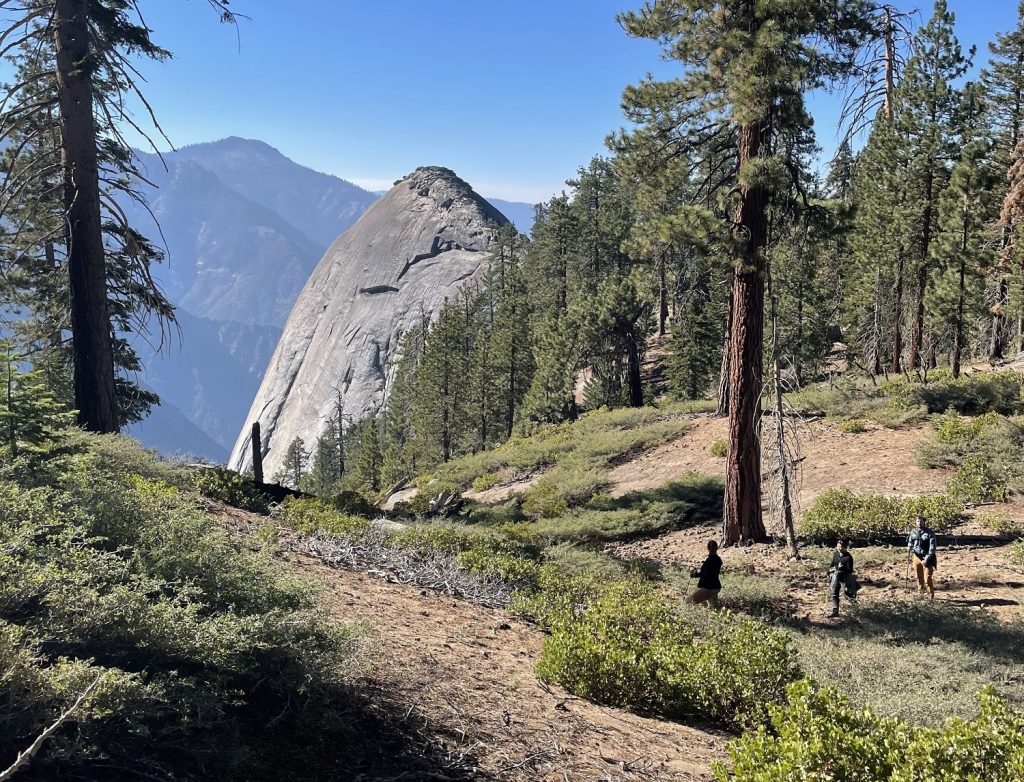 Day 2 – Crown Valley camp to Tehipite Dome and back
Trail: 8 miles on trail with moderate incline and 4 mile off trail
After breakfast, our team will set out on an out-and-back day hike to the ledges of Tehipite Dome. The first 4 miles will be on primitive trail winding through woods, meadows and river crossings. We'll leave the trail behind and begin off-trail on a 2 mile trek along steep slopes with short scrambles until our route gives way to stomach tingling views as we approach the ledges of Tehipite Dome. After enjoying the view and a well-deserved lunch we will hike back the way we came to basecamp and prepare for the next day.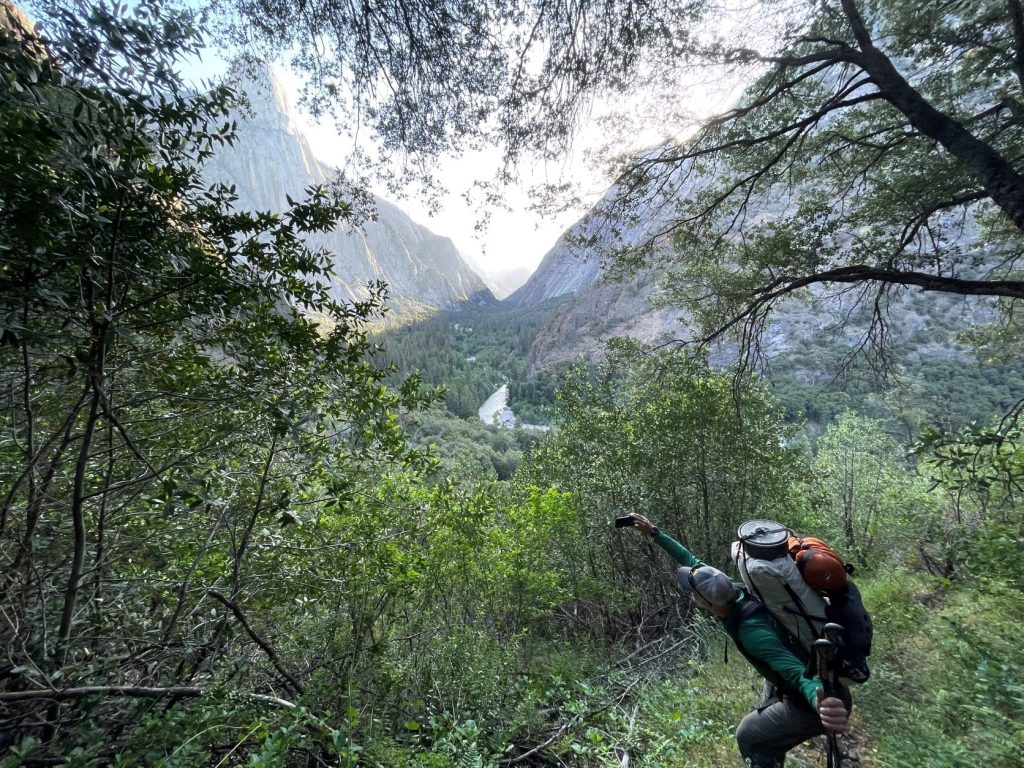 Day 3 – Crown Valley camp to Tehipite Valley
Trail: 9 Miles over rough trail with 3,500′ descent into Tehipite Valley
We will pack up our basecamp and hike down into Tehipite Valley. The first 7 miles of the hike will be over moderate to rough trail until we come to "The Point of No Return" which marks the beginning of the descent into Tehipite Valley. With stunning views we will begin our 2.5 mile descent, dropping 3,500 ft. into the valley. At the bottom of the switchbacks it is a short mile hike along the Middle Fork of the Kings River and camp.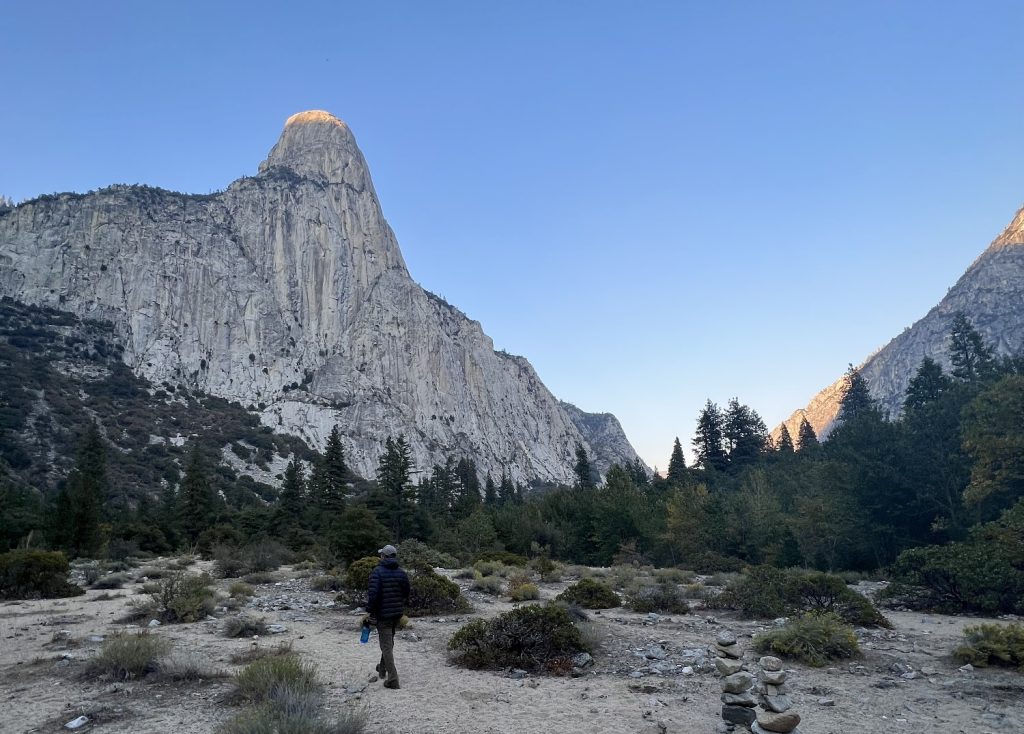 Day 4 – Tehipite Valley layover day
This is your day to choose your own adventure and explore the many wonders of the Tehipite Valley. Hike up the valley and find "Painted Rock" which is covered in petroglyphs. Take a side trip up to Silver Spray Falls or search for the infinite pools in the Gorge of Despair. If you like to fish, spend the day angling up and down the Middle Fork of the Kings River. Or rest and reflect by the river in serenity.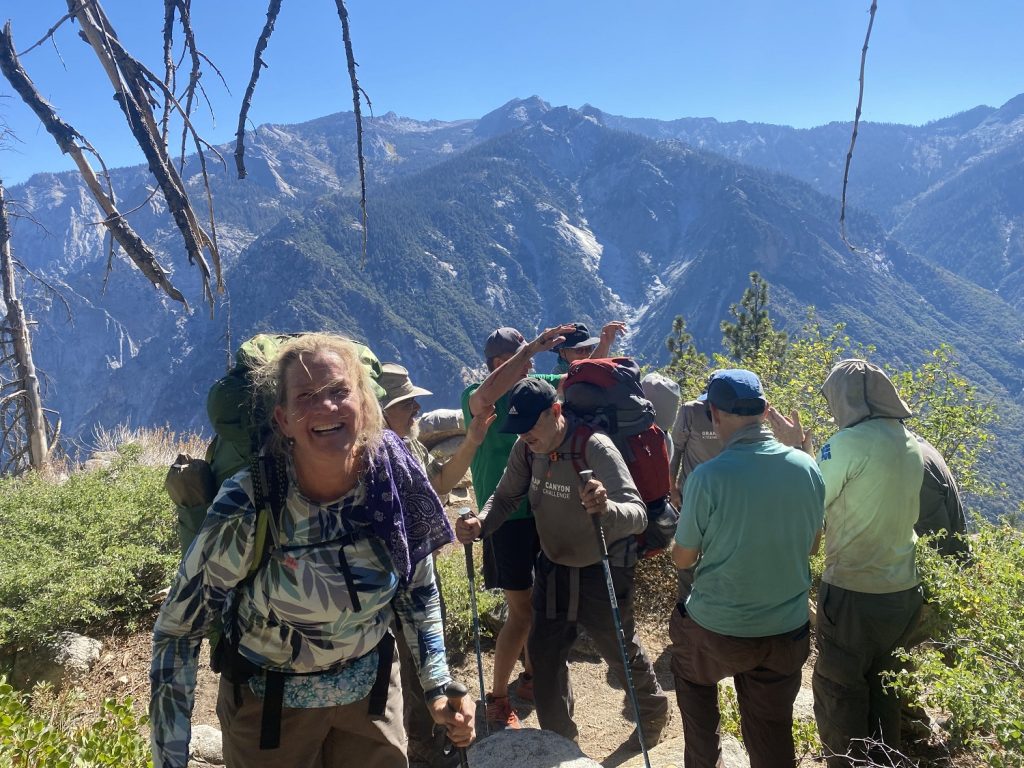 Day 5 – Tehipite Valley to Meadow Camp
Trail: 8 Miles with intense uphill over moderate trail
What goes down must come up. We will set out early to get a jump on our long climb back up the 70 switchbacks. After a well-earned break at the top we will have an easy hike back to Rocky Creek meadow where we will camp for the night.
Day 6 – Meadow Camp to Wishon Reservoir
Trail: Easy to Moderate 5-mile hike along a rolling and well-maintained trail
We will hike back the way we came along the same trail as Day 1. With an early start we will be back at the van by 11:00 AM and then back at our Shaver Lake cabin meet-up point by 1PM. Here you can unpack, shower, enjoy pizza and a beer… then home to brag!
Logistics
Transportation
If traveling by air, Fresno Yosemite International is the preferred airport. It's a one hour drive from the airport to our meeting point in Shaver Lake, CA. If you'll need a ride, please let us know! Be ready for pick-up by 11am. If traveling by car, meet us at our Shaver Lake cabin. It is a roughly 4 hour drive from the Bay Area, and 5 hour drive from Southern California to Shaver Lake. We will provide transportation from our Shaver Lake meet-up point to and from the trailhead.
Arrival time
When scheduling flights or planning your drive, ideally, please allow enough time to arrive at our Shaver Lake meet-up point between 1pm-2pm, or the Clovis/Fresno area by 11am if you need a ride up to Shaver. This will allow enough time for welcome activities, a pack-check, and a drive to our trailhead where we will begin our trek that evening before making camp.
Departure time
We plan on exiting the trail between 10am and 12pm on the last day of the trek. Please plan your return transportation accordingly. If flying out of Fresno on the same day, we suggest scheduling flights for departure no earlier than 3pm. Staying one additional night in the Clovis, Fresno or Shaver Lake area is also popular option.
Pre- and post-trek accommodations (Out of State Guests)
For guest traveling in from out of state, we suggest flying into Fresno, CA the evening before departure and staying at the Best Western Clovis Cole, in historic downtown Clovis or Hampton Inn and Suites Clovis. Both are about a 10 minute cab/Uber ride from the airport. We can pick you up at the hotel on the morning of departure. If you plan on staying somewhere else, please let us know where you end up, and we'll do our best to accommodate.
WHAT YOU'LL NEED
Don't own a backpack, tent or sleeping bag? We provide all major gear for those who request it at no additional charge. We also take care of all group items like stoves, food, water filters, first aid and more. Your guides will do the cooking and dishes. Just show up with your personal items ready to hike!
Download Our Official Gear Checklist!
Stay connected to TSX and download your gear checklist now: