There Were Tears: Getting Wise on Top of Mt. Whitney
It was my wife Stephanie who discovered TSX Challenge. She sent me a link to the Website. I should have paused. The "X" stood for "Xtreme."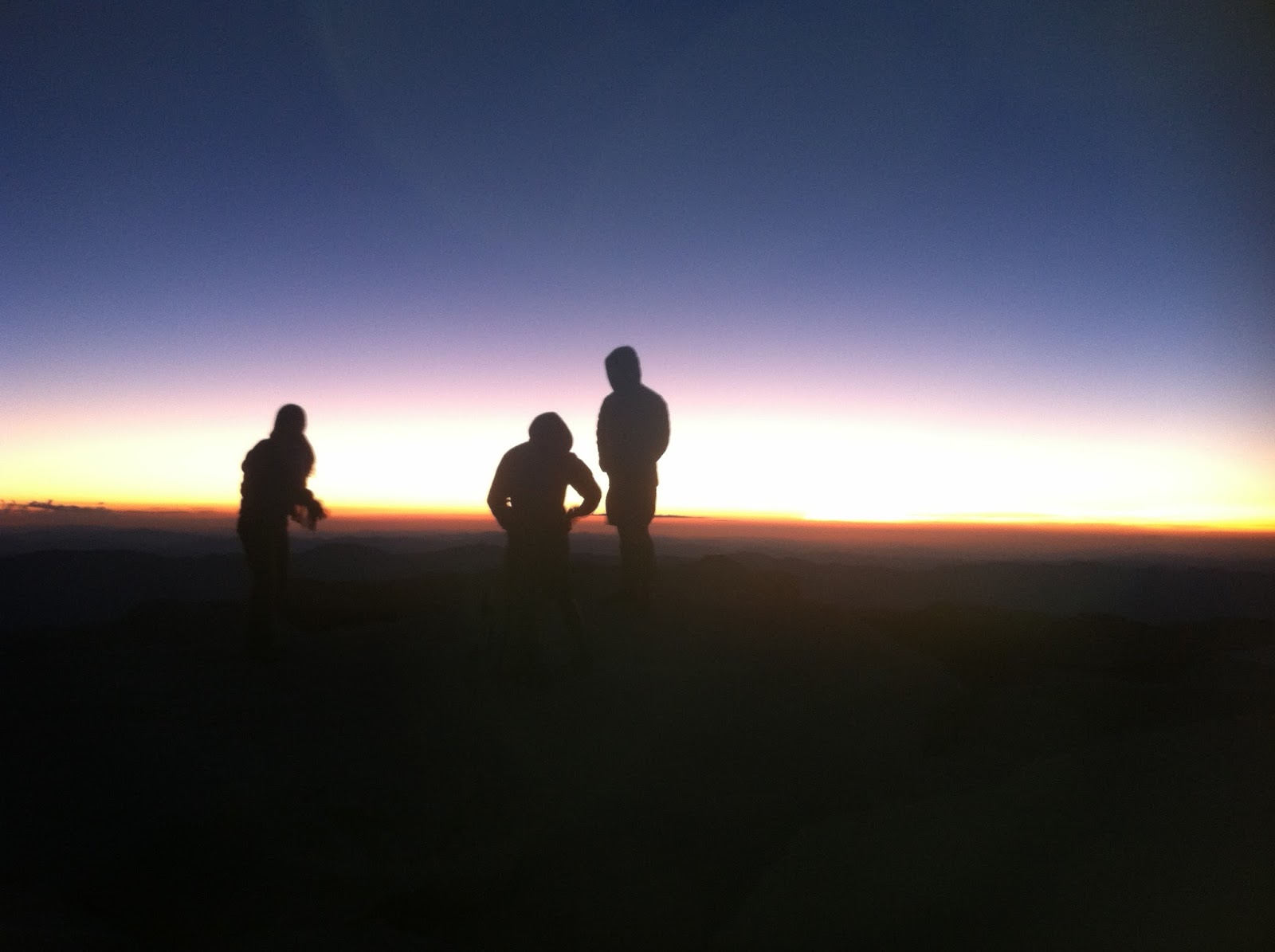 By Kenneth Kann
It was my wife Stephanie who discovered the TSX Challenge. She sent me a link to the Website.
I scanned the site and shot back, "Let's do it!"
She responded, "Really?"
I should have paused. The "X" stood for "Xtreme."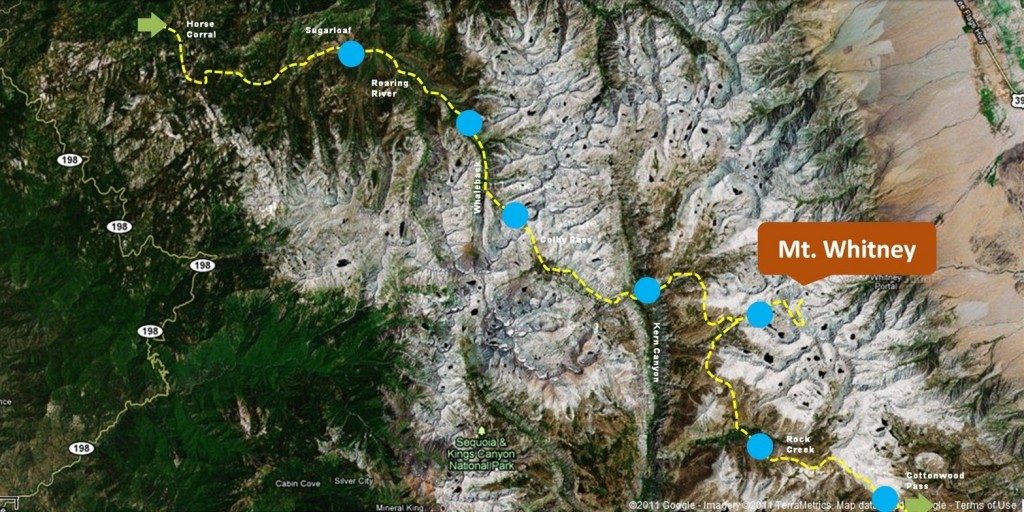 The TSX Challenge is an eight-day backpacking trek through California's Sierra Nevada mountains. It's offered by a young adventure company, Trans Sierra Xtreme Challenge, now known as TSX. The route covers 75 miles across remote high mountains, beginning at Horse Corral Trailhead in King's Canyon National Park, some 60 miles east of Fresno. It emerges to the south on the other side of the Sierra crest, the eastern side, at Horseshoe Meadow to the west of Lone Pine. The journey culminates in a climb atop Mt. Whitney, at 14,508 feet the highest point in the contiguous United States.
We invited friends to join us on a TSX expedition for summer 2012. All but one declined. Dale, who accepted, is an international triathlon competitor. "This will be a once-in-a-lifetime trip," he said. "There…Will…Be…Tears." I thought it was a joke.
I'd wanted to hike Mt. Whitney for years. I wanted to see that magnificent Sierra backcountry, places we could not reach in day hikes. Stephanie and I had considered doing the John Muir Trail, a long-distance backpacking route through the Sierra between Yosemite in the north and Mt. Whitney in the south, 211 miles. TSX offered a path to this great adventure.
Another motivation. I had just retired, and I wanted assurance that I was not on a downward slope. My employment was done. My future was a blank. But I still was a long-distance bicyclist, planning a ride from San Francisco to Los Angeles in June 2012, two months before the TSX expedition. And I was a hiker. Stephanie and I vacationed through the West, where we tackled ambitious day hikes, distances of 10 miles and 1500 feet climbs. With the TSX Challenge I could confirm the fitness of my body at 67, even in retirement.
I spoke with a TSX founder, Chris Casado, who later led our expedition. Although I had called to learn about TSX, I found myself selling Dale, Stephanie, and me as qualified for the trip. In the midst of my pitch, I realized that Chris was reassuring me of his company's ability to bring us through this challenge. But I never paused to consider whether this journey was wise. We submitted our applications, again emphasizing our fitness. And, that simple, we were accepted for the TSX Challenge in August 2012.
"We have to train," Stephanie insisted. Train? True, it was decades since I had backpacked, but there had been no problem last time–in my 30s.
She began in the winter with demanding Sierra Club day hikes, over 12 miles distances and 2000 feet climbs. Me? I would conquer the TSX Challenge through cycling fitness and occasional walks with a sack of charcoal in my backpack. No sweat.
Reality intruded on Day One of the TSX Challenge, in the first ten minutes. We'd been dropped off at a remote trailhead in King's Canyon National Park, at 7800 feet. We faced a 1500 feet climb before descending into Sugarloaf Valley. Switchbacks, steep ones–surprisingly difficult. As our group began ascending the trail, I had to step aside. Others were breezing past me.

We were 13, including the two TSX guides. Ages ranged from teenage boys to four men in their 60s; my friend Dale was the oldest at 68. The assistant guide Brian, 29, took the lead, and the expedition leader Chris, 33, stayed back as the sweep. On that first climb, the faster hikers powered ahead, led by the two teenage boys on Brian's heels, followed by two young women. Dale and Stephanie moved up toward the front. At the rear were three older men. I soon found myself at the very back, trailed only by Chris.
I panted for air. My shoulders ached with the 35 pounds backpack. I struggled to keep up with the group. After half an hour upward, first one and then the other older man disappeared ahead. Just an hour into the expedition, Chris and I were alone.
All my life I was accustomed to being first, as the oldest of three brothers, an award winning student, a high achiever in several careers. Even in Little League I was a star. Never before had I been weakest in any group of any kind—educational, athletic, professional. Not even games. Never!
Chris had warned that some found the first day the most difficult. Although it was one of our easiest stints measured by distance and ascent and altitude, this was the beginning of climbing in the high mountains. But I quickly gave up blaming my difficulties on acclimation. This was grueling. I worried about reaching the far off end. Seven and a half days to go and many mountain miles ahead. Enormous challenges loomed, including the Whitney summit at almost twice our starting elevation. Had I made a terrible mistake?
I asked Chris about slow hikers on previous TSX trips. He was reassuring: my plodding pace was steady, my stops were few, others had had greater difficulties. Not much consolation. I asked if any hikers did not complete the journey. I knew that one TSX founder, a schoolteacher, brought 5th graders, ten-year-olds.
"No, "Chris said, "everyone does it." Fifth graders included, although they sometimes cried. And then he added, addressing my unspoken question whether there was any way out of this, "You're just 2 hours in!"
I was startled and embarrassed with this airing of my simmering self-doubt. "Don't worry," I responded. "I'm a finisher."
I realized I just had violated two of my cardinal rules for law practice and life: "Never complain; never explain." I've had plenty of experience with adversity: career misfortunes, litigation disasters, things gone south in the organization I directed. I did not believe in complaints, explanations, and justifications. Skip the words. Just fix it, make it right, do it.
Yet there was much more to complain about that first day. In a miscommunication, the larger group led by Brian did not wait for Chris and me at the designated lunch stop overlooking Sugarloaf Valley. After the briefest break for lunch, we set off to catch them. I was tired. My neck throbbed. I was irritated, but I kept quiet.
Late that afternoon, after I had caught the group and fallen behind again, Chris left me on the trail with assurance that the meeting-place was seven minutes ahead, and hurried on to confer about the evening's camp location. After 25 minutes I stopped, called, and waited. I was out of steam, maybe lost, and exasperated. Eventually Chris tracked back to find me from the meeting spot a minute ahead. He questioned why I had stopped. I said, "You told me seven minutes!" I felt like a whining fifth-grader, and now I was blaming someone else, breaking another personal rule. Chris decided it was time to make camp, a mile short of the Day One destination.
Around the evening campfire Brian instituted a team-building practice of "Thorns and Roses." Sitting in a circle, each person would speak about the day's personal negative and positive events, the "thorns" and "roses." For me, no thorns, no more complaining. Just a rose. This first evening I praised the pleasure of talking with Chris at the back of the pack that day.
I admired Chris. He was a natural leader with sure command, an ethic of responsibility, and deft dealings with others. He was wiry and strong, quiet and assured. After a day on the trail with Chris, I realized he had written those stirring descriptors on the TSX Website: "motivated individuals," "positive attitude," and "the most challenging and inspirational experience in the Sierra." Chris was a guy who made things happen, a young entrepreneur with innovative tech enterprises in the works. TSX was a sideline, a labor of love for this Sierra trek and showing it to people with the will to experience it. I was ready to follow Chris. I did not want to be a problem.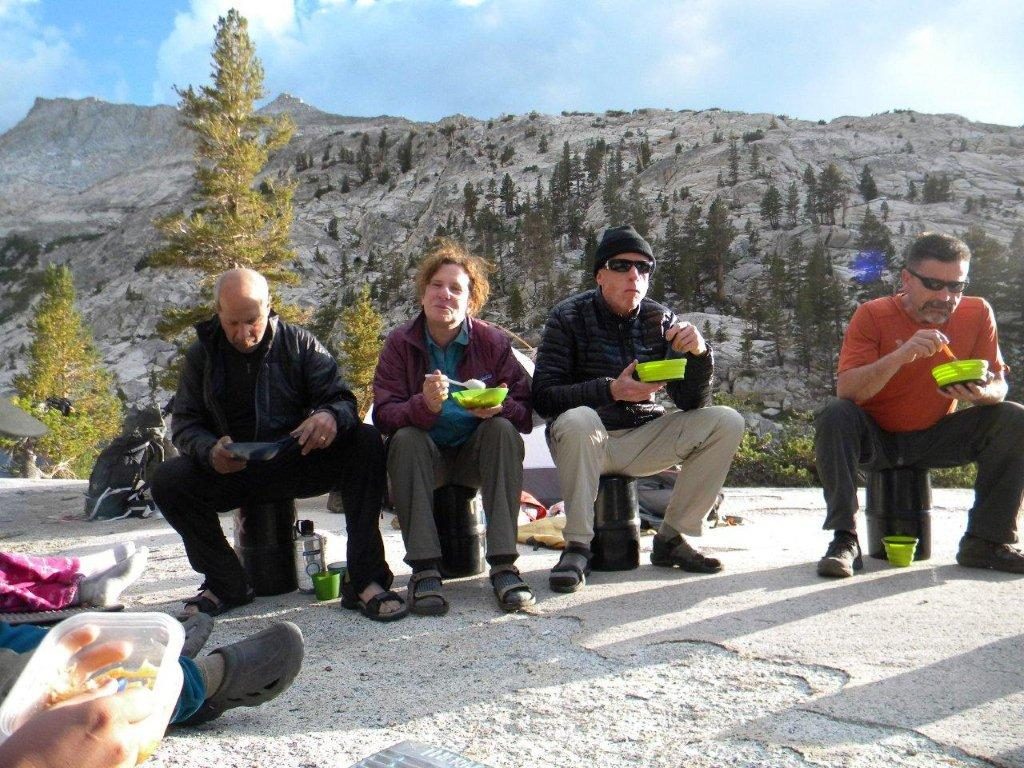 But I did have a "thorn," a gigantic one. That first day, atop the first 1500-foot climb, I had reached the troubling conclusion that the TSX Challenge was too difficult–too high, steep, and long. I did not see how I could make it through the coming week and to the top of Mt. Whitney. Cycling conditioning wasn't enough. One day on the trail, and I was beat. My body was not cooperating.
But, no further disclosure of difficulty or doubt for me. Not around the campfire. Not to Chris. Not even to Stephanie, who was celebrating her strong hiking toward the front of the group. One day at a time. One down. Seven to go. Here comes a test of will power.
This "vacation" would have baffled my Chicago family. My grandparents, Jewish immigrants from Eastern Europe, did not take vacations; between the 1920s and 1940s they ran little neighborhood stores on the immigrant West Side of Chicago, 6 a.m. to midnight, every day of the year. My parents, college educated and beneficiaries of post World War II prosperity, took family vacations at beach cottages and boarding houses on the shores of Lake Michigan, a driving trip to a Miami Beach motel, and once, extravagantly, an air flight to Los Angeles. No endurance tests in the mountains.
Stephanie and I, enjoying Baby Boomer prosperity and professional incomes, took family vacations at comfortable California rental homes and resorts, Manhattan hotels, and Parisian apartments. With our daughter Julia in high school around 2000, we launched into adventure vacations. We both had sedentary office jobs requiring intense brainwork with heavy responsibility. I had long work hours, 24/7 electronic communications, and high work stress. A "vacation" for us meant escaping to the uncomplicated magnificent outdoors, overcoming strenuous physical trials, and enjoying a restaurant meal and hotel bed at day's end.
We were ready consumers in an adventure industry for people who toiled and excelled at their leisure pleasures. Our preference was hiking mountains and exploring deserts, usually without commercial expeditions or lavish accommodations. We had friends who did variations under water, on water, on snow, on roads, in the air, in remoter deserts and on taller mountains. At the higher end you could arrange for a Tuscany biking tour with villa accommodations, a river rafting excursion through the Grand Canyon, a guided walking tour in Patagonia, or, literally highest, a Himalayan trekking expedition. We enjoyed these luxurious adventures too.
On this Sierra excursion the "luxury" was the TSX guidance through the backcountry, but you still had to propel yourself across those mountains. Each day we rose with the sun, ate breakfast, packed our gear, and hit the trail by 7:30. We hiked about ten miles a day. There were daily climbs of 1500 to 3000 feet, and corresponding descents. We hiked at elevations of 8,000 to 14,000 feet. We'd reach our new campsite in the late afternoon, pitch tents, pump filtered water, eat dinner, and do "Thorns and Roses." We'd be asleep by 10.
I might have relished this Spartan regimen: hike, fuel, rest, and prepare to hike again. I might have savored the simple mission—reach the day's destination and enjoy the journey. Instead, it was a daily grind, a slog up and down, up and down, everyday longer, higher, and steeper than the first. Where was my reliable body?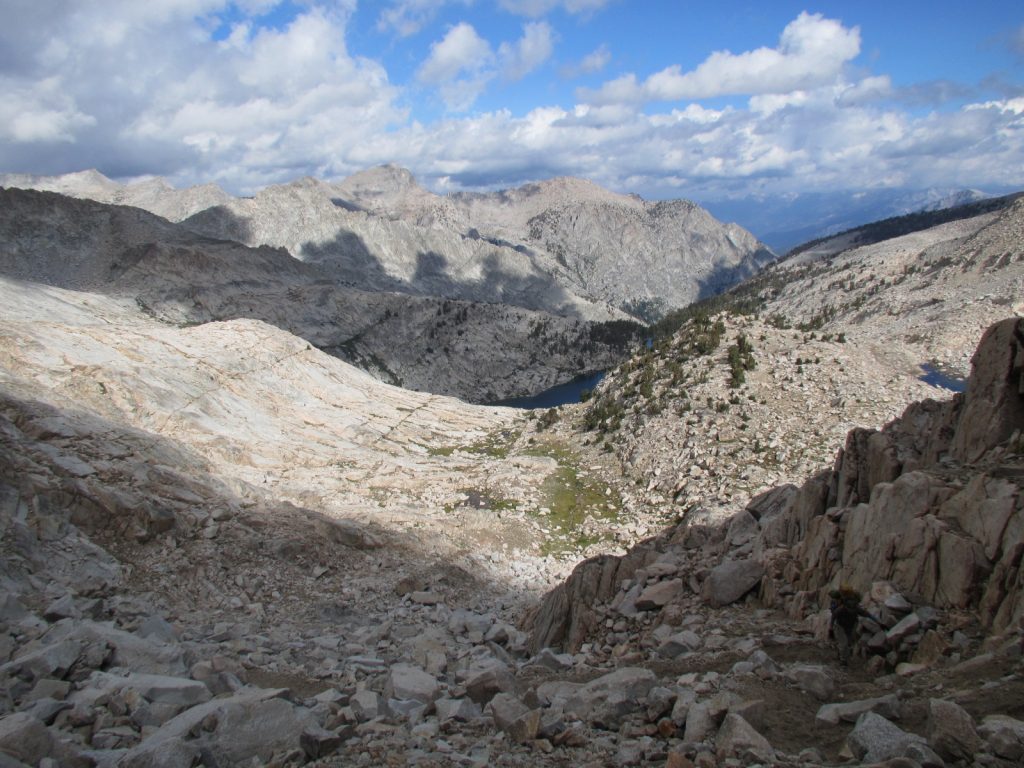 Day Four, described on the TSX Website as "intense uphill," took us up, up, and up to Colby Pass, 12,000 feet, higher than I had gone before. The climb was almost 2000 feet. The final leg of the trail was a series of brutal short switchbacks, straight up it seemed, over huge stone steps and steep slippery loose granite. We towered over austere Colby Lake, the previous night's campsite, and lush Big Wet Meadow below the lake. We were above the timberline, glaciers, and surrounding Sierra peaks. I was deep in the solitary mountain backcountry, high in the granite, under a crystalline blue sky. It was just what I had signed up for. If only I could have enjoyed it.
I trudged up the dry, dusty trail, one tiny laborious step after another, wondering why, at my age, I was subjecting myself to this ordeal. My backpack felt like a load of cement, and my neck was on fire. It was morning, but the Sierra sun already was blazing. I had to stop every 15 minutes to suck in oxygen, calm my racing heart, and gulp water. Everyone in our group had pulled ahead, including Chris who left me with assurance that I'd make it on my own.
I finally crept atop the pass, where our entire group was waiting, packs off and relaxed. They cheered my arrival. I smiled weakly and doffed my cap, like a modest young baseball player who hit a homer, and they laughed. I was triumphant.
But by the time I'd removed my backpack and begun surveying the new mountain ranges ahead, the others were slinging on their packs. And then they were gone, on to the 4,000-foot descent to the Kern Kaweah River. Suddenly alone on the windy pass, a laggard again, I had a realization: the weaker and slower you hike, the less rest you receive at the stops. But no one cared. Just move along.
At a rest break after Colby Pass, Chris announced that I would take the lead crossing a large high meadow en route to our steep descent that afternoon. I was surprised. I wondered if this was some kind of TSX exercise in leadership and positive attitude.
I felt a flash of embarrassment. Half a year earlier, I had retired from a top management position with a government agency. I had years of leadership challenges, when I had been tested daily by my boss, management team, line employees, and clients. I had given endless attention to fostering employee motivation. Why was this 33 year-old hiking guide giving me a leadership opportunity on this mountain trail? To build more character in my late 60s?
But it worked. Indeed, I was flattered by this vote of confidence. I was determined to do a good job leading. Do right by our group. Impress Chris.
I bounded to the front and set a rapid pace across that meadow. By following the stone cairns that marked the route, I kept us on the trail, which periodically disappeared at granite slabs and stream crossings. As we approached the descent, Chris came up to guide the way. He complimented my lead across the meadow, and he invited me to remain at the front to help select the lunch location. I beamed.
Of course, pride goes before a fall, specifically three falls. The trail down was steep, with deep loose granite. Chris had warned us, but my balance failed as my mind wandered back to leading. Suddenly I was on my butt, twice.
The third was more serious than embarrassing. At the end of the day a mountain thunderstorm opened on us. We were crossing a stream on wet rocks as globs of cold water began pouring down. Everyone scurried for raingear. From years of law practice, my personal rule for being rushed is to slow down for lurking danger. As people yelled conflicting directions for hurrying across the stream, I got caught up in the panic. Midstream, both feet slipped off the wet rocks. I landed ankle deep in water. For the next two days I hiked in wet boots.
I did not take the lead again. I did not even volunteer for camp chores like filtering water or dicing vegetables. I felt shame watching others contribute to the team, but I was too tired. For the remainder of the trip I focused on my hiking and rested whenever possible. I intended to make it through the Challenge. Against all my inclinations, I had to do it as a follower.
At noon on Day Five we reached the John Muir Trail, our route south to Mt. Whitney. There we met a couple hiking north to Yosemite. They faced 200 miles of mountains, many high passes, over 40,000 feet of ascent. They looked to be in their late 50s. They were confident as they described their journey and inquired about ours. Their clothes were clean and packs trim. They checked their map with authority. They surely would make it. I wondered, "Could Stephanie and I do that?"
Stephanie, 13 years younger than I, turned out to be a much stronger hiker. In recent years I'd often saluted Stephanie as the better climber. But I was just being gracious. I had not actually believed it.
The TSX Challenge revealed all. Day after day Stephanie skipped to the front of the group with the lead guide, the racehorse teenage boys, the strong young ladies, and the triathlete Dale. When I would arrive as the last hiker to a meeting point, she'd give me a warm welcome, and then she'd gambol ahead with the departing group. She wanted to maintain her comfortable pace, and, of course, I agreed. But I was mortified to be eclipsed on the trail by my younger wife.
When Stephanie and I married in 1985, I was 41 and she was 28. I was establishing myself as a writer, with a first book published and a second in the works, and then I switched to a new career in law. Stephanie was young and girlish, beautiful and exuberant, smart and ambitious, searching for her future. I felt as if I had raided forbidden territory, made off with a young princess, shucked off a decade, and inhabited an ageless body in which I relived my 20s with the wisdom of my 30s. That 13 years gulf inspired me. I thought I could do anything.
Hiking together in those early years, I still felt invincible. In summer 1988, eight months after our daughter Julia was born, we hiked in Yosemite along the Panoramic Trail from Glacier Point to the Valley floor, one of the great routes for views of waterfalls and Half Dome. I carried Julia the entire way in a backpack, seven miles and 3200 feet, including the steep wet stone steps of the Mist Trail below Vernal Falls. I never felt the altitude, the weight, or the distance as I celebrated my hiking prowess.
The 13 years between our ages seemed to evaporate in the two decades after Julia was born. Stephanie launched herself as a clinical psychologist. We were on equal footing, partners, as we raised our child, built professional careers, bought and sold homes, took family vacations, and mixed with friends.
And then, suddenly, that age difference again loomed large. Julia had grown up and graduated from college. In 2011, I retired. Stephanie, at 54, still beautiful and brainy and exuberant, and now accomplished too, was at the top of her career. While I was at a loss what to do in retirement, Stephanie was running at full tilt in her professional life. And then came the TSX expedition. For the first time I wondered whether I could keep up with her. She could do the John Muir Trail. But could I?
I was distressed watching our group adjust to my limitations. We climbed over 21,000 feet in 8 days, and I struggled all the way. I worried about others grumbling that I slowed everyone, that reaching planned campsites depended on my daily stamina. I was relieved to see nothing but enthusiasm for my battle to keep up, to get there, but I never stopped wondering. It was humiliating. And worse, I had to handle it with grace.
Chris helped, redistributing weight from my backpack. On Day One he removed a food bag in the afternoon. Okay. On Day Two I realized, with relief and apprehension, that he left my bear canister empty. When I straggled on Day Five, my tent went to a teenage boy and sandals to Stephanie. To my consternation, Chris appeared on the next leg of the trail carrying my sleeping bag by hand, since there was no space for more freight on his overloaded backpack. With pounds removed, I sped ahead. But watching others carrying my gear was intolerable. At the next break, I retrieved my things and resumed plodding along with the heavier load.
By Day Five, I had not complained or explained or blamed again. I was just silently gutting my way through the distances and climbs at my own resolute pace.
That's when Chris and I reached an unspoken arrangement. He would leave me alone on the trail, with directions for meeting ahead. I would maintain a steady rate, with as few rest stops as possible. Chris could move on to his other leadership responsibilities, and I could hike in tranquility, alone with my thoughts, able to soak in the mountain vistas without a sweep on my heels. That solitary hiking was the highlight of my trip.
I silently celebrated my superior health throughout the Challenge. The two young men guides and the two teenage boys were invulnerable hiking machines…my lost younger self. But the two young women, who turned out to be bikini competition body-builders–Amazon hard bodies who were formidable even for my fit and curvy wife–suffered aching knees, and they hobbled behind me with lightened packs for several days. And the other guys were afflicted with headaches and altitude sickness, diarrhea and constipation, joint problems and blisters. It all emerged as "thorns" in the evening reports, while I maintained my no-complaints ethic. By my cheery accounts, I was gliding along, only with "roses."
One evening toward the end of our journey, in place of "Thorns and Roses" Chris and Brian went around the campfire and gave each member a trail name. They called Stephanie "Mountain Hare," for her hiking speed and her hiking hair that had become an unruly mop over a week on the trail. They named me "Tortoise," her companion, for my slow steady pace, no complaining, and wisdom.
A joke? On me? I did not see the humor.
And "wisdom?" The TSX expedition was the most humbling week of my life. My body betrayed me. I could not lead or even keep up. I just grit my teeth and got there. Insight? Perspective? Nobility? At 67, wisdom was a sorry consolation prize. I did not like being the Tortoise.
* * *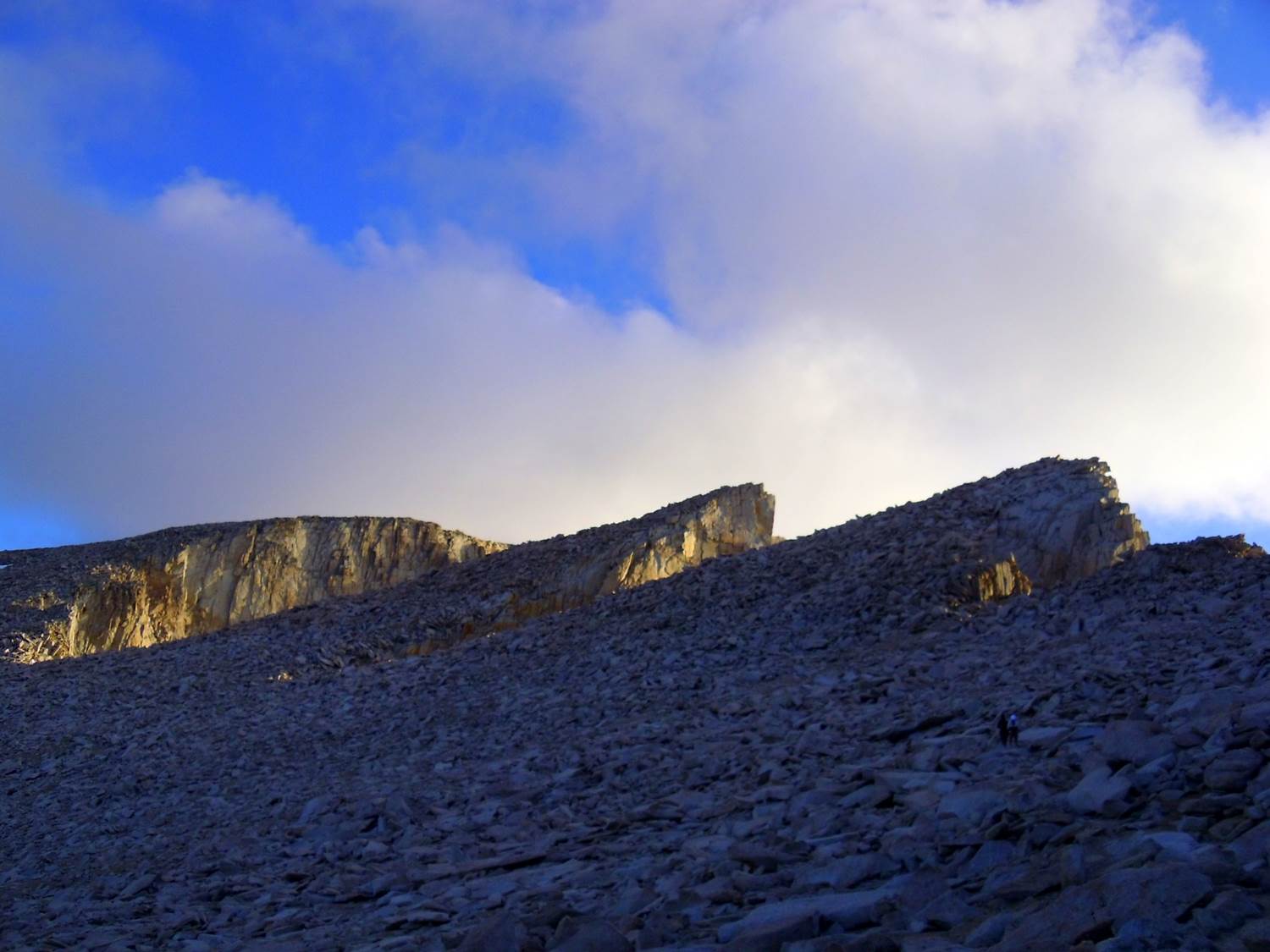 Mt. Whitney! I did reach the summit, as did everyone in our group. By then I had learned that some hikers on previous expeditions had skipped the Whitney ascent, and I told myself that I could too. But once the high mountain was in sight, I knew I was going to the top. For better and for worse, as I told Chris on Day One, I am a finisher.
That morning I set out an hour early, at 6 am, for the five miles hike up from Guitar Lake at 12,000 feet. It was a 2500-foot climb, all granite, steep and forbidding. Halfway up, near the Packs Rest junction, our group passed me. That's when I began experiencing vertigo. Vistas tilted, and I had to stop looking down to the neighboring peaks. The final two miles from Packs Rest were punishing—the high altitude, the steep climb, the rocky trail, the dizzying views. It took me five hours to reach the summit. I crept along at one mile an hour. I arrived last.
Stephanie was waiting on the trail just before the summit. She was crying for me.
When I reached the top, we hugged. Dale and I hugged. Brian and I hugged. Chris congratulated me on my mental toughness. It was his highest compliment, I like to think. For Chris I was a success.
I was grateful for this moment. We were at the very top of the contiguous United States. A majestic view of the Sierra chain stretched far out across the south, the north, and the west, with the great Owens Valley spread below to the east. Some 30 people were at the summit. They all appeared like a glowing hardy sub-species of humanity. I was thrilled to be among them.
We had lunch, took pictures, and signed the guest book at the summit. As we prepared to depart, Stephanie asked, "Will you come up here again?"
Standing there on top of Mt. Whitney, I had met the Trans Sierra Xtreme Challenge. But I arrived at the summit with new understanding…with wisdom. There would be no next Whitney climb. There would be no backpacking trip across the John Muir Trail, 211 miles from Mt. Whitney to Yosemite. Stephanie would have to do it without me.
"No," I replied. "I won't be back." Tears began dropping down my cheeks.
I looked out a final time. And then I turned down the trail.