If you don't like it at home, you'll hate it on the trail
If your only instinct is to think of something light weight, high calorie, and easy to pack, you're missing something big.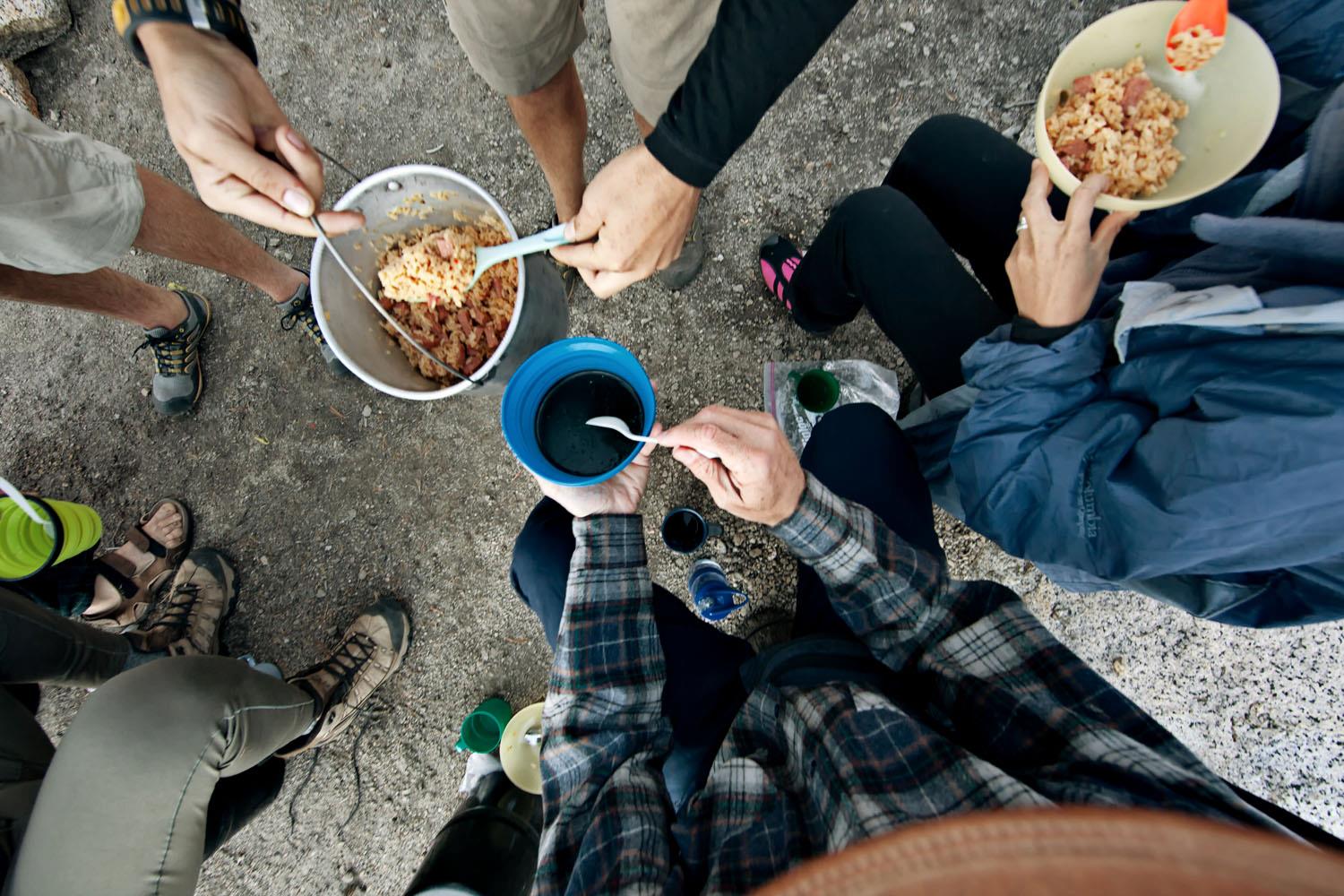 This week's tip relates to one of the most common questions we get from people preparing for their own multi-day backpacking trek.
Its often ask "What kind of food should we pack for our trek?" My first instinct is to think of something light weight, easy to pack, and that will last you the duration of your trek. But there's one caveat… if I tell you that oatmeal should be your go-to breakfast of choice, but you don't like oatmeal at home, what makes you think you're going to enjoy it on the trail? You'd likely end up digging a hole and burying it, or digging into your snack stash early just to make it through your morning hike.
I'll never forget my first backpacking trek with Mike when he was still experimenting with new meal creations for the trail. This was back in the 90's at Colby Lake when we had freeze-dried pasta with shrimp and peas. We had a large group of about 15 people. It took about two bites to figure out that no one was going to finish. I don't even think the bears would have touched it. It ended up being a granola bar night for almost everyone on the trip.
So what's the 1st take-away? Take what you like! Or test it at home! If you don't like freeze dried pasta with shrimp and peas at home, you'll hate it on the trail.
The second consideration here is duration. For us, each TSX Challenge trek is about one week. Even if you really love a certain meal, eating the same thing for seven days in a row will turn your stomach upside down. Instead, find at least two or three core meals that you really enjoy and rotate them throughout the week. Give your self a few perks early in your trek by including fresh items, even if they add a little weight. Granola and yogurt, bagels and jelly, fresh tomatoes… mmm.
Mike has practically perfected his meal planning and large group cooking skills over the years, and when we trek to Mt. Whitney, almost every meal is one of my favorites.
However, if I'm doing a shorter outing with family or friends, here are the three core go-to meals I typically prepare:
Breakfast
Granola with greek yogurt – High protein and packed with energy, this only works for your first morning since the yogurt will eventually sour; be sure to double bag the yogurt
Bagels with cream cheese or butter, and bacon – Grilling bagels on day two is amazing, and while we would never let ourselves eat the pre-cooked packaged bacon at home, its not because we wouldn't like it. Its loaded with calories and taste twice as good on the trail. Be sure to remove all the bulky packaging.
Oatmeal with raisins and brown sugar – We eat a lot of oatmeal at home, and its just as good on the trail.
Lunch
Peanut butter and jelly tortillas, with mango and almonds – Tortillas are super easy to pack, and any leftover peanut butter and jelly can be added to your breakfast or lunch the following days.
Tuna packets and Wasa crackers with convenience store mayo and relish packets and sunflower seeds – Open a packet of solid albacore tuna, squeeze in some mayo and relish, use the crackers like a chip and scoop it out. Salted sunflower seeds adds a high energy complement.
Hummus with cucumber, carrots and pistachios – Get the dried hummus packs where you just add water. Bust out that cucumber and bag of baby carrots you've been toting along. Treat yourself like the King of the Mountain you are.
Dinner
Ravioli with meat sauce and Parmesan cheese – This only works for day one. Freeze the sauce in a plastic zip-lock bag the night before you hit the trail. Take fresh ravioli from the supermarket. Use a cheese cloth to strain the ravioli if necessary.
Mexican night – Tortilla soup, minute rice, dehydrated refried beans, topped with fresh salsa (tomoatos, vadalia sweet onion, and pack of taco seasoning), with tortillas (and that leftover butter from the morning).