How recent California storms will impact Summer Backpacking in the Sierra
Read our analysis of snowfall data and predict the future of summer backpacking travel in the Sierra.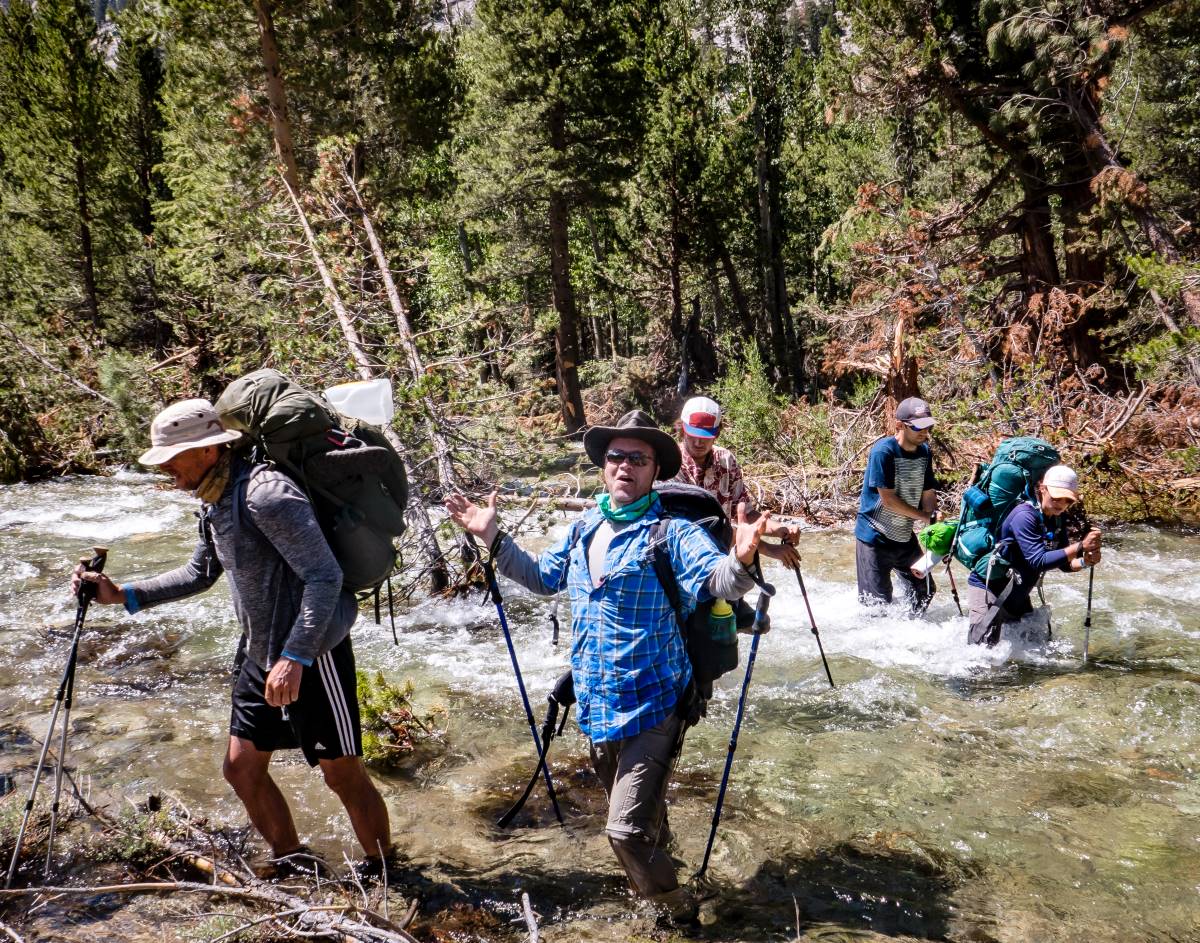 The latest series of intense California storms has been in the news for several weeks now, impacting millions across the state. While the storms have dropped historic levels of rain in some locations, the snow has been piling up in the high Sierra, and the next story will be spring runoff and the impact on summer backpacking in the Sierra.
How much snow has been accumulating in the Sierra? Some locations have reported over 40 feet of snow this season. And as I write, it is still snowing. In fact, we are roughly halfway through California's rainy season which runs through April.
These storms have been slightly warmer than past winter storms, which means the big snow accumulation has been happening at higher elevations, north of 8,000′. At the moment, the California snowpack is significantly above average. Here is a current snapshot of average snowpack data in the Sierra as compiled with data from the California Department of Water Resources.
You'll note that snowpack in the regions defined as the Central and Southern Sierra are significantly above normal. This is the area most people identify as the High Sierra, encompassing parts of Yosemite, Kings Canyon and Sequoia National Parks, and several designated wilderness preserves such as Ansel Adams Wilderness and John Muir Wilderness. The John Muir Trail runs roughly 200 miles along this backbone from Yosemite to Mt. Whitney.
The snowpack in California is currently trending significantly above average. As of January 14th, the Southern Sierra snowpack is more than 263% of normal for this date, and 126% of average for the season ending April 1. The Central Sierra is 229% of normal and 109% of average for the season ending April 1.
We can use this information in conjunction with past years data to get a sense of how the spring and summer may begin to shape up. Lets start by looking at last year, the 2021-2022 winter season.
Last year started with big snow storms in December, but ended as a light snow year in the Sierra. By January 1st, most regions had reached 50% of normal. However, that's where the wet winter stopped. Cooler temps in the high Sierra sustained the snowpack until mid-March. As warmer temps arrived, the snowpack began to dwindle.
In fact, the last three years followed similar trends.
The chart above shows that the last three years have trended well below average, and that snowpack accumulation over the winter months is generally sustained through mid- to late-March.
California has had some big snow years in the past. If you've enjoyed summer backpacking in the Sierra for almost 30 years like I have (seriously, 30 years?), the big seasons stand out.
2019 was a big year, characterized by late May snow storms. 2017 was the second biggest snow year on record for the Southern Sierra, with sustained precipitation through March of that year. Other big years were 2011, 1997/98, and the largest year on record, 1982/83. I've included a comparison chart below of the big snow years compared to this year to date, omitting 1983 because it dwarfs them all.
The above chart shows that the 2022-2023 season is primed to be a big snow year. Even if the storm gates close for the remainder of the season, the Southern Sierra is likely to exit March well above normal based on past year trends.
Not reflected in this data is what's taking place as I write. More snow is currently dumping in the Sierra.
What does this mean for summer travel in the Sierra?
Our team has backpacked through each of these seasons (though only Mike can speak to 1983). What this means is that backpackers can likely expect spring-like conditions in the Sierra through the end of July. Think knee-to-waist-deep rushing water, snow covered passes, waterfalls seemingly around every corner, trail lost under snow and bulging streams, and lingering ice in high Sierra lakes. It's can be an incredibly thrilling experience.
Summer backpacking in the Sierra in these conditions can also present new challenges. Travel can be slow and tedious with multiple stream crossings. Navigating avalanche debris or washed out trails can add hours to a day. Unfamiliar trail can be difficult to traverse when buried under snow. Early season travel may be limited by road closures to inaccessible trailheads. Mosquito season often starts late, and then runs into mid- August. However, experiencing the Sierra in a rapidly changing raw, primal state is an opportunity that doesn't happen every summer.
If you haven't yet set your summer schedule, you won't want to miss this.
Be sure to take precautions in planning and preparation if traveling independently this summer. TSX is hosting a series of online events about preparation, routes, and summer travel in the Sierra, several of which I'll be leading. We are glad to share more information, tips or ideas so you can have a safe and enjoyable trip this summer.
View our upcoming events and register to attend.
Join A Summer Backpacking Experience In The Sierra