Tehipite Valley Challenge
Raw, powerful, majestic and wild, let us introduce you to Tehipite Valley.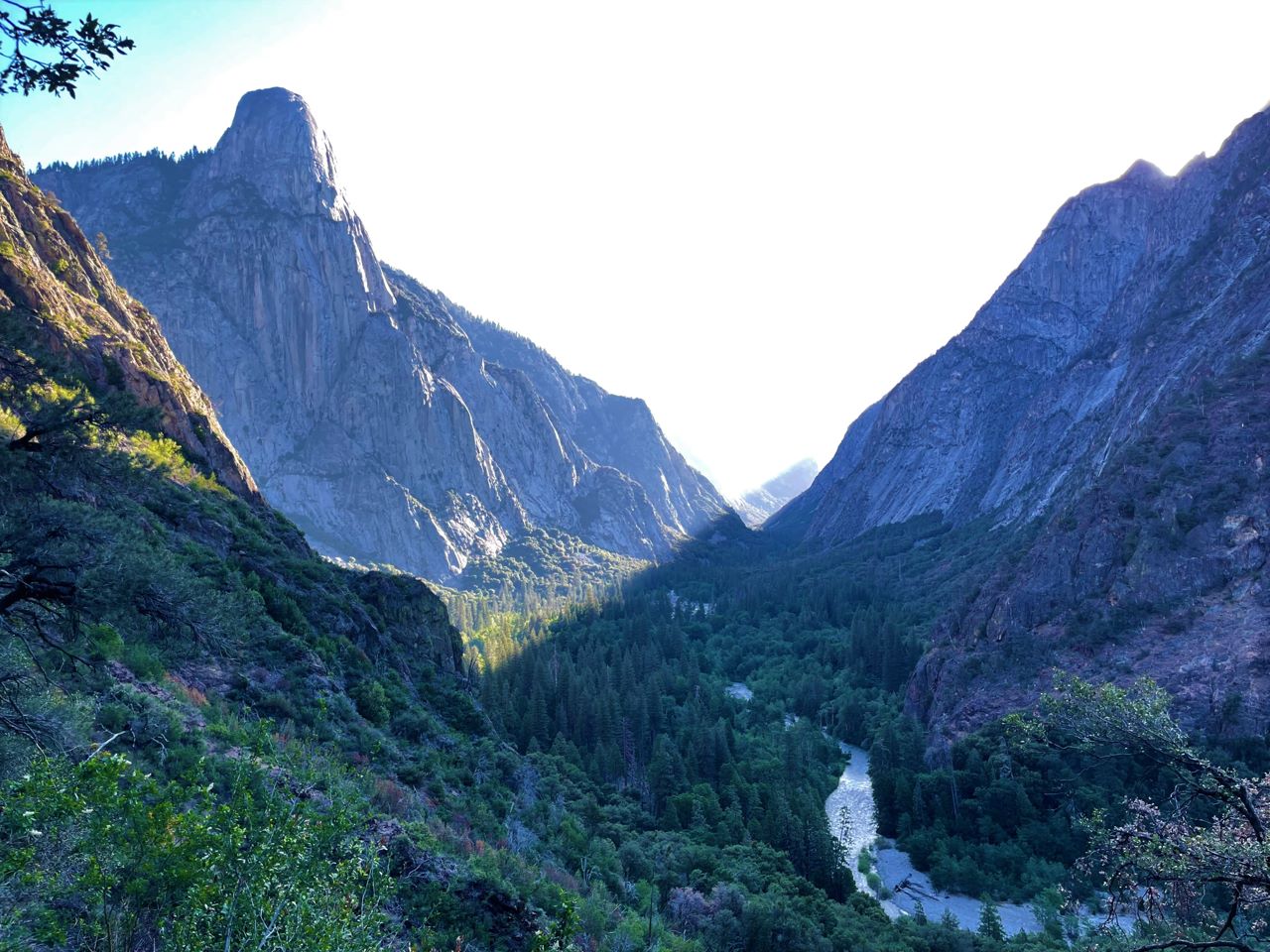 If you are interested in the outdoors, you probably know and have seen photos of Yosemite Valley. A scenic river valley bracketed by two impressive granite features, El Cap and Half Dome. These images are famous because of their beauty and the sense of wonder they stir in us.
Now imagine visiting Yosemite before it was built up and "on the map." No crowds, tour buses, traffic, lines or built up infrastructure. Imagine seeing and experiencing that valley in its primitive state, on your own, with no outside distractions. What would that be like?
A place like this exists. It is raw, powerful, majestic and wild. Let me introduce you to Tehipite Valley.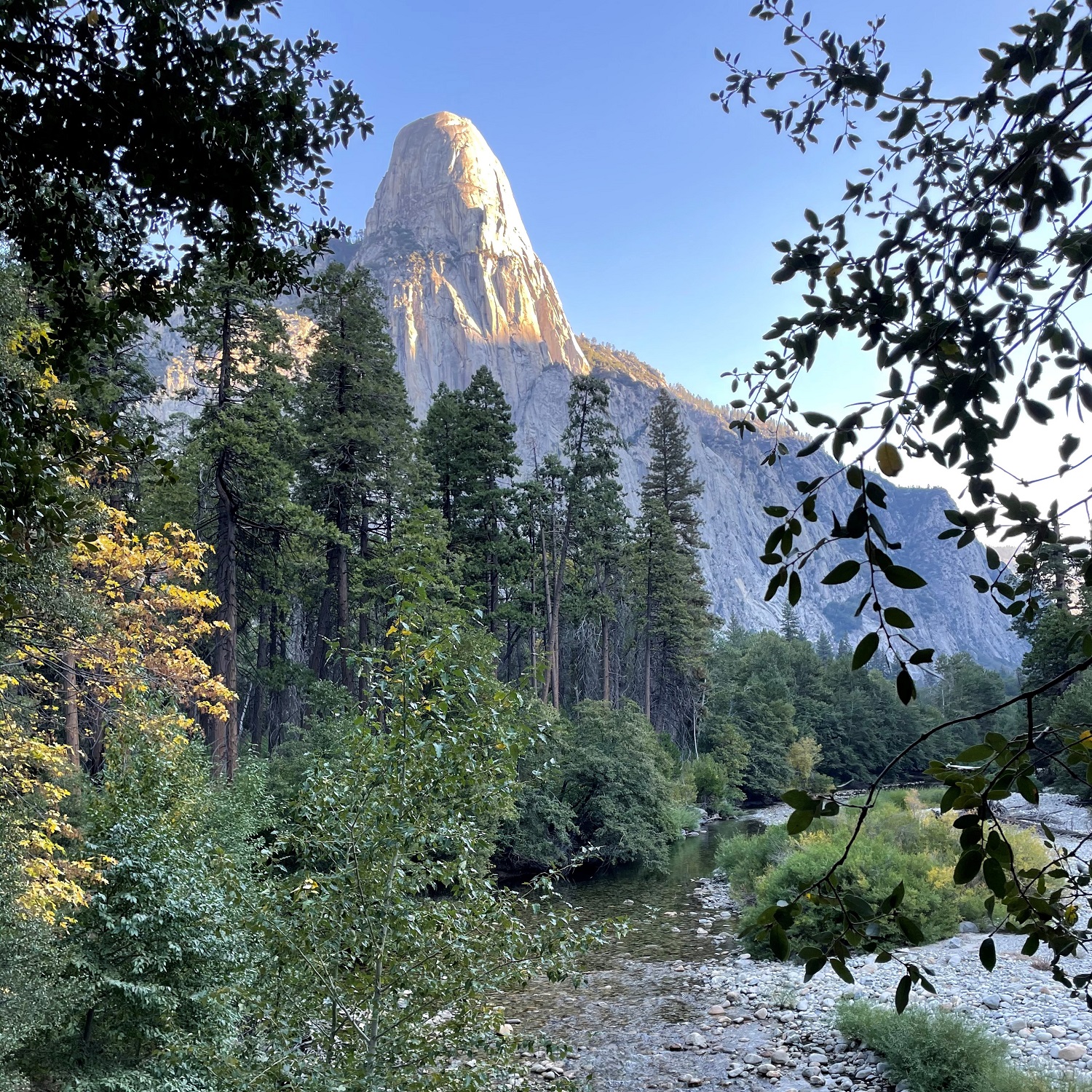 What is Tehipite Valley? 
When Chris Casado asked me, "Have you ever heard of Tehipite Valley?" my answer, like just about everyone else he asked was, "No, what is that?"  After seeing one picture of Tehipite Dome I was sold. Together, Chris and I set out to create a TSX experience that would allow people to explore this treasure of a region from top to bottom. After doing some research it became clear that Tehipite Valley was stirring that sense of Yosemite wonder, with so much more intrigue because few had ever heard of this place! Even experienced backpackers I questioned who had been hiking the Sierra for 25 years didn't know this existed. How can this be? Researching the valley and how to get there was difficult. Very few pictures, and scant blog posts with dated trail conditions added to the intrigue and sense of adventure. Building this experience was going to be fun.
Where is Tehipite Valley?
Glacially carved into the granite of the Sierra Nevada Mountains on the Middle Fork of the Kings River, Tehipite Valley sits in the northwest corner of Kings Canyon National Park. It runs 1.5 miles from east to west at the floor of one of the deepest canyons in the entire Sierra.  The valley floor sits at about 4,100′ elevation with the peaks of the Monarch Divide rising to the south to elevations of over 11,000′.
Towering over the valley on the north is Tehipite Dome, the largest granite dome in the Sierra. It abuts the north wall of the canyon with 3,500' sheer granite walls from base to tip. What differentiates Tehipite Dome from Half Dome is that it is not the tallest feature in the area. Standing on the north valley rim, the top of the dome barely sticks out and the surrounding peaks tower over it. This adds to the charm of the Tehipite as it seems to be hiding in plain site. If you didn't know to look for it you could easily pass it by.
Tehipite Valley is a Hidden Gem
How could something that is supposedly as grand and majestic as Yosemite Valley not only be so un-visited but really genuinely unknown?
The answer is threefold. First, it is tucked away deep in a remote corner of Kings Canyon National Park with limited trail access. The trailhead to get to Tehipite is an hour and a half drive from Shaver Lake, which itself is a sleepy mountain community hidden away in the hills just east of Clovis/Fresno.
Second the trails themselves can get rather primitive and are not regularly maintained. The first 5 or 6 miles of our trail are in good condition as they are regularly used for hiking, hunting, stock and cattle grazing. But as you get closer to the end goal whether it be the Dome or the Valley, the trail gets more rugged with down trees, overgrowth, washouts and a few burn areas.
Finally, the trail quickly turns from moderate to very intense, especially when descending into the valley itself. The trail drops 3,500′ in just over two miles traversing down 70 switchbacks from the rim's  "Point of No Return" (aka Poop-Out-Point) to the valley floor on a feature we have dubbed "The Beauty" (though other colorful names also exist!).  Going down and coming up requires the right mental fortitude and physical preparation. Additionally, to get onto the the dome itself requires a 4-mile round trip off-trail scramble through the woods and along steep hillides.
These factors have allowed Tehipite Valley to remain obscure. During my visit, we did not see another human being for 5 days. The valley goes days and weeks at a time without any human visitors. John Muir said it best on his visit there in 1875, "The valley was purely wild. Not a trace, however faint, could I see of man or any of his animals, but of nature's animals many." That feeling persisted on my experience in the valley in 2021.
Our Tehipite Valley Challenge Day by Day
The region is so incredible that you want to see it all. You want to be on the dome, in the valley, up canyon, down canyon… you want to be everywhere exploring it's natural beauty. So we built our Tehipite Valley Challenge to make this happen. Our trail begins after an hour and a half drive east from Shaver Lake at a trailhead near Wishon Reservoir. Our route will be Y-shaped, with the trailhead at the base, so that we can reach the dome and the valley in one experience.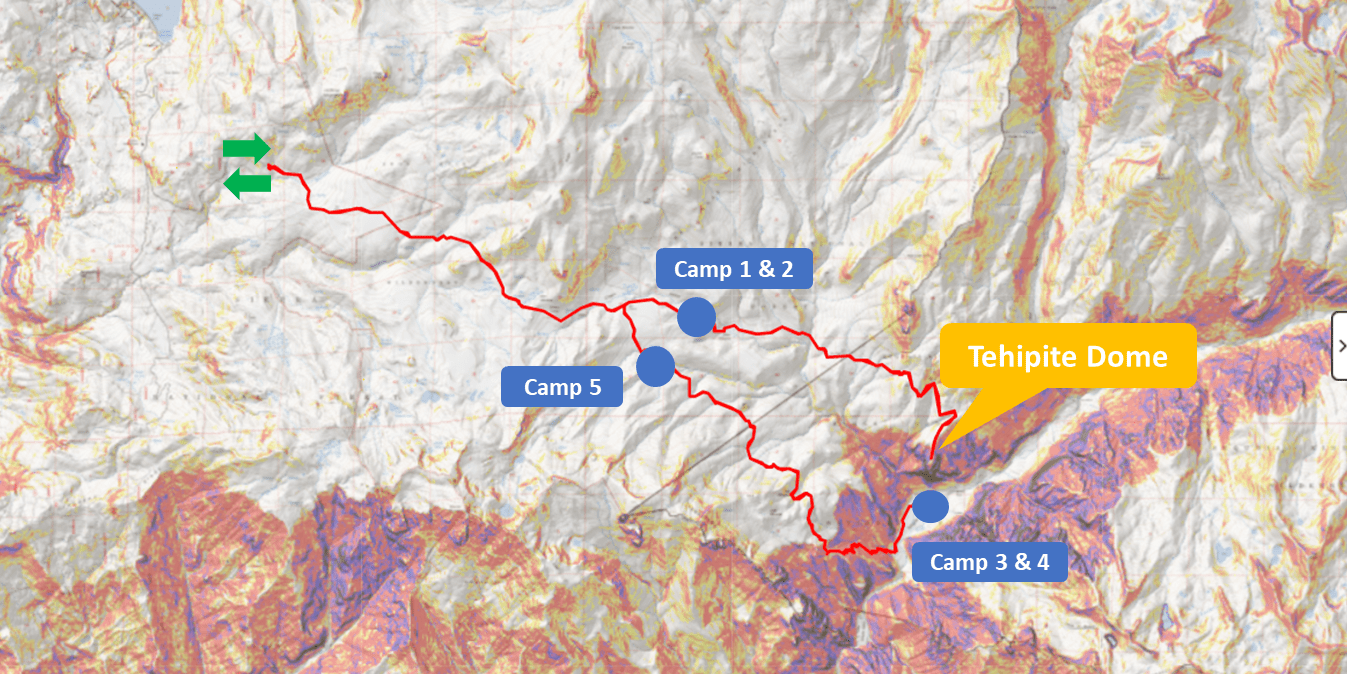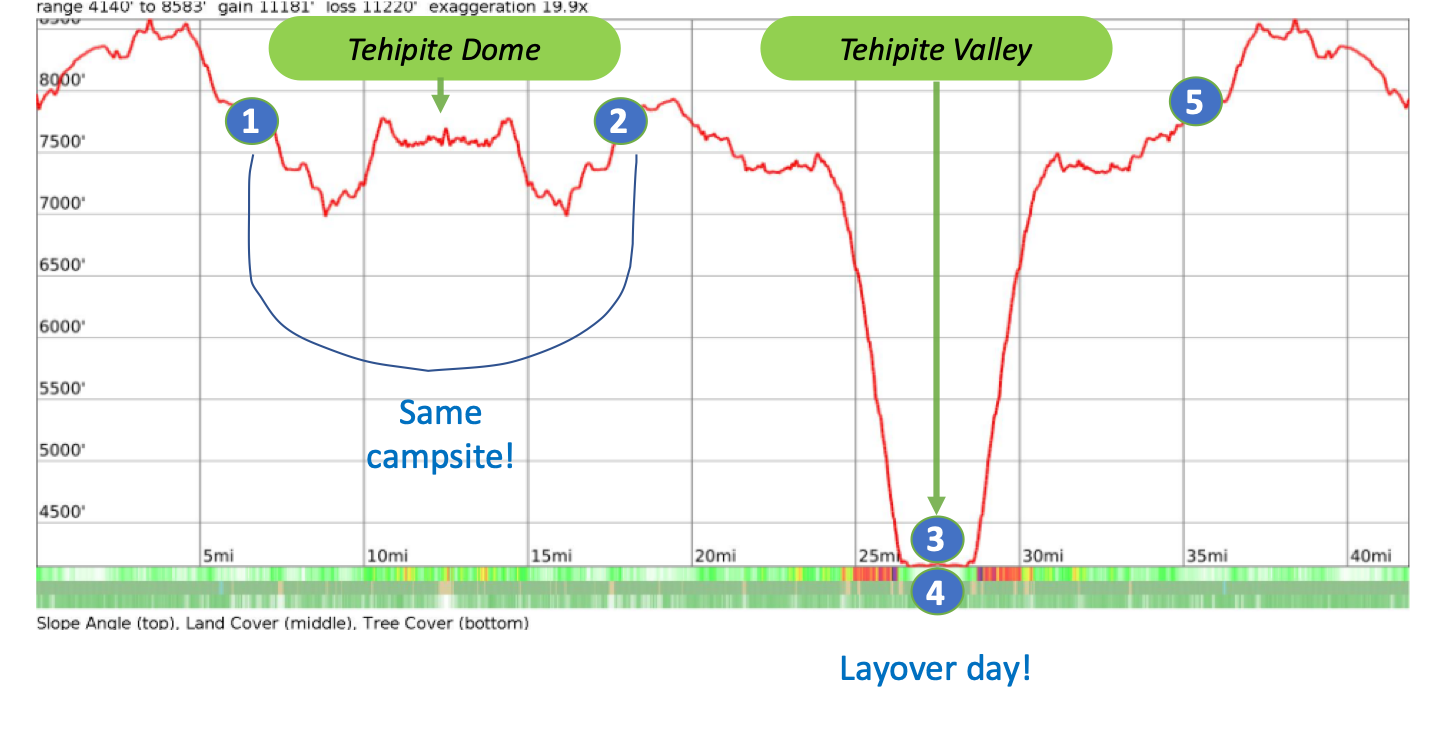 Day 1
The majority of the hike our first day is deceptively easy. The first five miles of trail are well used by hikers, hunters and ranchers, and is relatively well maintained. The trail rolls through the forest, crossing small streams and cutting through scenic meadows. It's a rather delightful walk in the woods. At the five mile mark the trail forks. This is the intersection of our Y-shaped route. We'll continue on the left branch of the Y for another mile until we come to the site for our night 1 and 2 base camp. Set on a clear ridgeline, this camp offers the first glimpse of Tehipite Dome. Since the dome isn't the tallest feature it seems like it is hiding and can be tough to distinguish. We will set up a base camp here.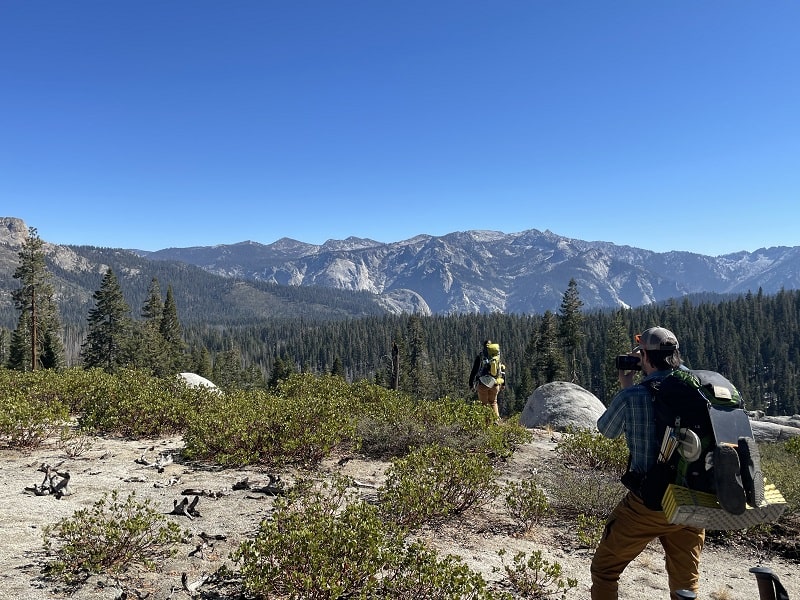 Day 2
The next day we will leave our packs behind, bringing only water and snacks for our day hike to the ledges of Tehipite Dome. The first 4 miles of this hike becomes more primitive and less utilized the deeper we progress. We will see forest ecosystems in all of their life cycles from early fire recovery, to new growth, to fully mature groves with towering pines. Kettle Dome is prominent to the north throughout the day's hike.
Despite the trail being primitive, the hike itself is moderate punctuated by short climbs and a stream crossing. We'll take care and cross safely as a group. The last quarter mile of the on-trail hike ascends rapidly. After a stiff climb, we will venture off-trail for Tehipite Dome. Picking our way through the woods and traversing some steep hillsides, we will eventually make it onto the ridgeline that approaches the dome. After roughly two miles of off-trail hiking, Tehipite Dome comes into sight with precipitous drops on both sides. Our goal will be the high ledges just below it's technical, narrow spine. Here we will have lunch and enjoy the view before retracing our steps back to base camp.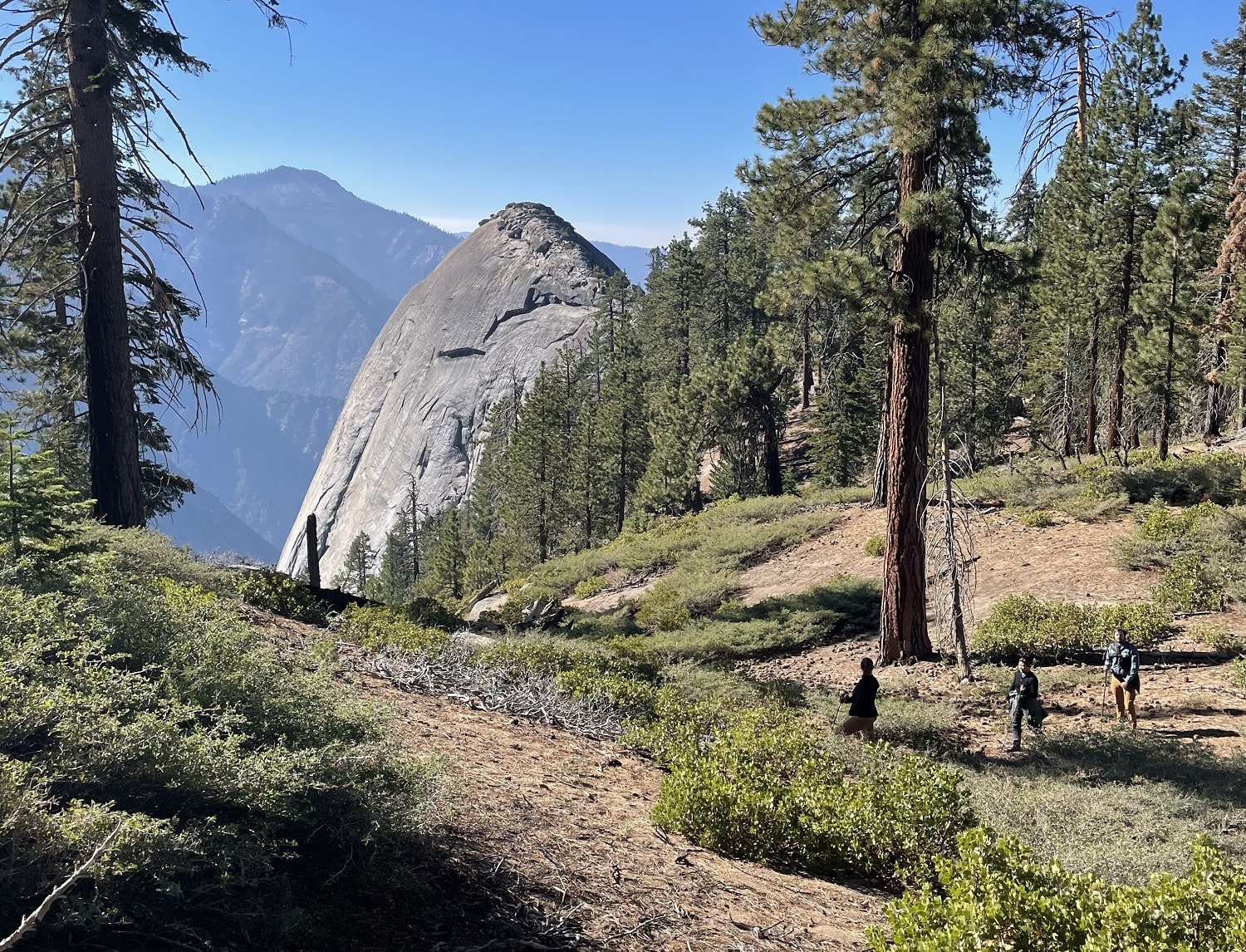 Day 3
On Day three, we will pack up camp and hike back to the junction where we will start down the other branch of our Y-shaped route. It's a moderate ~6 mile hike from base camp to "The Point of No Return." This point is an overlook of the valley that will give us our first all encompassing view of the dome and valley in one. It also marks the beginning of the 70 switchbacks down to the valley floor.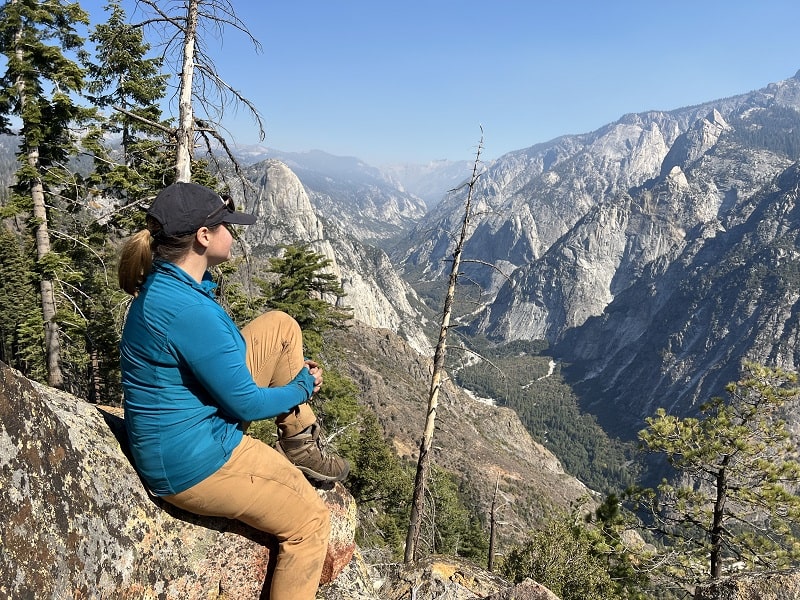 After lunch we start our descent down "The Beauty." The trail drops 3,500 feet in two miles down the wall of the canyon. This section might sound unpleasant but this is where the magic of the valley starts to reveal itself. As we hike down, Tehipite Dome seems to grow and the valley seems to open up. What is simply a "beautiful view" from the top turns into a magical experience as the majesty and personality of the valley reveal. Three quarters of the way down the switchbacks, as you begin to hear the rushing river on the valley floor, I felt as if I was being transported back in time. I half expected to see dinosaurs rising to great us as we stumbled into their remote, virgin terrain. Once at the bottom, the trail was lush and flora diverse. Our trail continued for about a mile to a clearing near the river with with beautiful sites for camp below the massive spire of Tehipite Dome.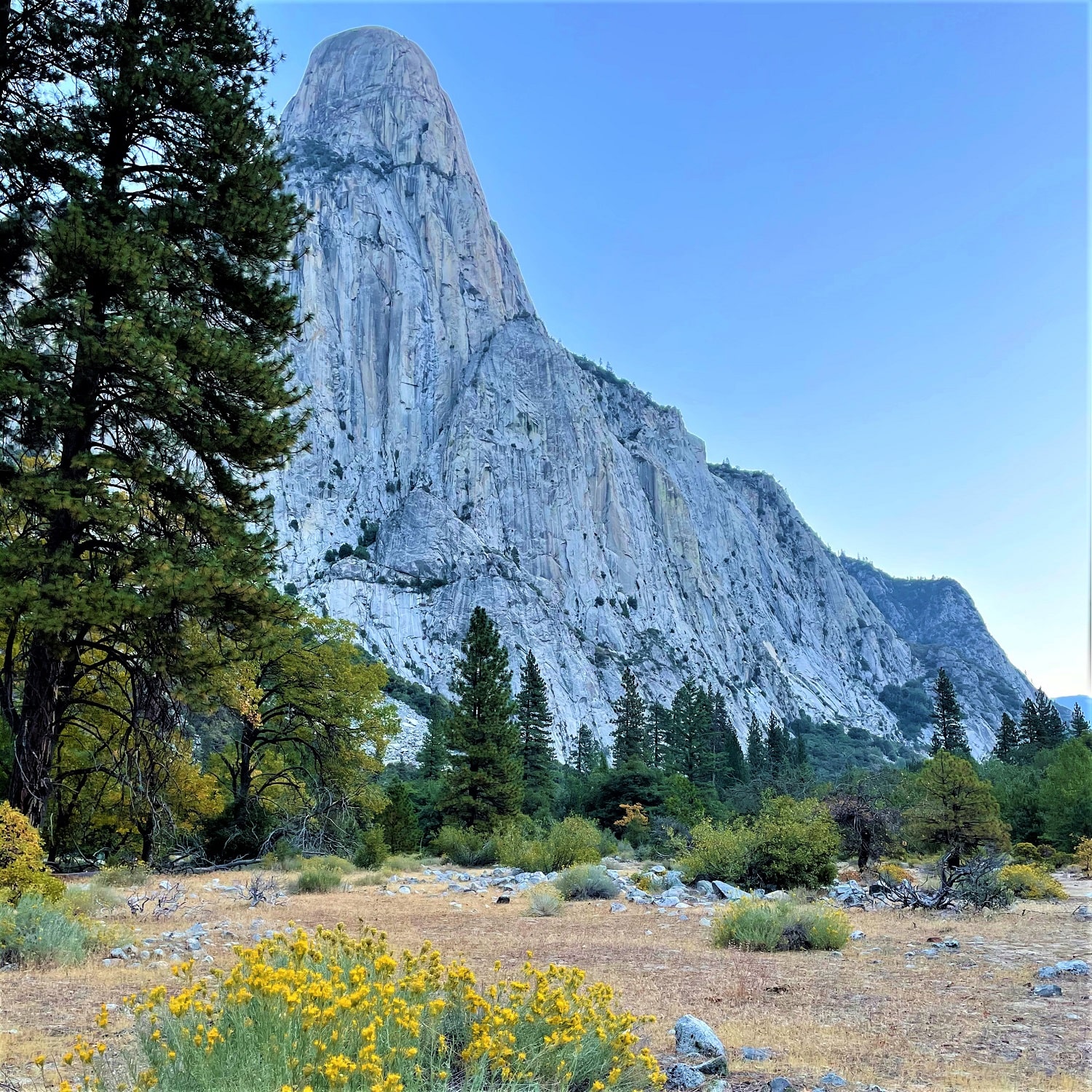 Day 4
On day four, there is so much to explore. We built our experience so that this can be a choose your own adventure day. Want to hunt hidden waterfalls? Silver Spray Falls and others cascade from the cliffs above. Enjoy fishing? Spend the day angling up and down the Middle Fork of the Kings River, a fly fisherman's promised land. Just want to relax, swim, journal, sketch, read or meditate? This is your day to unwind, explore, and soak in the the spirit of Tehipite Valley.
Day 5 and 6
There is a notice all hikers encounter on our Grand Canyon experiences, "Going down is optional, going up is mandatory." This little piece of wisdom holds true for Tehipite Valley as well. After a day of exploration, we'll get an early start to tackle the climb up out of the valley and avoid the midday heat on day 5. Retracing our steps back up "The Beauty," we will be treated to the same stunning views as when we hiked down. After lunch on the rim's edge, we'll say our goodbyes to the valley and dome (until next time). From the "Point of No Return" it is a 5 mile hike back to the junction. Our camp is just before that near a meadow and a rocky creek. And the next day is a relatively easy 5-mile morning hike back to the trailhead.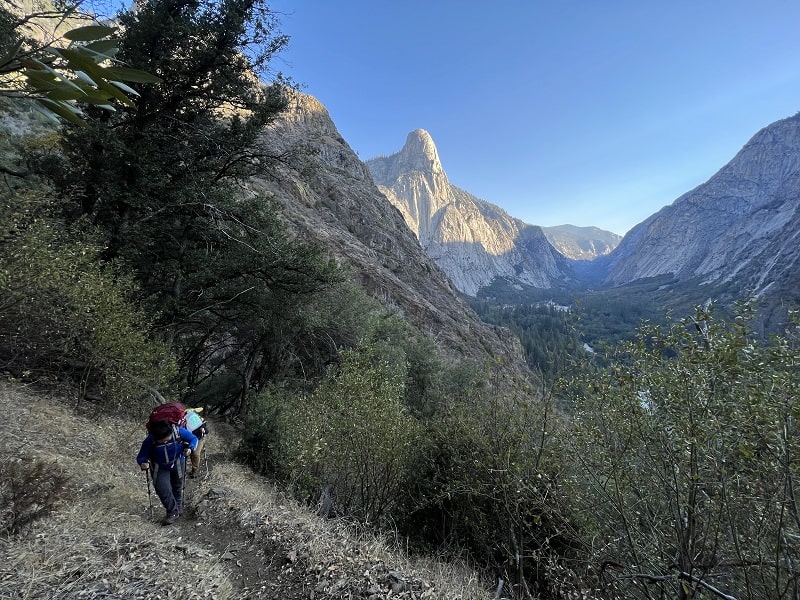 On my hour and  a half drive back to Shaver Lake after my first visit to Tehipite, everyone seemed to be deep in thought, reflecting on the experience we just had. As a backpacker, it is rare to find a place so spectacular that is so remote and relatively undisturbed. At the end of John Muir's account of his visit to Tehipite Valley he says, "So perfectly wild and romantic was Tehipitee in those days. Whether it remains unchanged I cannot tell, for I have not seen it since." I'm happy to report that not much has changed since he first visited in 1875.
Is Tehipite Valley Right For You?
TSX Challenge was founded to enable people to do and see incredible things, and inspire individuals of all experience levels through once-in-a-lifetime backpacking experiences. The Tehipite Valley Challenge is a perfect fit in the line-up of TSX experiences. If you are ready for an adventure of a lifetime to one of the most mythical-like regions of the Sierra, this is a trip for you.
Compared to other TSX experiences, the majority of the hike is moderate with elevation ranging from 7,000-9,000′. The main physical challenge comes with the climb into and out of the valley on days 3 and 5. But you can do this! Training is important, start training now and set yourself up for success.
We are excited to begin offering this experience in the Spring and Fall of 2022. View our Tehipite Valley trek page for more information and to sign up. Private, customized trips to Tehipite can be booked through our TSX Pods experience. See you on the trail!