What's In The TSX Backcountry Kitchen
Discover the gear we keep in our backcountry kitchen including which stoves, pots, and utensils we have and why we use them for large groups.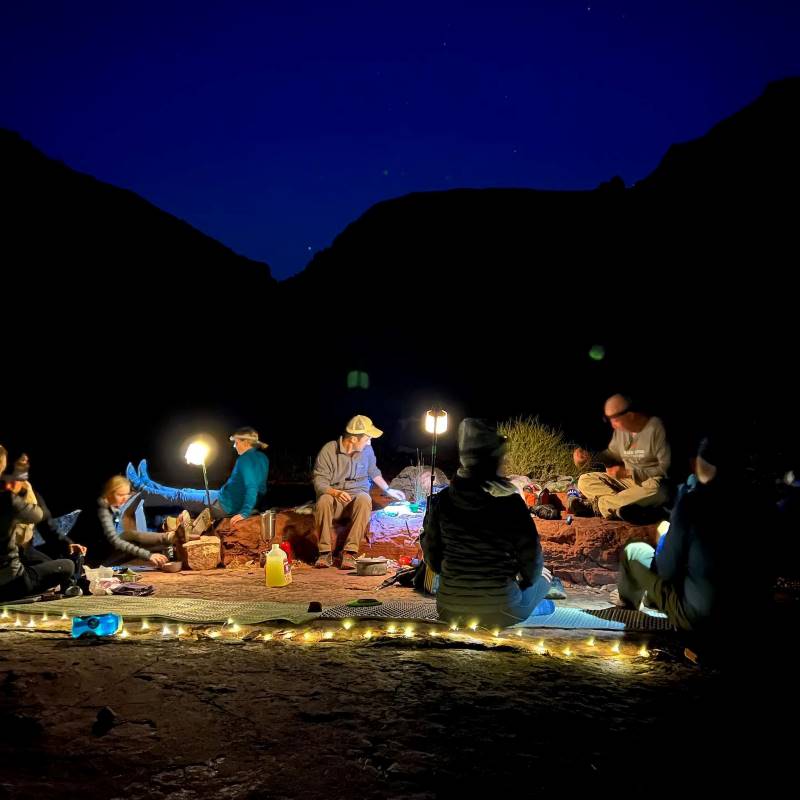 Cooking in a backcountry kitchen is a lot like cooking at home. If you're home alone, it's easy to pull a simple box out of the fridge or pantry, heat it up, scarf it down, and then call it a night. However, when you're with friends and family, it's nice to step it up a bit! This typically means more planning, more prep, and more dishes! The meals are more social, more rewarding, and often fresh, healthy and filling.
At TSX, we cook for the family in our backcountry kitchen.
2021 is my first season working as a TSX Challenge guide leading inspirational treks through the Sierra and Grand Canyon. Up until this year my experience has been that of a solo, ultralight backpacker. Naturally, there have been many mental and physical shifts I've made now that I am responsible for larger groups. One of the biggest changes is adapting my kitchen kit with family cooking in mind. I'm less concerned about having a minimal set up that shaves ounces off my base weight. Nowadays my focus is on making sure I deliver the best backcountry meal experiences possible for our trail team. To do that, I don't skimp on the kitchen hardware.
Traditionally this is what my "kitchen" looked like: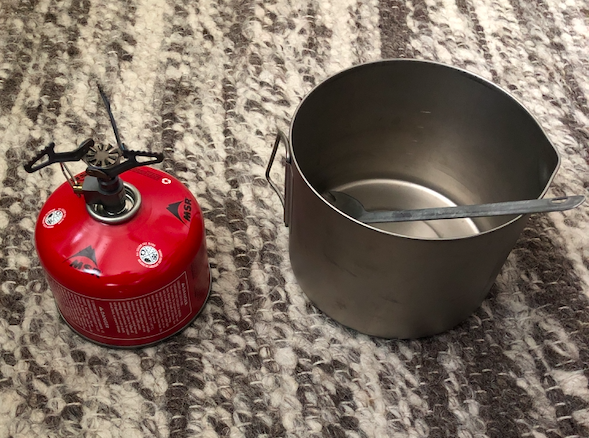 1 ultralight titanium stove, 1 ultralight titanium pot that also acts as my bowl and mug, and 1 ultralight titanium spork.
Whereas this is what my new TSX Backcountry Kitchen looks like when cooking for groups of 10-15 people…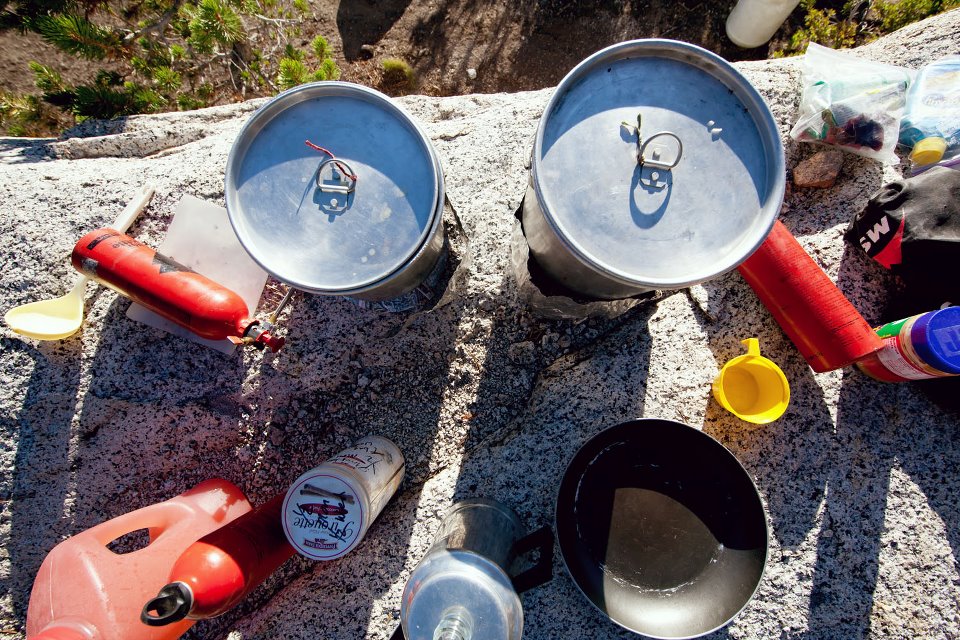 2 liquid gas stoves, 1 quick-start pocket rocket, 2 pots, 1 frying pan, 1 kettle, a ladle, a spatula, 2 spoons, a fork, a knife, a sponge and some camp soap.
How I Use My Backcountry Kitchen Gear
One of the most important factors for successful cooking on our trips is kitchen set up. Typically, I'll be sitting on a bear can. I'll orient my three stoves so that they are all within arms reach. My bear can will serve as a swivel chair as I move from station to station. If available, I'll leverage flat granite rocks placed strategically around my set up so that stoves or utensils can be placed up off the dirt.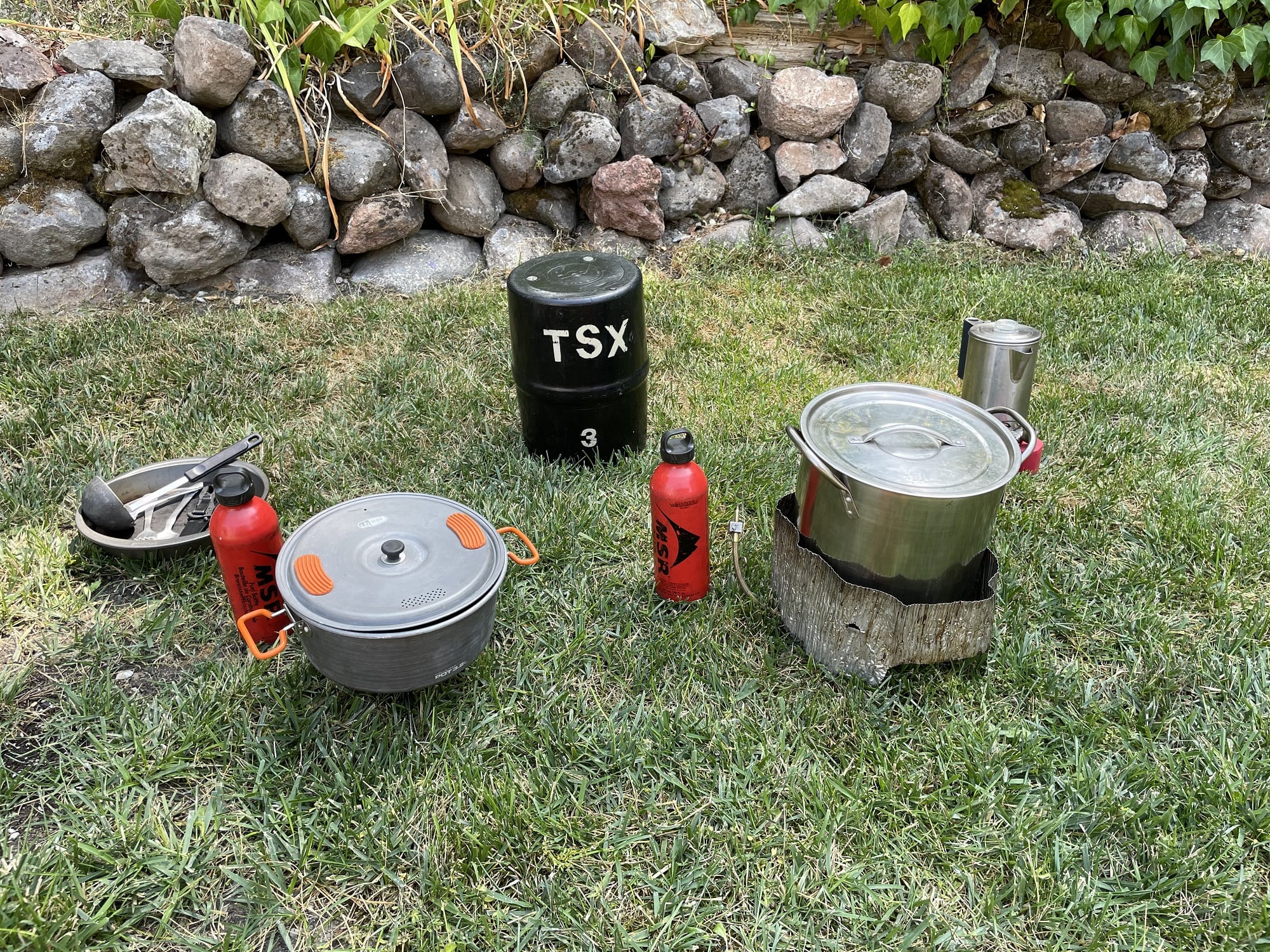 Backcountry Stoves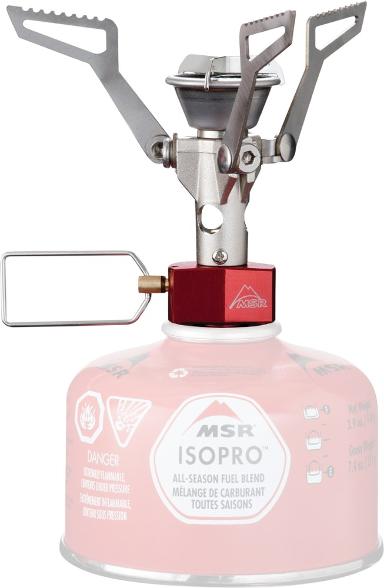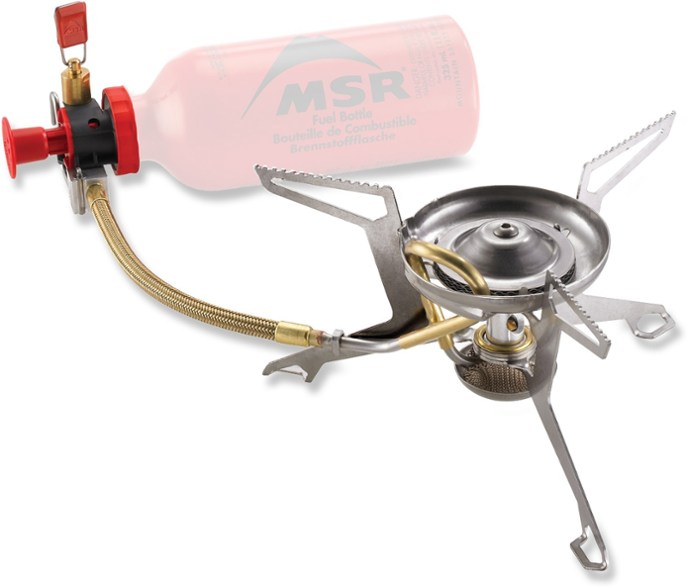 Here is how I typically use my backcountry stoves:
The quick-start MSR PocketRocket, attached to a disposable compressed gas canister, is the permanent home for our kettle. The kettle is used almost exclusively to boil hot water for coffee, tea, cocoa, and dishes. The pocket rocket and kettle combination, heating up to 7 cups, is quick and efficient. It's not uncommon for us to go through several kettles per meal.
The two MSR WhisperLite white gas stoves may seem foreign and cumbersome to the uninitiated (or regular solo hikers like myself), but darn it if they aren't reliable! These stoves use refillable gas canisters which lowers our fuel costs significantly while reducing waste. The stoves are sturdy, and they have a wide burner which provides stability and better heat distribution for frying, sautéing and boiling large pots for rice or pasta. Our pots and fry pan do a majority of their cooking on the MSR Whisperlite stoves.
Backcountry Pots & Pans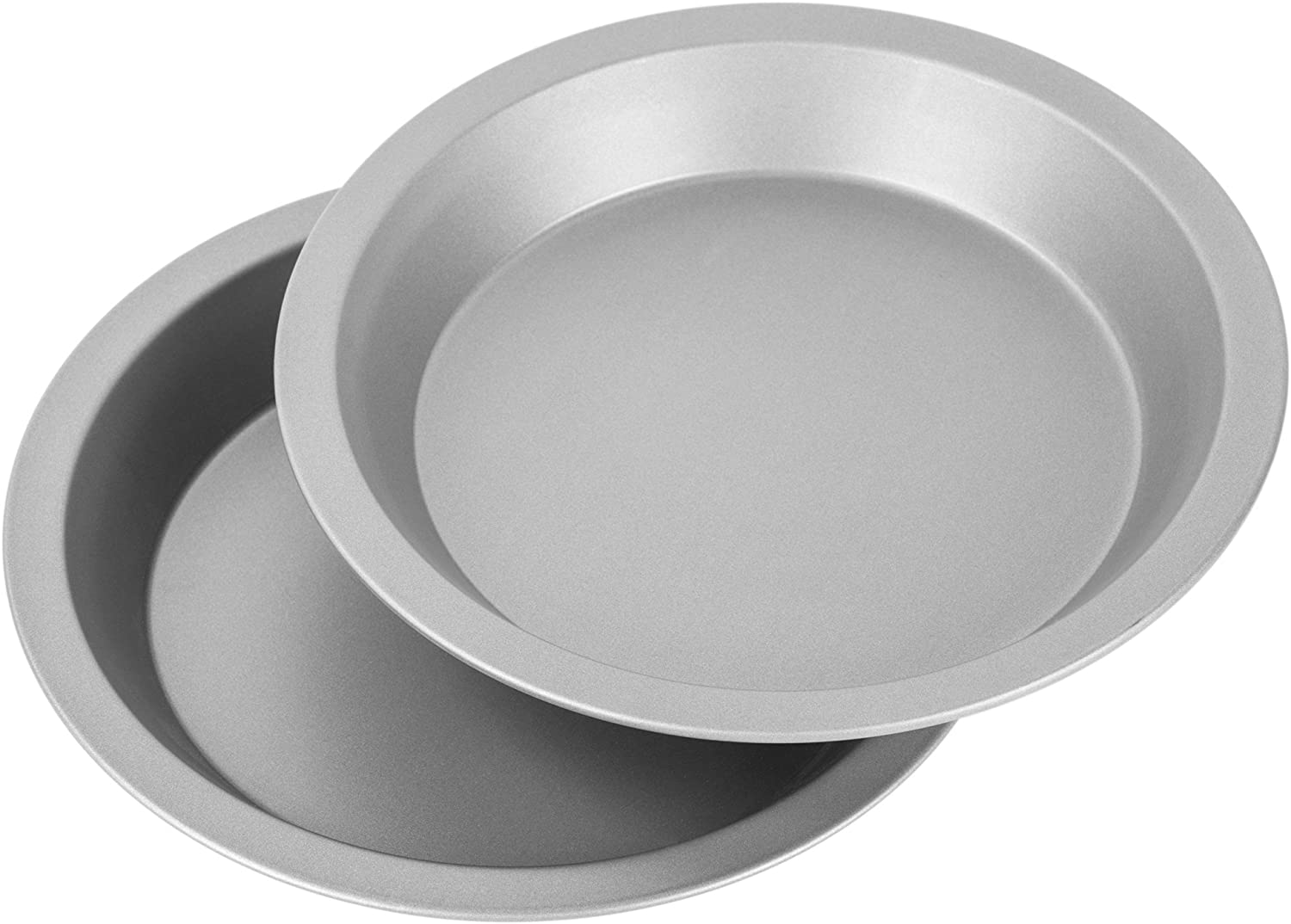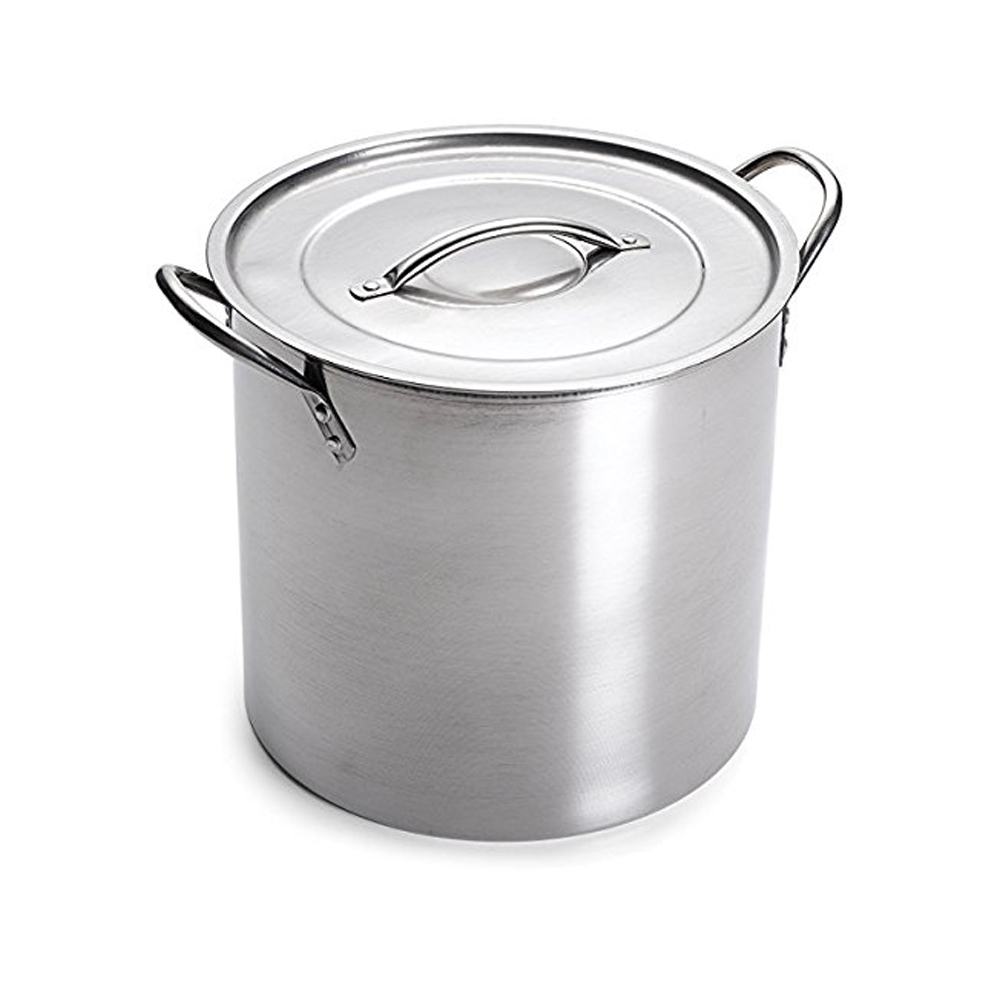 Speaking of the pots and pans, our kitchen kits will chug through three meals, and sometimes 300 servings a week, while being crammed in our 60 liter packs between stops – appreciate their work because this gear takes a lot of punishment out there! It is difficult to properly care for them like you would high end kitchenware at home. This means it's important to find gear that is light, durable, effective and replaceable. For example, on some routes, we'll take a simple 9″ aluminum cake pan that is super light and versatile. We'll use it as fry pan, a cutting board, a serving plate and more, and not have to worry about ruining it since you can pick another one up at your local supermarket for less than $3. We mix it up with a slightly fancy medium sized backpacking gadget like an aluminum 3.2L GSI pot… but fancy really isn't necessary. We also use a large, low-cost off-the-shelf aluminum pot that you might find at a discount store. This is our light and effective large-group pot workhorse.
Backcountry Utensils
Finally, my new kitchen has a precise stable of utensils. One large serving spoon or ladle, a utility item like tongs or a spatula and then some standard spoons (2), a fork, and sharp knife. These are used for stirring, serving and chopping. Generally, we avoid plastic utensils as those tend to frequently break.
And now, I'm ready to cook for the TSX family! While our backcountry kitchen kit might sound like a lot especially when you think in context of ounces, if those ounces were spread evenly between the large groups that we typically hike with, the net weight per person is comparable to that of a solo hiker, and we are leveraging economies of scale with more resources and typically better food for roughly the same amount of weight. So the next time you find yourself with 8 ravenous hikers, er… friends or family members… looming over you, watching your every move and expecting something delicious and nutritious, be prepared with the quality tools you need to get the job done right.
I hope this helps and happy cooking!