2023 Summer Update
Get inspired with photos from our first four Sierra treks of 2023.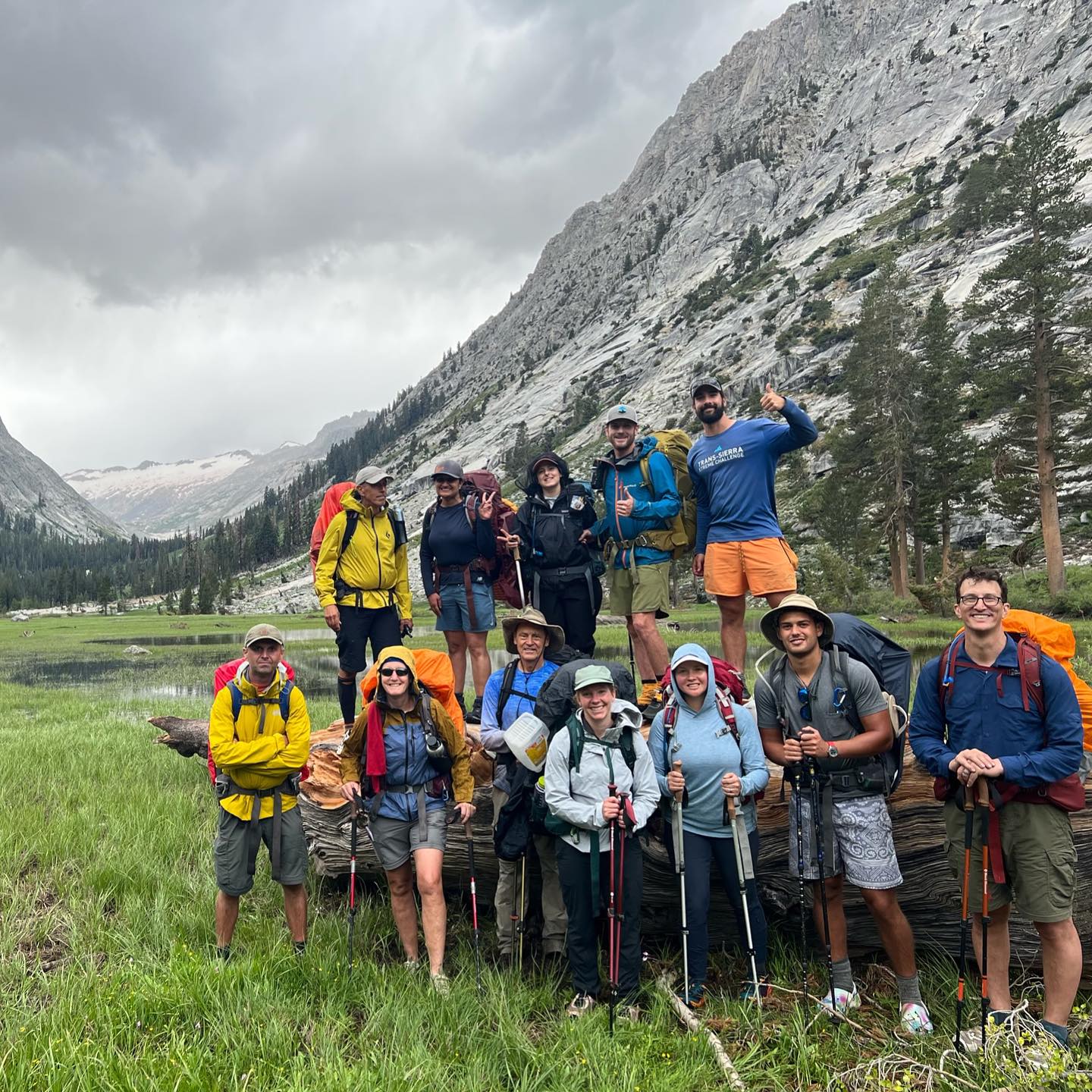 Our first four teams have completed treks across the Sierra to Mt. Whitney, to Hell For Sure and to Mt. Goddard. After a record-setting snow year, we entered the Sierra with some unknowns about what trail conditions would be like, whether we would be able to cross rivers, and how much snow would be lingering in high mountain passes. Thanks to team leaders Alessandro, Alyssa, Kate, Wyatt and Chris these first groups were able to push through difficult conditions and complete their treks safely and with incredible team efforts. We've captured a few highlights below from each outing!
Trans-Sierra Xtreme Challenge Team #1
The pictures show just a fraction of the obstacles, teamwork, patience and problem-solving that were required to be the first to journey over Colby Pass, across the Kern River, and to Mt. Whitney in 2023. This was one for the books. Trans-Sierra Xtreme Challenge Team #1 faced high river flows, avalanche debris, and flooded sections of the trail. With the leadership of Ale and Alyssa, Team #1 was able to safely cross high streams and trek over snow-covered passes. Success was a team effort! Congratulations to TSX Team #1 for pioneering our 2023 route and leading by example so that we can accomplish what we put our mind to achieve.
Join a 2024 Trans-Sierra Xtreme Challenge trek.
Hell For Sure Challenge Team #1
Hell For Sure Challenge Team #1 experienced the high Sierra in rare form during the first week of August. Their shimmy to the Knob along the LeConte Divide (pictured first) only added to the thrill of exploring an off-the-beaten-path region of the Sierra few get to experience in such rugged spring-like conditions. To the delight of all, trail crews were actively clearing down trees along the trail for the first day and a half of hiking! Above the tree line, the namesake Hell For Sure Lake was thawed. Microspikes were used to navigate over a snowy LeConte Divide to reach Bench Valley and Schoolmarm Lake. Marshy trails and mosquitos were common at lower elevations. Congrats team for working together, overcoming all obstacles and never giving up!
Join a 2024 Hell For Sure Challenge trek.
Mt. Goddard Team #1
It is hard to describe the sheer beauty and remote terrain that our Mt. Goddard team experienced this past week. While unable to make the summit due to a combination of bad weather and excessive snowpack, the team accomplished incredible feats, hiking over 50 miles through remote high Sierra terrain to experience the wonder of Goddard Canyon, Black Cap Basin, and the LeConte Divide. In a state with 40 million people, there were days where not a single other soul was encountered. This team had 6 days on the trail, and 6 days with rain. But that didn't keep them down, or the massive Golden Trout in Martha Lake from biting on their lures.
Trans-Sierra Xtreme Challenge Team #2
A love of life and adventure propelled TSX Team #2 across the Sierra to Mt. Whitney last week. In any given year, this is a tough trek – in 2023, snow, water, and down trees make this route arguably one of the most challenging experiences many will ever encounter. This team decided to spice it up even more, with one participant losing a shoe and hiking a majority of the trek in Crocs! With dozens of wet stream crossings, through rain and over snow, this team hung in there and pulled together to support one another when it mattered most. Congrats to all on the amazing accomplishment!
Join a 2024 Trans-Sierra Xtreme Challenge trek to Mt. Whitney.
Join Us In 2024
Congrats again to our early-season Sierra teams! Our remaining 2023 Sierra treks are full, but we are currently booking for 2024. Learn more and sign up while space is available.