---
JOHN MUIR WILDERNESS
5 NIGHTS | 40 MILES | LECONTE DIVIDE
JUNE, JULY, AUGUST, SEPTEMBER
---
Hell For Sure Challenge
FROM:$1,395

---
JOHN MUIR WILDERNESS
5 NIGHTS | 40 MILES | LECONTE DIVIDE
JUNE, JULY, AUGUST, SEPTEMBER
---
Description
The Hell For Sure Challenge may be the most exhilarating backpacking experience you ever encounter. Discover a an off-the-beaten-path region of the Sierra south of Yosemite, and north of Kings Canyon, brimming with jagged granite cliffs, dark pitted canyons and burnt-red mountains. Pass more than a dozen high Sierra lakes, including Hell For Sure Lake on a five day, 40-mile guided looped route that includes roughly 6-8 miles of off-trail travel. The Hell For Sure Challenge includes two hand and foot scrambles to ~12,000' peaks along the Le Conte Divide with unrivaled views of the Sierra Crest. You won't find this route in any guide book. It's an experience we created out of love for the region, and for people in search of new adventure. Open to fit and motivated individuals of all experience levels. Note: Our August 29, 2020 and September 6, 2020 departing treks will follow an extended modified route (50 miles), and include an opportunity to summit
Mt. Goddard (13,560')
.
What's included
Guided four night, five day backpacking trek through John Muir Wilderness to Le Conte Divide
Facilitate carpool transportation to/from Northern California and Clovis/Fresno
Personalized pack-check prior to departure
All meals and snacks in the back-country
Group gear and equipment
Backpack, tent, sleeping bag and pad if needed
Post-hike shower
Arrival-night lodging in Shaver Lake, CA (multiple occupancy cabin) on start date *(Due to updated COVID-19 safety practices, 2020 treks will meet up in Shaver Lake, but overnight at the trailhead on the day of arrival)
What's not included
Meals in the front-country, including while in Shaver Lake, CA
Personal items
How it works
A $450 deposit per person is required with balance due 60 days prior to the event. Treks begin departing in late June when spring like conditions may still persist in the Sierra. Consequently, each itinerary may be modified to account for varied trail conditions and to ensure the safety of your group. Contact us for custom dates or corporate group pricing. Typical group size of 7, including one guide. Maximum group size of 12, including two guides. Beginning in 2019, an additional 5% charge will be applied when your reservation is made to offset new fees mandated by the U.S. Forest Service and National Park Service.
Gear Checklist
(925) 255-5065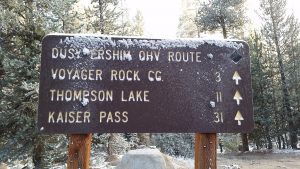 Evening arrival, pack-check, overnight at cabin
On the day of arrival, you'll be welcomed into our Shaver Lake, CA cabin like family. Swing by when you arrive in town. Driving in after work from the Bay Area or Southern California? No problem, we can accommodate late arrivals. Need a ride? Let us know and we can help with carpool arrangements. At the cabin we'll hand out gear requested, complete a final pack-check and talk safety. We'll have a campfire if conditions permit, and get to know our team before retreating indoors for a cozy night's sleep. *(Due to updated COVID-19 safety practices, 2020 treks will meet up in Shaver Lake, but overnight at the trailhead on the day of arrival)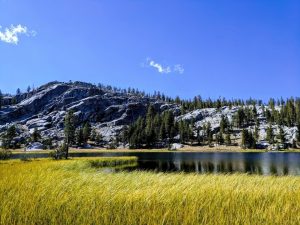 Day 1 – Courtright Reservoir to High Meadow
Trail: Long moderate-to-intense uphill, with 1,500′ climb and multiple stream crossings
With an early, 5:30am departure from Shaver Lake, we'll drive out to our trailhead near Courtright Reservoir where our John Muir Wilderness backpacking adventure begins with a long and gradual climb toward Red Mountain Basin. Our pace will be brisk, as we cover miles on good trail to camp near a high meadow between Fleming and Disappointment Lake, which never disappoints.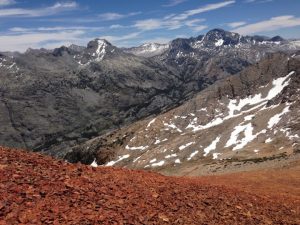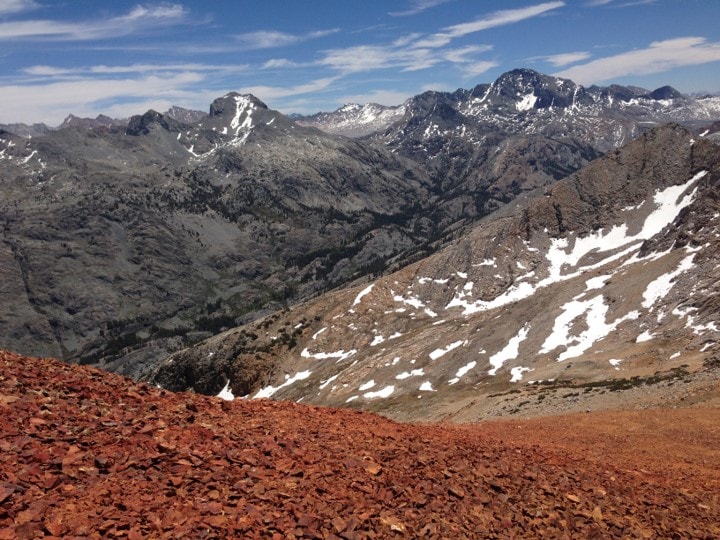 Day 2 – High Meadow to Red Mountain, Hell For Sure Lake
Trail: Gradual uphill to camp near Hell For Sure Lake; up and back day hike to 12,000′ peak
A moderate morning hike will take us to Hell For Sure Lake by lunch, where we'll enjoy our afternoon. An optional up and back, off-trail scramble to the summit of Red Mountain (~12,000′) will be on the schedule. If trail and group conditions permit, we'll begin our ascent toward the Knob of Mt. Hutton for camp with views of Artic, Horseshoe and Hell For Sure Lakes.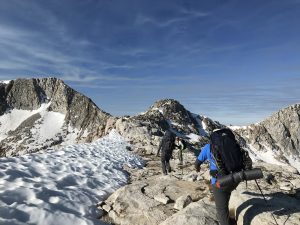 Day 3 – Off-trail traverse of Mt. Hutton and Bench Valley
Trail: Breathtaking and intense uphill, then down, majority of day off-trail
Weather and trail conditions permitting, with an early morning start we will Stomp, Shimmy and Hustle off-trail over The Knob of Mt. Hutton (~12,000′), traversing rugged granite terrain. We'll continue off-trail toward lake-studded Bench Valley, with time to explore Schoolmarm, Holster, Bullet, Wahoo, Crabtree, and the many other lakes surrounding our Bench Valley camp.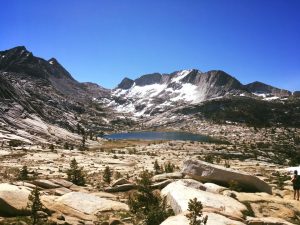 Day 4 – Continue traverse of Bench Valley, then drop to Kings River
Trail: Optional sunrise hike, then long gradual descent, majority of day on-trail
We'll start the morning with an optional off-trail scramble to catch the first rays of sunlight filtering over the LeConte Divide. After returning to camp, and a hearty breakfast, we begin our descent past Colt and Horsehead Lakes to the north fork of the Kings River, and camp beyond.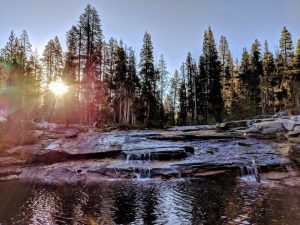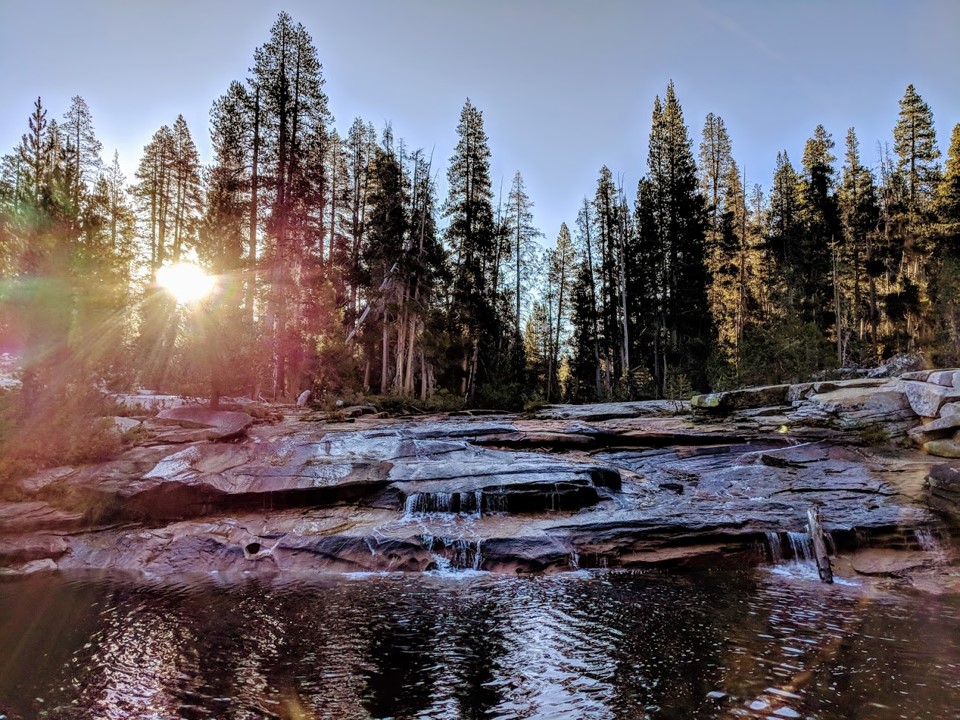 Day 5 – Kings River to Courtright Reservior
Trail: Reconnect with loop trail, and exit, moderate up and downhill
An early start will get us back to Courtright Reservoir around lunch where we will reload cars, and return to the town of Shaver Lake to share a hearty group meal. A final stop for showers at our cabin in Shaver Lake is optional, then it's home to brag.
Pre and post-trip accommodations: Pre-trek accommodations in Shaver Lake, CA are included (on listed start date; multiple occupancy cabin – everyone will have a bed, but not everyone will have a room). If you'd like to arrange for accommodations on your own that is ok with us, please let us know where you end up! Post-trip accommodations are not included. If you'd like to stay at the cabin an additional night, please contact us to make arrangements and inquire about rates; additional fees required.
Transportation: We do our best do facilitate carpool arrangements from the Fresno Yosemite Airport, as well as the San Francisco Bay Area and Southern California. If you'll need a ride, please let us know! If traveling by air, Fresno Yosemite International is the preferred airport. It's a one hour drive from the airport to our meeting point in Shaver Lake. Rental cars are also available. If traveling by car, it is a roughly 4 hour drive from the Bay Area, and 5 hour drive from Southern California to Shaver Lake.
Arrival time: When scheduling flights or planning your drive, ideally, please allow enough time to arrive no later than 7pm the evening before your trek begins so that you can attend the pre-trek orientation (scheduled at 7:00pm at our Shaver Lake cabin). Driving in after work from the Bay Area or Southern California? We can accommodate late arrivals.
Departure time: We plan on exiting the trail between 10am and 1pm on the last day of the trek. Please plan your return transportation accordingly. If flying out of Fresno on the same day, we suggest scheduling flights for departure no earlier than 4:00pm. Staying one additional night in the Clovis, Fresno or Shaver Lake area is also popular option.
WHAT YOU'LL NEED
Joining a TSX experience is easy. Don't own a backpack or tent? Not a problem. We provide backpacks, tents and sleeping pads for those who need them, at no additional charge. We also take care of all group items like pots, stoves, food, food storage, water filters, first aid and more. Your guides will do the cooking and dishes. Just show up with your boots and personal items, ready to hike!