Discover the Escalante Route
Not all Grand Canyon backpacking experiences are created equal. Discover a new route through rugged terrain, remote canyons and secluded beaches with TSX.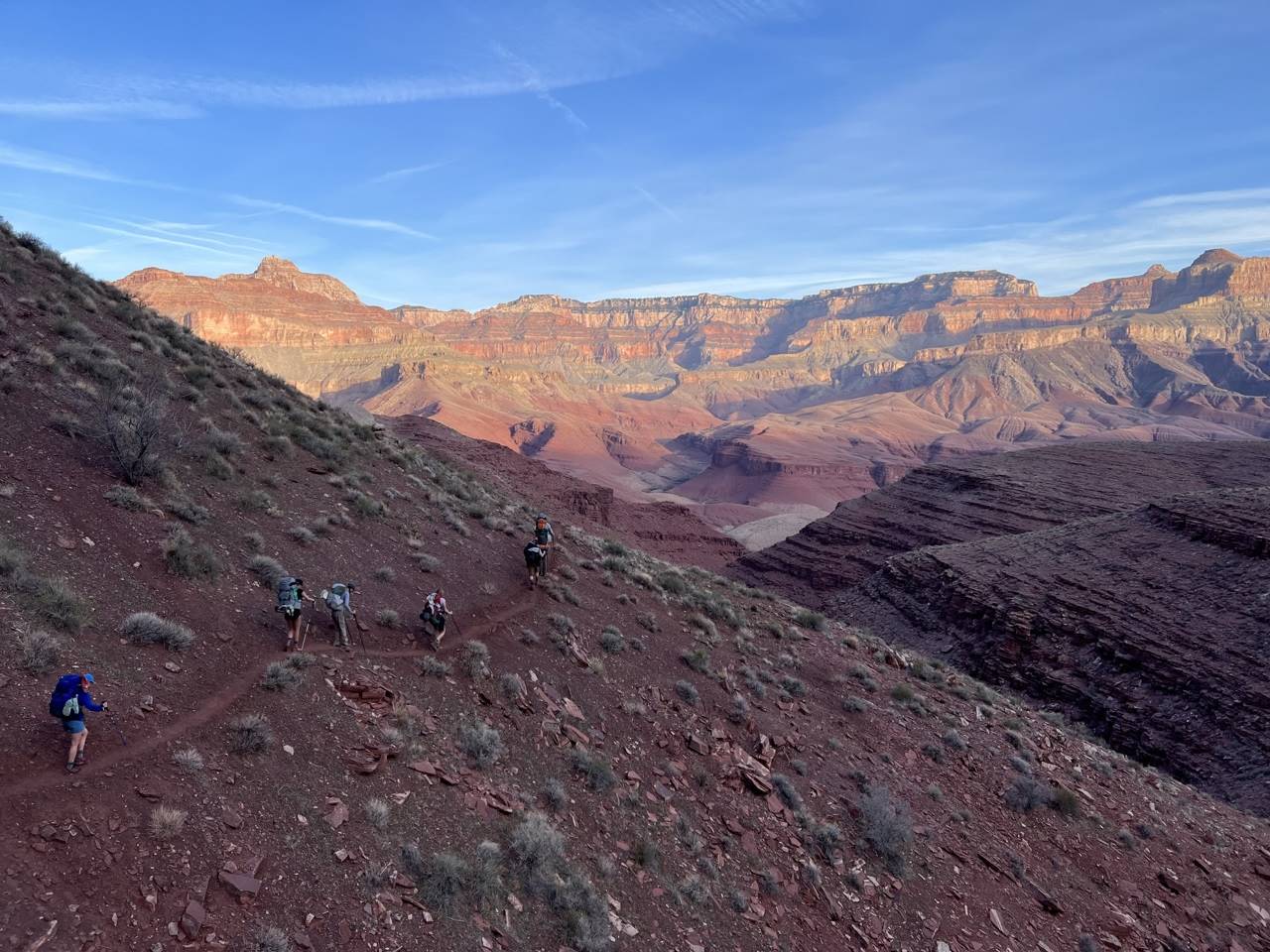 Imagine vacationing on a deserted island. Long sandy beaches, gentle lapping waves, and swaying shade trees. Cross that image with an inspiring journey backpacking rugged Grand Canyon terrain, exploring remote slot canyons, scaling jagged cliff ledges, and dropping into gorges echoing with the continuous thunder of roaring rapids.
Welcome to the Escalante Route.
Beginning this year the Escalante Route will be the primary route used for our three-night, four-day Grand Canyon Challenge treks. TSX is the only commercial group organizing guided treks along this remote Grand Canyon route. We are excited to share it with you!
Finding the Perfect Experience
I started backpacking the Grand Canyon 7 years ago after being introduced to it's trails by good friend, Flagstaff local, and Grand Canyon Challenge co-founder Andy Wagemaker.
Together, we simplified that first experience to make it accessible for all skill levels, and started the Grand Canyon Challenge. The three-night, four-day ~30 mile loop between the Hermit and Bright Angel trailhead was rugged. It was tranquil. And it included one night at a beach on the banks of the Colorado River. Most of the time was spent away from the busy corridor trails that carry the load of Rim-to-Rim bucket-list hikers.
This looped route is fantastic, but increasingly popular. As our experience in the Canyon grew, we ventured onto more primitive trails with less people. Two years ago, we added the Boucher-Hermit and New Hance-Grandview Loops as options for our Grand Canyon Challenge experience.
But this past year, a good friend and TSX guide came to me with a proposition.
"Casado," Tolman said, "if you're open to looking into more remote and rugged routes, you have to check out the Escalante Route. Once you do it, that's all you'll want to do for the Challenge."
Tolman has guided several of our Trans-Sierra Xtreme Challenge treks to Mt. Whitney, which some participants view as one of the most challenging and rewarding experiences of their life. He also knew about the off-trail routes we pioneered to create our Hell For Sure Challenge and Mt. Goddard experiences. "The Escalante Route," he told me, "will be perfect for TSX."
In A Category of It's Own
There are four kinds of trail designations in the Grand Canyon.
Corridor Trails are the main trails that carry heavy traffic into and out of the Canyon. This includes the Bright Angle, South Kaibab, and North Kaibab trails. These trails are well maintained by the park service, have ready access to water, and are full of crowds each day.
Threshold Trails are more remote and less visited. These trails do not receive regular maintenance, but they do get occasional touchups to maintain trail integrity. Generally, there is some access to natural water sources along these trails, which include the Hermit and Grandview trails.
Primitive Trails are even more remote, and are the least visited of all trails. These trails do not receive regular maintenance, and they generally only get attention when hazards become present due to erosional forces. The Colorado River is typically the only source of water. Hiking primitive trails such as New Hance and Boucher can be slow-going, tedious, and brutally fun.
As we expanded our Grand Canyon Challenge experience from Bright Angel-Hermit (corridor + threshold), to New Hance-Grandview and Hermit-Bouche (threshold + primitive), the experience got more challenging, more remote, and more rewarding. But there was a fourth Grand Canyon trail designation I hadn't yet experienced.
Routes in the Grand Canyon are not considered trails because they were not deliberately constructed, or they have portions that cannot be identified on a map. Routes receive the fewest visitors of all footpaths in the Canyon, and are maintained only to minimize damage to nearby natural resources.
Enter the Escalante Route…
The Escalante Route
You heard the pitch. A vacation experience on a deserted island…. long sandy beaches… gentle lapping waves… and swaying shade trees… it's all true. There are evenings on this route where you feel happily stranded on your own private beach. The other part is also true… remote slot canyons… jagged cliff ledges… gorges with roaring rapids. This is probably an understatement. The Escalante Route is full of some of the most incredible river, rapid and Canyon vistas that 99.98% of Grand Canyon visitors will never see, or even know exist.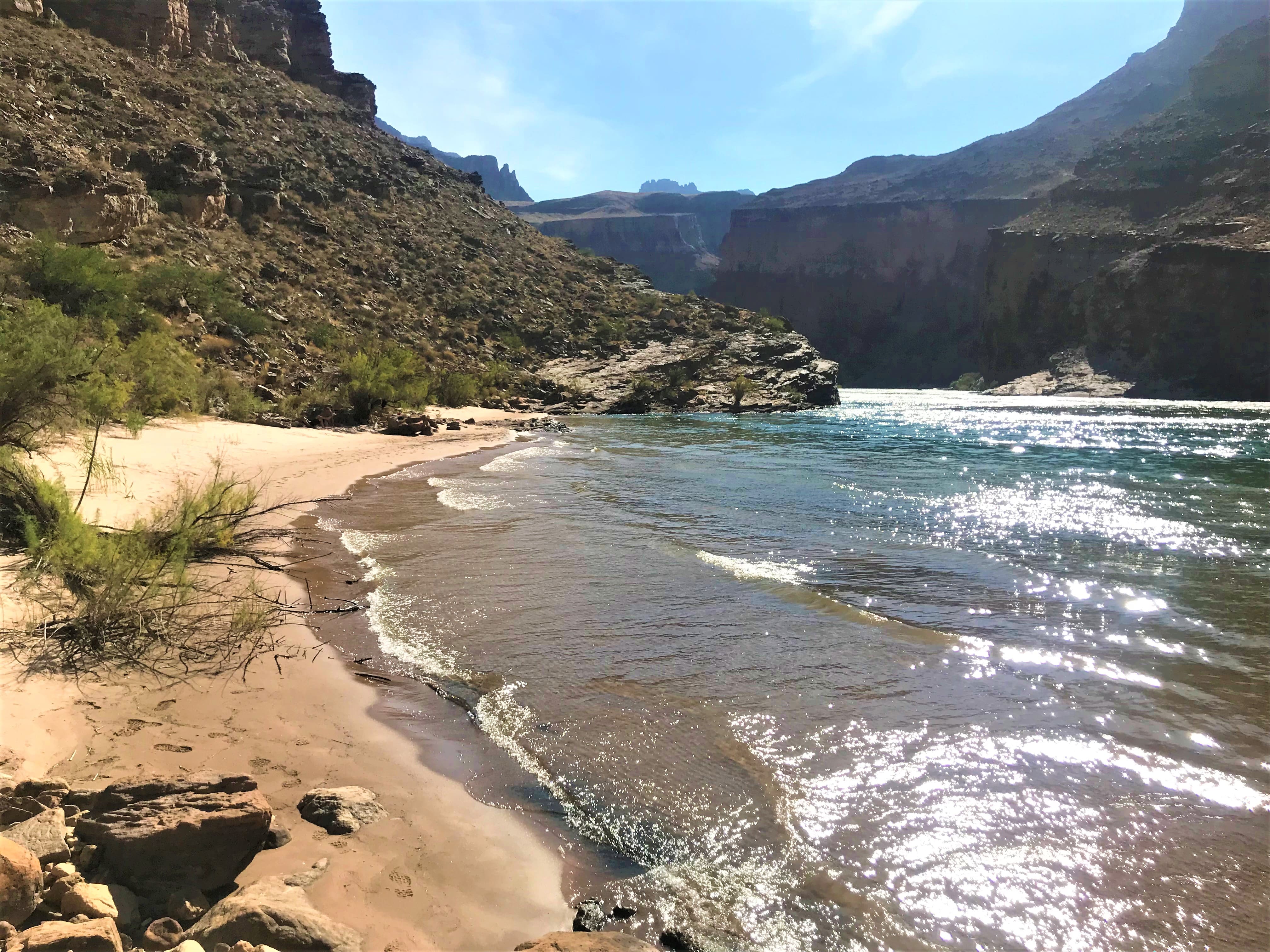 The Escalate Route is the perfect addition to the TSX Grand Canyon Challenge experience, and it will be our go-to trail for our Grand Canyon Challenge backpacking treks beginning this year (view dates and availability).
Access to the Escalante Route begins at Lipan Point, roughly 23 miles east of Grand Canyon Village, where the Tanner Trail leads you into the Canyon. Tanner is a primitive trail, with full sun exposure and no access to reliable sources of water until the river. It's rugged, but in better condition than Boucher and New Hance, which also carry the primitive trail designation.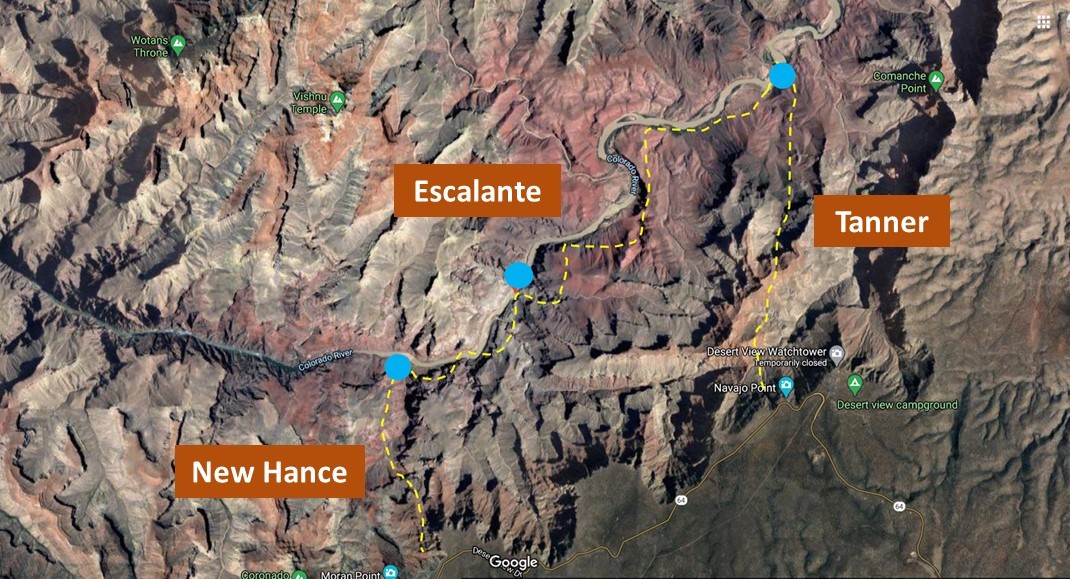 Once at the river, the Escalante Route begins.
This route is unique. During the hike down river, the path generally hugs the shoreline tightly, allowing hikers to enjoy not one, but five different remote Grand Canyon beaches along the way. This includes beaches at Tanner Rapids, Cardenas Creek, Escalante Creek, 75-Mile Creek and Hance Rapids. On our Grand Canyon Challenge treks that utilize the Escalante Route, we will spend up to 3 nights on different beaches of the Colorado River.
The route also includes an incredible walk down the remote, narrow slot-like canyon of 75-Mile Creek.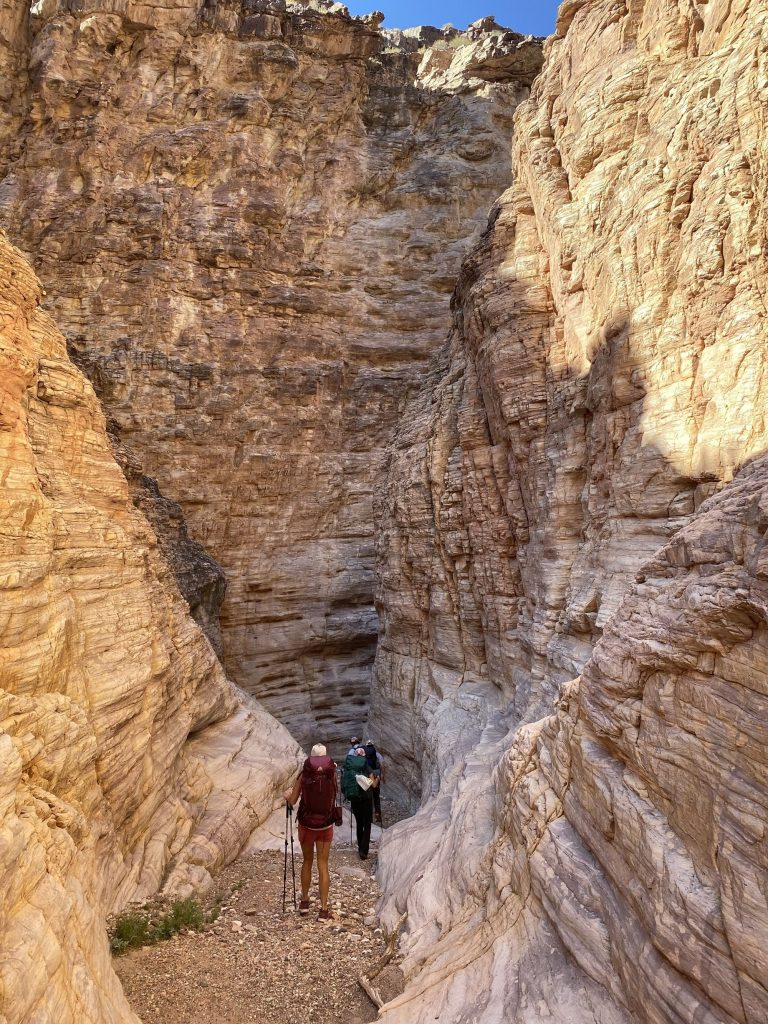 The hiking can be rough, bumpy and steep at times. However, one challenge rises above the rest.
From the banks of the river, about a quarter mile before reconnecting with primitive trail, the route encounters the Papago Wall – a new opportunity for growth.
The Papago Wall requires backpackers to scale about 35 feet of vertical distance with hand, foot and knee climbing. The holds are large and steady, and resting spots are plentiful, but it's hard to avoid the vertical perception of exposure as you gain in elevation. Since most people have no, or little climbing experience, overcoming the Papago Wall will be a one to three minute exercise of mental strength mixed with exhilaration. We'll be in it together. Taking it slow and safely as a team. For some participants, we'll carry or lift packs separately to maximize individual balance during the short vertical scramble.
Just past the wall is a steep and intimidating rock gully called the Papago Slide. Groups are encouraged to travel very close together through this section, or very far apart, to minimize the risk from loose or dislodged rocks during the descent.
For first time travelers on this route, the Papago Wall and Slide experience is sure to add a jolt of adrenaline to the body, followed by an incredible sense of accomplishment, pride and stories that will last for years to come.
The final miles on this route are spent exiting the Canyon on either the New Hance or Grandview Trails. Additional route details can be found on the National Park Service's Grand Canyon: Escalante Route fact sheet.
Is The Escalante Route For You?
TSX Challenge was founded to enable and inspire motivated people of all backgrounds and experience levels to confidently venture into some of the most remote, least traveled backcountry in our nation, and the Escalante Route is the perfect addition to this mission. Whether we are crossing snow covered passes in route to Mt. Whitney, or hustling through off-trail scrambles on our Hell For Sure and Mt. Goddard experiences, TSX helps motivated individuals have experiences and reach goals that would be difficult to accomplish independently.
The Grand Canyon Challenge Escalante Route is for you if you are up to the challenge. No prior backpacking experience is required, but you must come motivated and physically prepared. Serious regular exercise, good physical fitness and training hikes are a must.
Beginning in the fall of 2021, a majority of our Grand Canyon Challenge experiences will be utilizing the Escalante Route (permits allowing). Our Hermit-Bight Angel, Boucher-Hermit, and New Hance-Grandview loops will also be used to accommodate for individual experience levels or preference, group size, and permit allowances so that we can ensure safe and enjoyable trips for all. These routes will also be available via our private TSX Pods experiences.
Click here to learn about our Grand Canyon Challenge experience or sign up to join a trek.
We hope to see you on the trail!